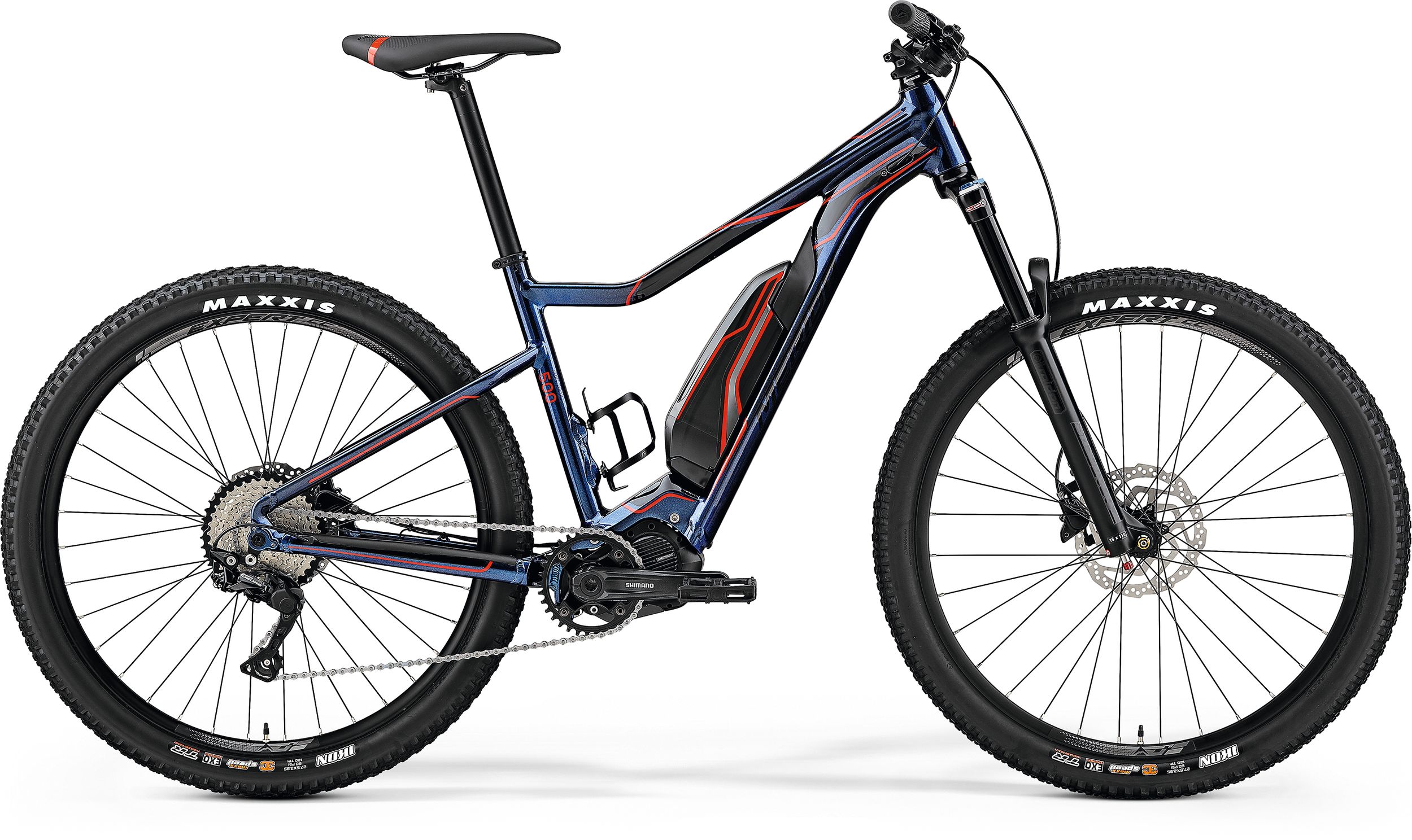 Rammestørrelse
S, M, L, XL
Farge
METALLIC BLUE/BLACK (RED)
Air
130mm suspension travel
Tapered
Styrelager
FSA NO.55EP Neck
35mm diameter
0° stem angle
Holker / styretape
MERIDA Expert EC
Navgir
Shimano Deore Shadow+
Bakre girhendel
Shimano Deore
30.9mm diameter
15mm setback
Sadel klemme
MERIDA Expert
110x15mm width front hub
32 spoke holes
Centerlock
148x12mm width rear hub
36 spoke holes
Centerlock
Bakaksling
MERIDA Boost axle
lys
CG-119PG-BLACK(1) / CG-404RG-BLK
| | | | | |
| --- | --- | --- | --- | --- |
| Rammestørrelse | S | M | L | XL |
| Dekk størrelse | 27.5" | 27.5" | 27.5" | 27.5" |
| Ramme størrelse Cm | 40 | 44 | 49 | 54 |
| Setestag mm | 400 | 440 | 490 | 540 |
| Topprør mm | 582 | 604 | 627 | 649 |
| Kjedestag mm | 434.5 | 434.5 | 434.5 | 434.5 |
| Grader/Vinkler Frontrør | 67.5 | 67.5 | 67.5 | 67.5 |
| Sta Seat Tube Angle Deg | 74.5 | 74.5 | 74.5 | 74.5 |
| Bd Bottom Bracket Drops Mm | 60 | 60 | 60 | 60 |
| Ht Head Tube Lengths Mm | 105 | 115 | 125 | 135 |
| Fl Fork Lengths Mm | 541 | 541 | 541 | 541 |
| R Reachs Mm | 405 | 425 | 445 | 465 |
| S Stacks Mm | 637 | 647 | 656 | 665 |
| Wb Wheel Base Mm | 1130 | 1154 | 1177 | 1201 |
| Sh Stand Over Height Mm | 650 | 682 | 705 | 736 |
| Kroppshøyde Cm | < 173 | 167 - 183 | 177 - 190 | > 187 |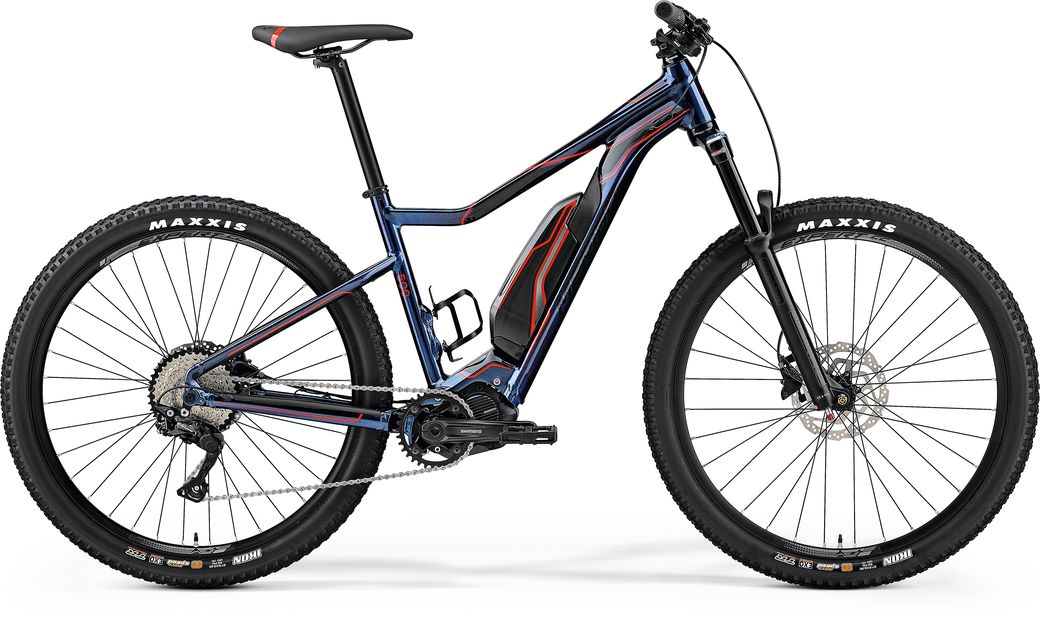 HFS-hydroforming Prolite 66 triple butted aluminium frame with aggressive trail geometry – Shimano STePS E8000 motor allows for short chain stays delivering agility. 'Smart Entry' cable routing for rattle free running. Casting motor bracket creates an integrated appearance of the motor into the frame as well as provides an extremely strong connection between frame and motor.
6 mm ekstra navbredde bak: Vår eBIG.TRAIL leveres med den nye Boost 12x148-standarden, og gjennomgående akslinger foran og bak. Gunstigere eikevinkel gir et enda stivere hjul. I tillegg forskyves kjedelinjen utover – en viktig forutsetning for korte kjedestag.
En Hardtail som stisykkel? Null problem! 130 mm fjæring, en super-stiv fremre ende og en Enduro-lignende 67,5° styrevinkel setter opp vår eBIG.TRAIL perfekt for morsomme Trail-oppgaver. Styre med bredde 760 mm og super-kort styrestem passe sømløst inn i stisykkelens konsept.
434 mm lange kjedestag er perfekt for å oppnå virkelig morsom håndtering. Takket være Boost-nav og meget kompakt størrelse på STePS E8000 eller E7000 motor, er kjedestagene ikke så mye lengre enn på en stisykkel uten motor.
Kabler, hylser og bremseslanger er stramt festet og lager ikke ulyd. Alle innganger er fullstendig ombyttbare for å håndtere Di2, hydraulikkslanger, bremsewire og girwirehylser osv.