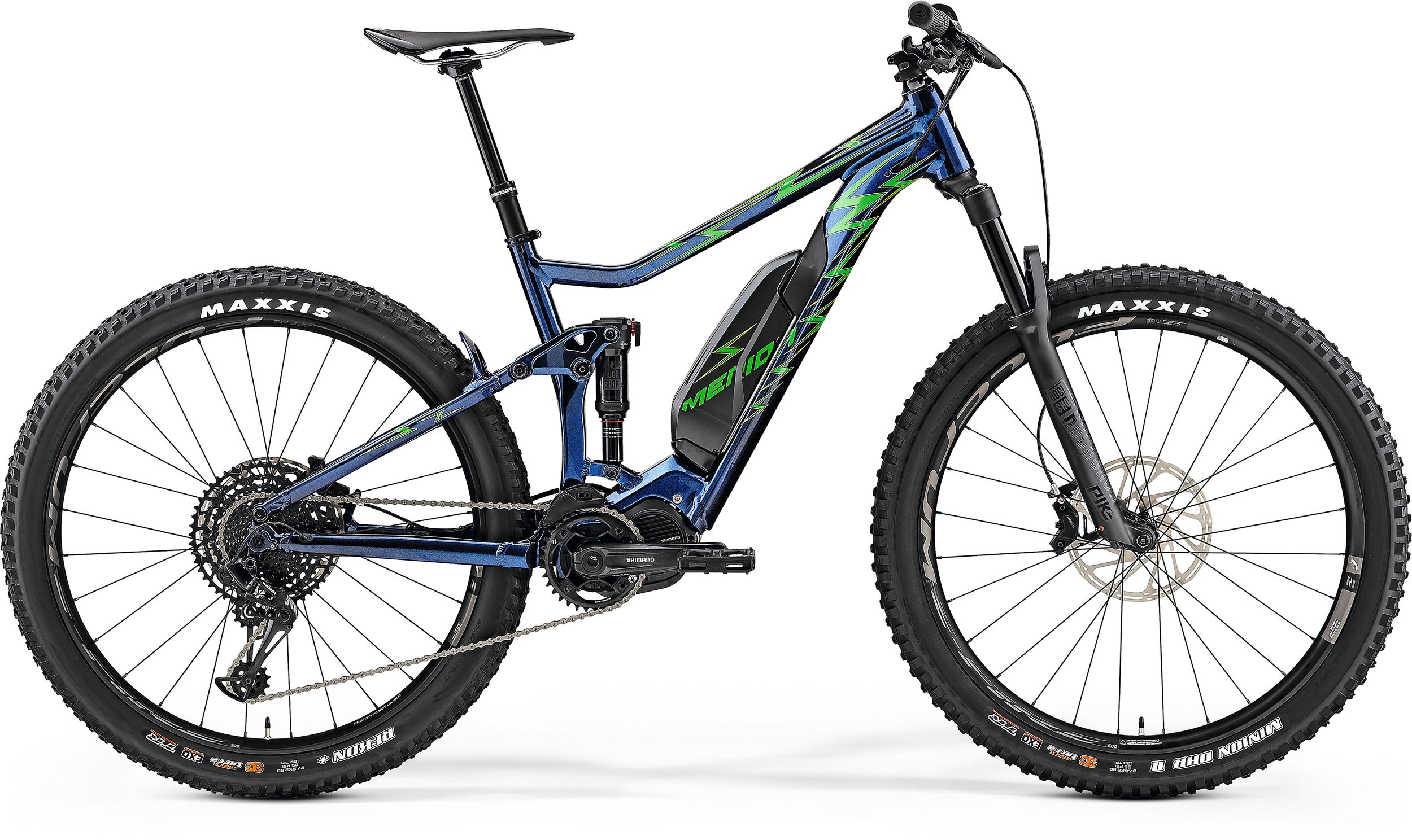 Rammestørrelse
S, M, L, XL
Farge
METALLIC BLUE (YELLOW-GREEN LIGHTNING)
Air
130mm suspension travel
Tapered
Styrelager
FSA NO.55EP Neck
35mm diameter
0° stem angle
Holker / styretape
MERIDA Expert EC
Bakre girhendel
Sram SL GX Eagle single click trigger
30.9mm diameter
0mm setback
S: 100mm travel seatpost - M/L/XL: 125mm travel seatpost
Sadel klemme
MERIDA Expert
27.5x2.8"
folding
3C EXO TR
27.5x2.8"
folding
3C EXO TR
Bakaksling
MERIDA Boost axle
lys
CG-119PG-BLACK(1) / CG-404RG-BLK
Skjermer
C093-02F + C093-02R
weighed at frame size M (w/o pedals)
| | | | | |
| --- | --- | --- | --- | --- |
| Rammestørrelse | S | M | L | XL |
| Dekk størrelse | 27.5" | 27.5" | 27.5" | 27.5" |
| Ramme størrelse Cm | 40 | 44 | 49 | 54 |
| Setestag mm | 400 | 440 | 490 | 540 |
| Topprør mm | 583 | 601 | 623 | 646 |
| Kjedestag mm | 439.5 | 439.5 | 439.5 | 439.5 |
| Grader/Vinkler Frontrør | 67.5 | 67.5 | 67.5 | 67.5 |
| Sta Seat Tube Angle Deg | 75 | 75 | 75 | 75 |
| Bd Bottom Bracket Drops Mm | 27.5 | 27.5 | 27.5 | 27.5 |
| Ht Head Tube Lengths Mm | 110 | 120 | 130 | 140 |
| Fl Fork Lengths Mm | 541 | 541 | 541 | 541 |
| R Reachs Mm | 420 | 435 | 455 | 475 |
| S Stacks Mm | 609 | 619 | 628 | 637 |
| Wb Wheel Base Mm | 1155 | 1174 | 1198 | 1221 |
| Sh Stand Over Height Mm | 698 | 730 | 751 | 783 |
| Kroppshøyde Cm | < 173 | 167 - 183 | 177 - 190 | > 187 |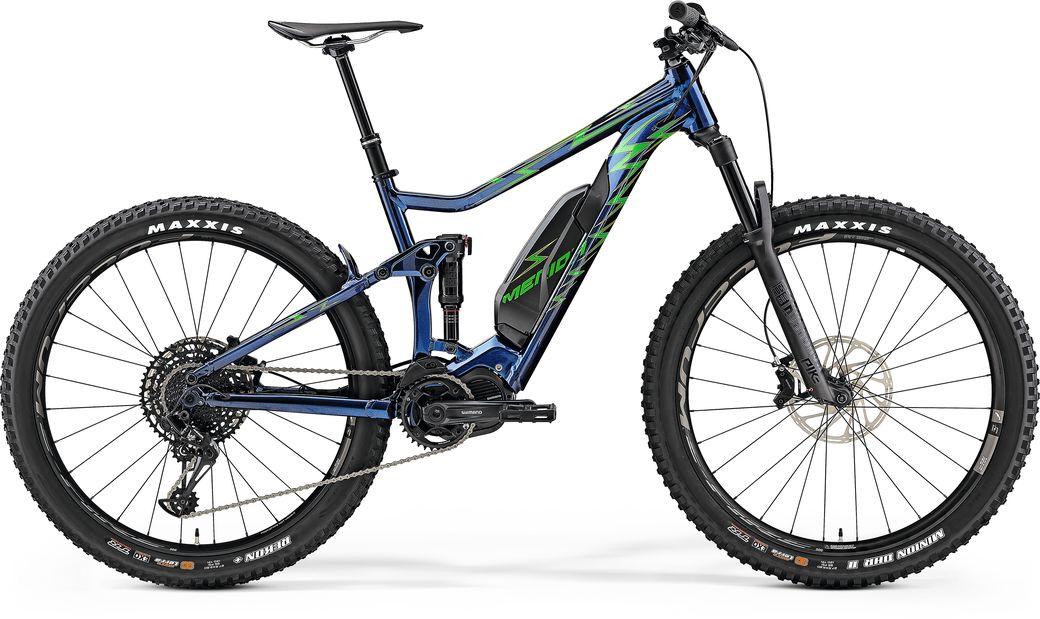 HFS-hydroforming Prolite 66 triple butted aluminium frame with aggressive trail geometry and 120 mm rear wheel travel – Shimano STePS E8000 motor allows for short chain stays delivering agility. 'Smart Entry' cable routing for rattle free running. Casting motor bracket creates an integrated appearance of the motor into the frame as well as provides an extremely strong connection between frame and motor.
Vår eONE-TWENTY drar nytte av fordelene med ekstra 6 mm bredde på Boost 12x148-standarden. Gunstigere eikevinkel og gjennomgående akslinger gir stivere hjul. Kjedelinjen forskyves utover – påkrevd for å få korte kjedestag som gir smidighet og massivt grep fra B+ dekk.
En trunnion-montert demper gir våre rammedesignere mer fleksibilitet til å bruke kortere dempere med økt slaglengde. Kombinert med kulelagerbøssingen i øvre feste, oppnår vi økt støtsensitivitet og dempeytelsene kan finjusteres perfekt.
Senkepinnen får sadelen ut av vei når bakkene blir brattere, og gir mer plass å bevege seg på og bedre kontroll over sykkelen. Våre senkepinner har integrert kabel/wire-trekking og fjernkontrollspaker, noe som gir mer stilrent utseende og lettere sadelhøydejustering i fart.
650B+ hjul med 35–40 mm innvendig felgbredde og 2,8"-dekk som har stor kapasitet ved røffe forhold, og i tillegg masse grep i bakkene, grep i svinger, punkteringsbeskyttelse og demping – uten høy rullemotstand eller treghet. De fleste modeller har felger som er klargjort for slangeløse dekk, og dekk-konfigurasjoner som gjør overgang til slangeløst meget enkelt.
Kabler, hylser og bremseslanger er stramt festet og lager ikke ulyd. Alle innganger er fullstendig ombyttbare for å håndtere Di2, hydraulikkslanger, bremsewire og girwirehylser osv.
Med de korte kjedestagene er denne modellen velsignet med inspirerende egenskaper. Den lange rammelengden i kombinasjon med kort styrestem og bredt styre gir meget god kontroll i vanskelige situasjoner.