CROSSWAY URBAN XT-EDITION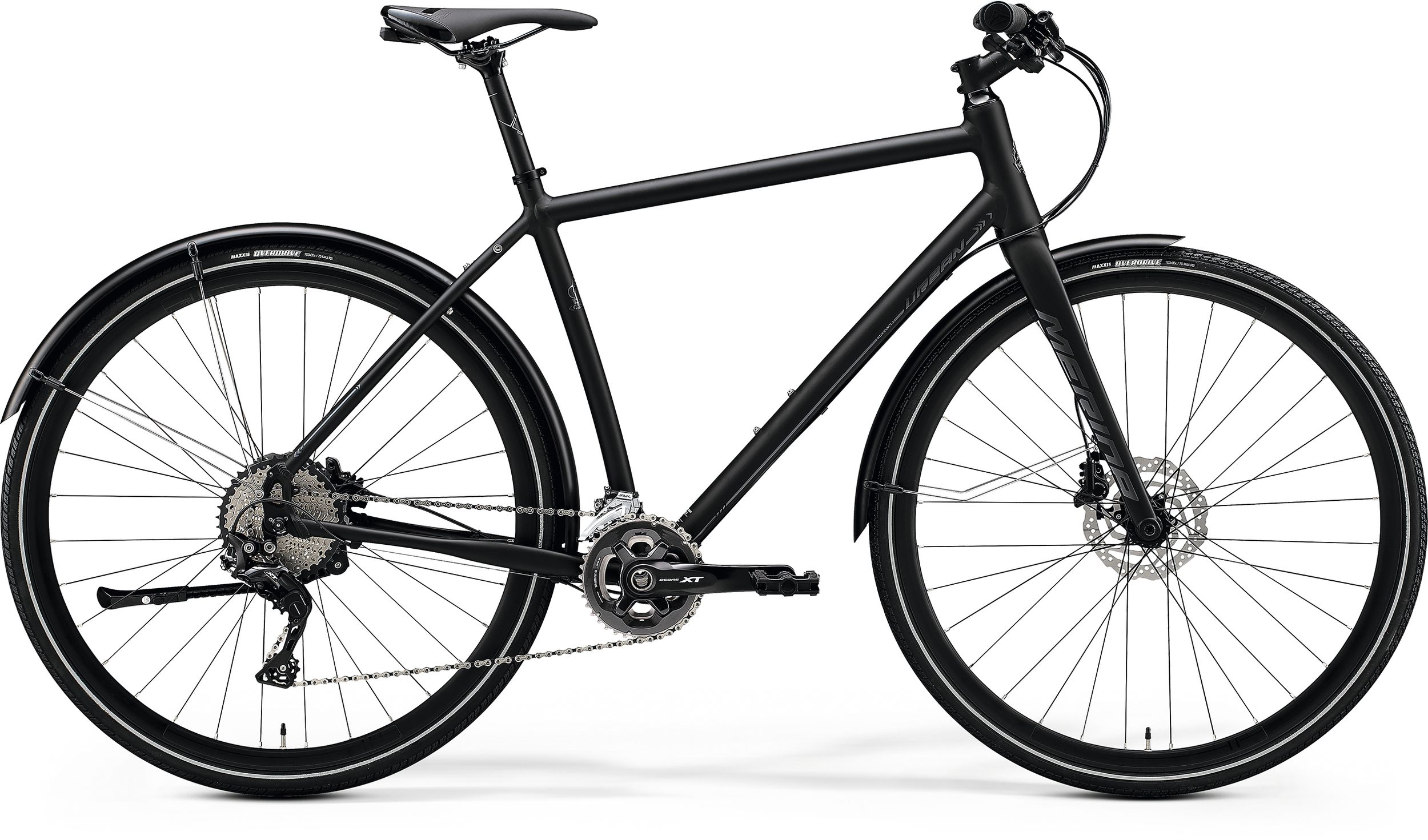 Usikker på hvilken størrelse du skal ha? Bare fyll inn dine mål i "Smartfit bike fitting" systemet for å finne din ideelle størrelse. Finn din størrelse
material: aluminium
700C wheelsize
100x15/135x9mm axle standard
BSA bottom bracket standard
Rammestørrelse
XXS, XS, S, S/M, M/L, L, XL, XXL
Farge
MATT BLACK (GLOSSY DARK SILVER)
Bremsehendel
Shimano MT-500
Styrelager
MERIDA M2339 Neck
material: aluminium
660mm width
25mm rise
material: aluminium
31.8mm diameter
17° stem angle
80 mm-XXS/XS/S, 90 mm-SM/M/ML, 100 mm-L/XL, 110 mm-XL
Holker / styretape
MERIDA EXPERT TK
Fremre girhendel
Shimano SLX 2s
Bakre girhendel
Shimano SLX 11s
material: aluminium
27.2mm diameter
12mm setback
V-mount
incl. MERIDA minitool
38-28 teeth
170 mm-XXS/XS, 175 mm-S/XL
Kranklager
Shimano MT800 BSA
16mm inner width
27mm height
material: aluminium
700x35C
fold
reflective stripe
700x35C
fold
reflective stripe
100x15mm width front hub
32 spoke holes
Centerlock
135x9mm width rear hub
32 spoke holes
Centerlock
Frontaksling
Joytech TA-15
weighed at frame size M-L without pedals
Krank
170 mm-XXS/XS, 175 mm-S/XL
| | | | | | | | | |
| --- | --- | --- | --- | --- | --- | --- | --- | --- |
| Rammestørrelse | XXS | XS | S | S/M | M/L | L | XL | XXL |
| Dekkstørrelse | 28" | 28" | 28" | 28" | 28" | 28" | 28" | 28" |
| Rammestørrelse cm | 41 | 44 | 46 | 48 | 52 | 55 | 58 | 61 |
| ST - Seat Tubes (mm) | 410 | 440 | 460 | 480 | 520 | 550 | 580 | 610 |
| TT - Top Tube (mm) | 565 | 565 | 575 | 585 | 595 | 605 | 620 | 635 |
| CS - Chain Stays (mm) | 450 | 450 | 450 | 450 | 450 | 450 | 450 | 450 |
| HTA - Head Tube Angles (°) | 71 | 71 | 71.5 | 71.5 | 72 | 72 | 72 | 72.5 |
| STA - Seat Tube Angle (°) | 74 | 74 | 73.5 | 73.5 | 73.5 | 73 | 73 | 72.5 |
| BD - Bottom Bracket Drops (mm) | 70 | 70 | 70 | 70 | 70 | 70 | 70 | 70 |
| HT - Head Tube Length (mm) | 145 | 150 | 155 | 160 | 165 | 180 | 200 | 225 |
| FL - Fork Length (mm) | 395 | 395 | 395 | 395 | 395 | 395 | 395 | 395 |
| R - Reach (mm) | 403 | 401 | 404 | 413 | 421 | 421 | 430 | 431 |
| S - Stack (mm) | 566 | 571 | 577 | 582 | 589 | 603 | 622 | 648 |
| WB - Wheel Base (mm) | 1066 | 1066 | 1066 | 1076 | 1081 | 1086 | 1101 | 1105 |
| SH - Stand Over Height (mm) | 697 | 721 | 737 | 753 | 783 | 807 | 833 | 860 |
| Kroppshøyde Cm | < 153 | 150 - 159 | 155 - 167 | 160 - 174 | 165 - 180 | 168 - 183 | 184 - 195 | > 190 |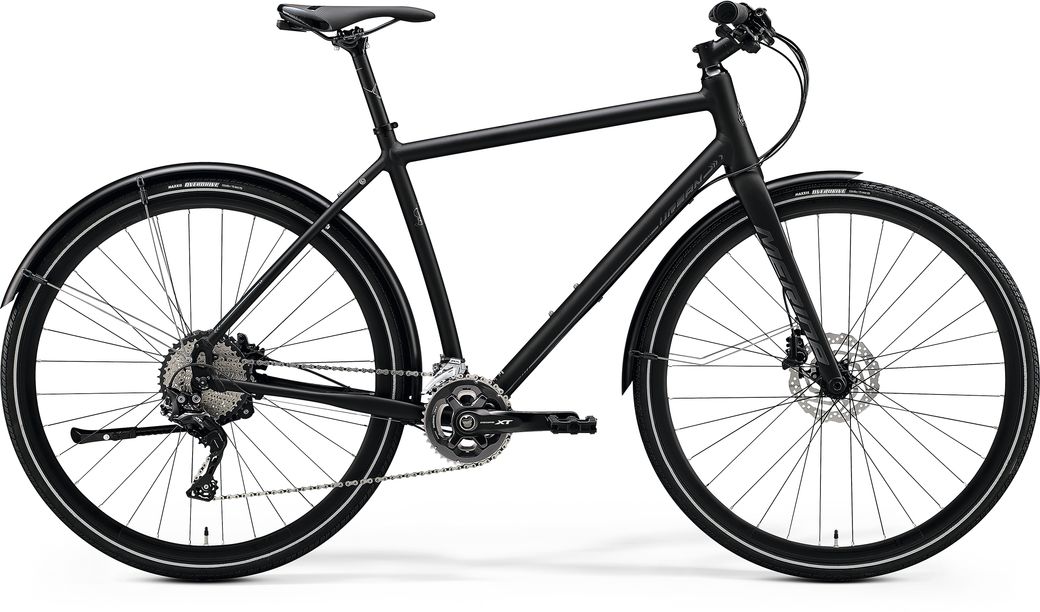 6061 double butted and technoformed aluminium frame with a cable channel underneath the down tube. A tapered head tube provides steering precision. Graceful lines with smooth welding. Equipped with mudguards and kickstand. Reflective decals for extra visibility.
Vanligvis er hjulene festet med hurtigkoblingsnav for enkel demontering – det er påkrevd for raske hjulskift i Tour de France, men er ikke smart når du setter fra deg sykkelen i byen. Alle modeller har sikkerhetsnav med aksler som løsnes med verktøy.
Alle CROSSWAY URBAN-modeller leveres med skivebremser; Skivebremsene leverer overlegen bremsekraft sammenlignet med konvensjonelle felgbremser fordi bremseflaten er plassert nær sentrum av hjulet, på god avstand fra vanndammer og støv.
URBAN-serien leveres komplett med skjermer og støtte, slik at du er klar for alt i det øyeblikket du forlater butikken.
Alle CROSSWAY 100 opp til XT-EDITION-modellene har dekk med refleksstriper på sideveggene som gir bedre synlighet på veien.
Den største forskjellen mellom de to CROSSWAY-familiene er dempingen. URBAN-serien er utstyrt med en stiv gaffel som gir betydelig lavere vekt – og på CROSSWAY URBAN 500 og XT-EDITION bruker vi en enda lettere karbongaffel istedenfor den allerede lette aluminiumsgaffelen. URBAN-serien krever ikke justerbar styrestem eller dempede setepinner, og det gir også en vektreduksjon.