Coil
63mm suspension travel
Styrelager
Merida 2346 Neck
31.8mm diameter
17° stem angle
Holker / styretape
MERIDA Expert TK
Bakgir
Shimano Altus RDM2000
Bakre girhendel
Shimano Altus rapidfire
30.9mm diameter
15mm setback
Sadelklemme
MERIDA Expert
622-42
wire bead
reflecting line
622-42
wire bead
reflecting line
100x9mm width front hub
32 spoke holes
Centerlock
142x12mm width rear hub
36 spoke holes
Centerlock
lys
CG-119PG-BLACK(1) / CG-404RG
batterilader
Shimano EC-E6002[??????]
rammelås
Abus 5650 LH-3 lock
| | | | | | |
| --- | --- | --- | --- | --- | --- |
| Rammestørrelse | XS | S | M | L | XL |
| Dekkstørrelse | 28" | 28" | 28" | 28" | 28" |
| ST - Seat Tubes (mm) | 430 | 470 | 510 | 550 | 590 |
| TT - Top Tube (mm) | 565 | 580 | 590 | 610 | 630 |
| CS - Chain Stays (mm) | 475 | 475 | 475 | 475 | 475 |
| HTA - Head Tube Angles (°) | 70.5 | 71 | 71 | 71.5 | 71.5 |
| STA - Seat Tube Angle (°) | 74 | 73.5 | 73.5 | 73 | 73 |
| BD - Bottom Bracket Drops (mm) | 70 | 70 | 70 | 70 | 70 |
| HT - Head Tube Length (mm) | 130 | 140 | 155 | 175 | 205 |
| FL - Fork Length (mm) | 477 | 477 | 477 | 477 | 477 |
| R - Reach (mm) | 385 | 391 | 397 | 404 | 415 |
| S - Stack (mm) | 627 | 638 | 653 | 674 | 702 |
| WB - Wheel Base (mm) | 1101 | 1105 | 1116 | 1124 | 1145 |
| SH - Stand Over Height (mm) | 723 | 757 | 792 | 827 | 864 |
| | | | | | |
| --- | --- | --- | --- | --- | --- |
| Number | Item Number | Name | Info | Pieces | Torque NM |
| 1/2/3/4 | | CABLE GUIDE | SMART ENTRY | | |
| 5 | A2300000213 | SCREW | M3x0.5 L13.5mm | 2 | 2~4 |
| 6 | A2151000025 | COVER | for battery; sizes S / M / L / XL | 1 | |
| 7 | A2151000026 | COVER | for battery; sizes XS | 1 | |
| 8 | A2300000468 | SCREW | M8x1.25 L18.5mm | 3 | 11~12 |
| 9 | A2300000469 | SCREW | M8x1.25 L23mm | 3 | 11~12 |
| 10 | A2258000099 | CABLE PLUG | for rear brake and speed sensor | 1 | |
| 11 | A2258000012 | CABLE GUIDE | for M5 fixation | 1 | |
| 12 | A2298000004 | SCREW | M5x0.8 L15mm with washer | 1 | 3~5 |
| 13 | A2300000129 | SCREW | M3x0.5 L10mm | 2 | 2~4 |
| 14 | A2311000067 | RD-HANGER | DH-057 | 1 | |
| 15 | A2143000076 | COVER | for carrier mount | 2 | |
| 16 | A2298000142 | SCREW | M6x1.0 L12mm | 2 | 6~8 |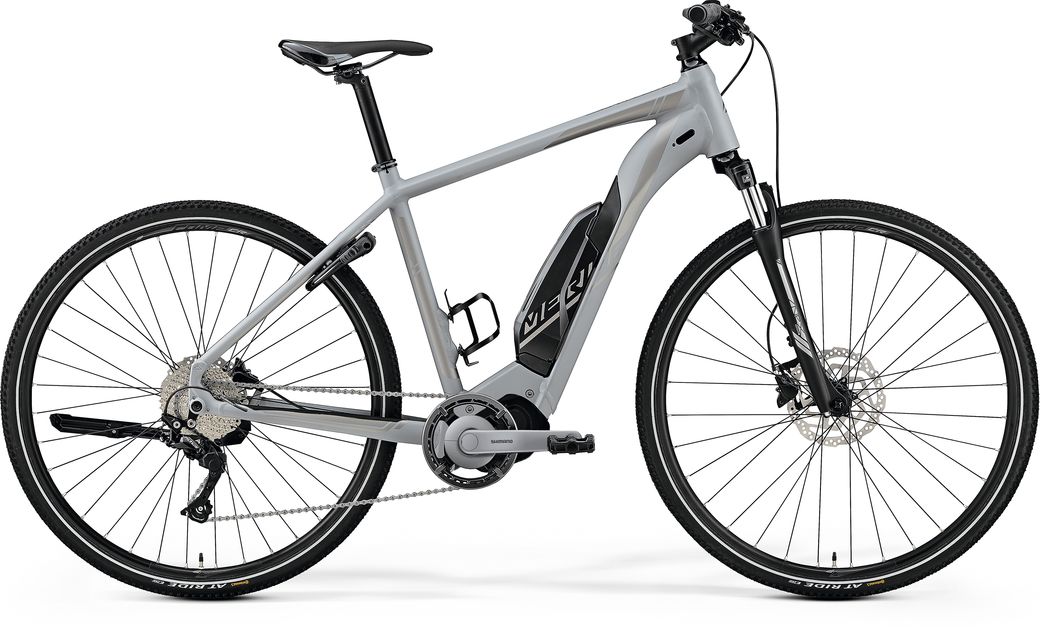 HFS-hydroforming Prolite 66 triple butted aluminium frame based around fast rolling 700c wheels and with commuting and leisure riding in mind. A higher front end and a compact geometry make for a more upright and extremely comfortable riding position. Comes equipped with mudguards, rear rack, side stand, lock and lights.
Vi har integrert kabel/wire-trekking på alle våre eSPRESSO-modeller. Kabler/wire er trukket gjennom rammen, og innganger og utganger går gjennom smidige gjennomføringer. Det er bare et smart system for integrert trekking og fiksering som garanterer pålitelig trekking uten ulyder, og gir sykkelen et stilrent utseende.
Med vår eSPRESSO-serie kan du velge mellom den klassiske diamant-rammen eller ramme med ekstra lavt innsteg (men likevel høy torsjonsstivhet) slik at du kan velge den ideelle sykkelen for deg. Vi tilbyr også en rekke forskjellige kombinasjoner av motor og batteri med vår eSPRESSO-serie. Det gir deg enda flere muligheter til å velge den perfekte eSPRESSO-sykkelen.
Dempegaffelen kan låses på modellene XT-EDITION og 900 EQ – via fjernkontrollspak på styret. Perfekt for smidige klatreetapper eller når du presser hardt på pedalene mens du står.
Konisk styrerør med 1 1/8"-lager i toppen og 1 1/2" i bunnen. Kombinert med konisk kronerør (med den tilhørende delen på gaffelen) oppnår man meget god stivhet og presise styreegenskaper som styrker tilliten.
Sykler med K-feste har festepunkter på kjedestagene for montering av en MERIDA støtte, mens sykler med C-feste her integrert feste for bagasjebrett bak. Sykler med F-feste leveres med integrerte festepunkter for skjermer.
Hele serien kjører på hurtigrullende 700c hjul, som er ideelle for landeveier, småveier og fine løyper. Vi monterer dekk med reflekterende sidevegger og punkteringsbeskyttelse, som bringer deg til målet raskt og sikkert.