material: carbon
700x30C max. wheelsize
100x12/ 142x12mm axle standard
BB86,5 bottom bracket standard
Rammestørrelse
XXS, XS, S, M, L, XL
Farge
GLOSSY BLACK/MATT BLACK
material: carbon
700x30C max. wheelsize
Bremsehendel
Shimano Ultegra
material: aluminium
380mm (XXS)
400mm (XS-S)
420mm (M), 440 (L-XL)
material: aluminium

-6° stem angle

90 mm-XXS/XS, 100 mm-S, 110 mm-M, 120 mm-L/XL
Holker / styretape
MERIDA ROAD EXPERT
Krankgir
Shimano Ultegra Di2
Fremre girhendel
Shimano Ultegra disc Di2
Bakre girhendel
Shimano Ultegra disc Di2
Aero shape
15mm setback
Carbon
Sadelklemme
MERIDA REACTO Aero
52-36 teeth
165 mm-XSS/XS, 170 mm-S, 172.5 mm-M, 175 mm-L/XL
Krank
165 mm-XSS/XS, 170 mm-S, 172.5 mm-M, 175 mm-L/XL
Kranklager
SM-BB72-41B, Pressfit 86.5
100x12mm width front hub 142x12mm width rear hub 18mm inner width 32mm height Centerlock material: aluminium * Tubeless ready (tubeless tape and valves included)
including removable lever
6/4mm allen key
lys
REACTO light seat post + Battery
weighed with 700C wheels and at frame size M, without pedals
| | | | | | | |
| --- | --- | --- | --- | --- | --- | --- |
| Rammestørrelse | XXS | XS | S | M | L | XL |
| Dekkstørrelse | 28" | 28" | 28" | 28" | 28" | 28" |
| ST - Seat Tubes (mm) | 470 | 500 | 520 | 540 | 560 | 590 |
| TT - Top Tube (mm) | 520 | 536 | 545 | 560 | 575 | 590 |
| CS - Chain Stays (mm) | 408 | 408 | 408 | 408 | 408 | 408 |
| HTA - Head Tube Angles (°) | 70.5 | 72 | 72.5 | 73.5 | 73.5 | 74 |
| STA - Seat Tube Angle (°) | 74.5 | 74 | 74 | 73.5 | 73 | 73 |
| BD - Bottom Bracket Drops (mm) | 70 | 70 | 66 | 66 | 66 | 66 |
| HT - Head Tube Length (mm) | 105 | 112 | 128 | 140 | 155 | 176 |
| FL - Fork Length (mm) | 385 | 385 | 385 | 385 | 385 | 385 |
| R - Reach (mm) | 377 | 384 | 390 | 395 | 400 | 409 |
| S - Stack (mm) | 517 | 529 | 542 | 557 | 571 | 593 |
| WB - Wheel Base (mm) | 985 | 983 | 990 | 990 | 999 | 1010 |
| SH - Stand Over Height (mm) | 746 | 771 | 792 | 810 | 826 | 853 |
| | | | | | |
| --- | --- | --- | --- | --- | --- |
| Number | Item Number | Name | Info | Pieces | Torque NM |
| 1 | A2029000035 | TUBE | foam; ID6mm L350mm | 1 | |
| 2 | A2029000028 | TUBE | foam; ID5mm L400mm | 1 | |
| 3 | A2054000107 | EXPANDER | for fork steerer ID 23.6mm | 1 | |
| 4 | A2191000187 | HEADSET | FSA NO.55R 1.5"/ACR/STD (TH-MR127, TH-MR168) | 1 | |
| 5 | A2029000055 | TUBE | woven; L40mm for size XXS/XS | 1 | |
| 5 | A2029000056 | TUBE | woven; L60mm for size S | 1 | |
| 5 | A2029000057 | TUBE | woven; L70mm for size M | 1 | |
| 5 | A2029000058 | TUBE | woven; L90mm for size L | 1 | |
| 5 | A2029000059 | TUBE | woven; L105mm for size XL | 1 | |
| 6 | A2164000060 | DISC COOLER | front; for FM160/FM180 | 1 | |
| 7 | A2298000265 | SCREW | M5x0.8 L16mm | 2 | 6~8 |
| 8 | A2002000103 | THRU AXLE | EXPERT SL; L=120mm M12x1.5 TL=12mm | 1 | |
| 9 | A2248000035 | CLAMP | for saddle rail; left inner part | 1 | |
| 10 | A2248000031 | CLAMP | for saddle rail; left outer part | 1 | |
| 11 | A2248000034 | CLAMP | for saddle rail; right inner part | 1 | |
| 12 | A2248000030 | CLAMP | for saddle rail; right outer part | 1 | |
| 13 | A2300000259 | SCREW | M6x1 L45mm | 2 | 10~12 |
| 14a | A2128000052 | COVER | for S-FLEX seatpost; with LED light | 1 | |
| 14b | A2129000081 | COVER | for S-FLEX seatpost, w/o light | 1 | |
| 15 | A2347000024 | COVER | for seatpost clamp | 1 | |
| 16 | A2247000084 | CLAMP | for seatpost | 1 | 5~6 |
| 17 | A2298000059 | SCREW | M5x0.8 L15mm | 4 | 3~4 |
| 18 | A2136000053 | MOUNT | for FD | 1 | |
| 19 | A2143000130 | BLIND PLUG | | 1 | |
| 20 | A2143000095 | CABLE PLUG | for Di2 | 1 | |
| 21 | A2322000034 | PROTECTOR | for chain stay | 1 | |
| 22 | A2311000104 | RD HANGER | DH-068 for ROAD-RD | 1 | |
| 23 | A2311000103 | RD HANGER | DH-067 for SHIMANO direct mount | 1 | |
| 24 | A2300000129 | SCREW | M3x0.5 L10mm | 1 | 2~4 |
| 25 | A2143000131 | BLIND PLUG | | 1 | |
| 26 | A2143000082 | CABLE PLUG | for mechanical | 1 | |
| 27 | A2143000121 | CABLE PLUG | for Di2 | 1 | |
| 28 | A2164000061 | DISC COOLER | rear; for FM140/FM160 | 1 | |
| 29 | A2002000104 | THRU AXLE | EXPERT SL; L=162.5mm M12x1.5 TL=12mm | 1 | |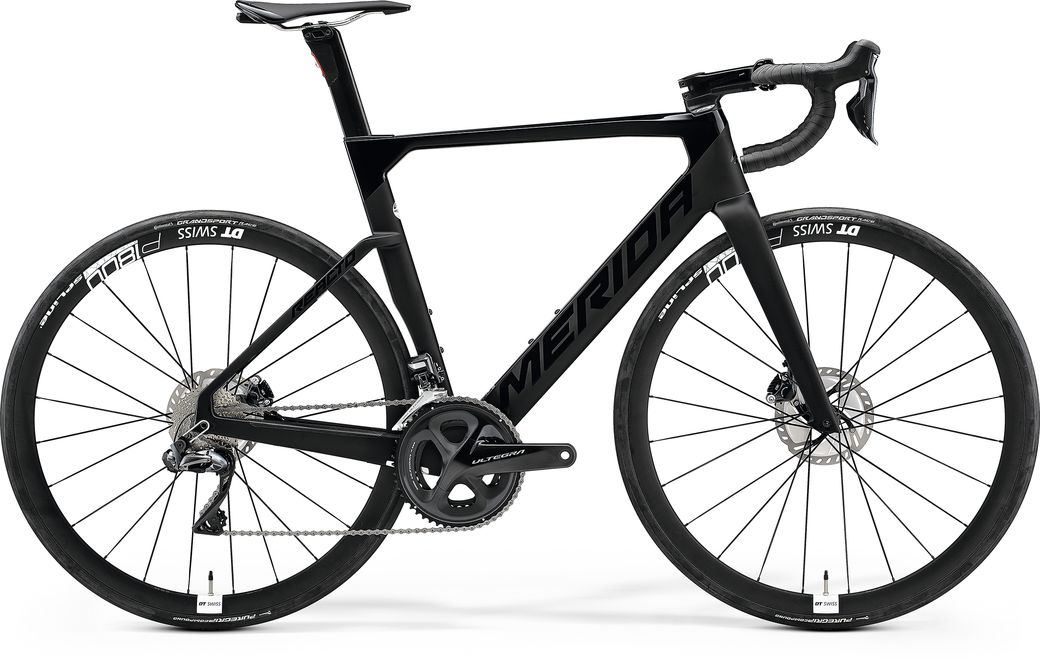 To offer maximum control and braking performance, the new REACTO comes equipped with disc brakes throughout the range. We use flat mount disc brake standards in combination with our 'Disc Cooling' technology at the front and rear for the best braking performance. A flat mount rear caliper is mounted on the chainstay which is better for dissipating braking forces but also keeps it protected inside the rear triangle.
Our high-performance carbon models with the CF5 frame feature a completely cable integrated Vision Metron 5D ACR carbon cockpit, improving aerodynamics and offering a super clean silhouette and cockpit area. The CF3 models with electronic shifting feature a two-piece aluminium cable integrated cockpit consisting of a Vision ACR SMR stem combined with a MERIDA EXPERT CW handlebar. All three cockpit options provide a very clean, organic and modern appearance.
With aerodynamic optimisation at the fork, seat stays and a cable integrated cockpit the new REACTO offers even better values than its already class-topping predecessor.
Alle høyytelses DISC landeveissykler har 12 mm gjennomgående boltaksler for større hjulstivhet og nøyaktig skiveinnretting ved skifte av hjul. CF4-modellene bruker R.A.T-systemet, lynraskt å åpne og lukke.
Alle REACTO-modeller har gaffel i fullkarbon med konisk kronerør for å oppnå presis og tillitsskapende håndtering. Aluminium- og CF2 karbonmodeller har "vanlig" 1 1/8"- til 1 1/2"-kon. Den høye enden av CF4-rammen har en slankere frontprofil og bruker 1 1/8"- til 1 1/4"-kon.
En smidd aluminiumsdel under fremre og bakre skivebremskaliper leder bort varme gjennom CNC-maskinerte kjølefinner og gir 35 % mindre oppvarming og raskere temperaturreduksjon for stabile bremseytelser.
Komfort har alltid vært en viktig egenskap ved REACTO. Mange aero-sykler har harde kjøreegenskaper på grunn av større dekkdimensjoner og setepinner. Det gjelder ikke for REACTO, der våre profilerte setepinner fungerer som en vanlig setepinne og gir et meget godt nivå av komfort sammenlignet med andre aero-sykler.