material: aluminium
27,5x2,25" max. wheelsize
135x9mm axle standard
internal
max. 630 Wh
Rammestørrelse
XS, S, M, L, XL
Coil
75mm suspension travel
27,5x2,4" max wheelsize
Styrelager
MERIDA CAP w/ wire gateway
material: aluminium
660mm width
15mm rise
material: aluminium
31.8mm diameter
adjustable
90 mm- XS/S/M/L/XL
Holker / styretape
MERIDA EXPERT TK
Bakre girhendel
Shimano Deore M5100
30.9mm diameter
15mm setback
40mm seatpost suspension travel
Sadelklemme
MERIDA EXPERT
V-mount
incl. MERIDA minitool
38 teeth
MERIDA EXPERT TK
Kjedekasse
Sunnywheel SW-CG-173A
20mm inner width
material: aluminium
27.5x2.25"
wire
reflecting line
27.5x2.25"
wire
reflecting line
100x15mm width front hub
32 spoke holes
Centerlock
135x9mm width rear hub
36 spoke holes
Centerlock
Skjermer
Sunnywheel SW-FA-311-65A(MSB)
lys
Herrmans H-Black MR4 E / Spanninga Commuter Glow XE integrated in MERIDA MIK HD carrier
bagasjebrett
MERIDA MIK HD Carrier with Spring clip & Spanninga rear light
støtte
Atranvelo 1219-PC-7
Bremsestrømpe
VLD-880 Foam Black
weighed with 27.5" wheels and at frame size S, without pedals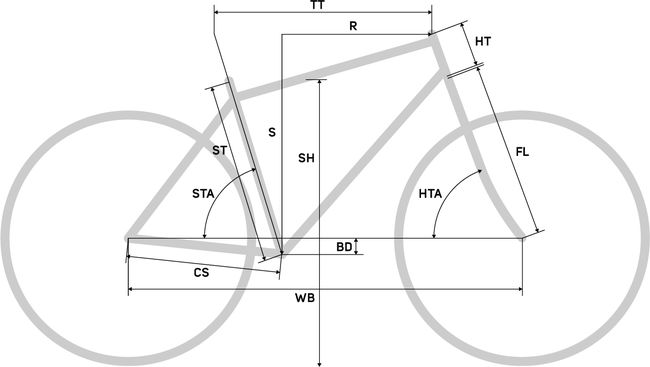 | | | | | | |
| --- | --- | --- | --- | --- | --- |
| Rammestørrelse | XS | S | M | L | XL |
| Dekkstørrelse | 27.5" | 27.5" | 27.5" | 27.5" | 27.5" |
| ST - Seat Tubes (mm) | 380 | 430 | 480 | 530 | 580 |
| TT - Top Tube (mm) | 580 | 595 | 615 | 635 | 655 |
| CS - Chain Stays (mm) | 470 | 470 | 470 | 470 | 470 |
| HTA - Head Tube Angles (°) | 70 | 70 | 70 | 70 | 70 |
| STA - Seat Tube Angle (°) | 73.5 | 73.5 | 73.5 | 73.5 | 73.5 |
| BD - Bottom Bracket Drops (mm) | 65 | 65 | 65 | 65 | 65 |
| HT - Head Tube Length (mm) | 170 | 175 | 180 | 190 | 200 |
| FL - Fork Length (mm) | 476 | 476 | 476 | 476 | 476 |
| R - Reach (mm) | 385 | 399 | 417 | 435 | 452 |
| S - Stack (mm) | 656 | 661 | 666 | 675 | 685 |
| WB - Wheel Base (mm) | 1113 | 1129 | 1149 | 1170 | 1190 |
| SH - Stand Over Height (mm) | 403 | 403 | 402 | 402 | 401 |
| | | | | | |
| --- | --- | --- | --- | --- | --- |
| Number | Item Number | Name | Info | Pieces | Torque NM |
| 1 | A2300000004 | SCREW | M3x0.5 L6mm | 2 | 2~4 |
| 2 | A2311000072 | RD-HANGER | DH-013F | 1 | |
| 3 | A2258000079 | CABLE PLUG | for rear brake | 1 | |
| 4 | A2300000468 | SCREW | M8x1.25 L18.5mm | 3 | 11~12 |
| 5 | A2300000469 | SCREW | M8x1.25 L23mm | 3 | 11~12 |
| 6.1 | A2143000126 | BUTTON | ON-OFF; for SHIMANO batteries | 1 | |
| 6.2 | A2143000097 | BLIND PLUG | for SIMPLO batteries | 1 | |
| 7 | A2164000088 | MOUNT | for lower battery mount | 1 | |
| 8 | A2298000143 | SCREW | M6x1.0 L10mm | 4 | 6~8 |
| 9 | A2030000016 | MOUNT | upper; for battery cover | 1 | |
| 10 | A2030000017 | MOUNT | lower; for battery cover | 1 | |
| 11 | A2160000012 | O-RING | OD6mm ID4mm | 2 | |
| 12 | A2221000048 | BUSHING | for battery cover | 2 | |
| 13 | A2300000530 | BOLT | M5x0.8 L39.5mm | 1 | 4~6 |
| 14 | A2300000231 | SCREW | M3x0.5 L8mm | 3 | 2~4 |
| 15 | A2143000153 | BLIND PLUG | for drive unit screw holes | 4 | |
| 16 | A2161000138 | COVER | for battery; frame size XS | 1 | |
| 16 | A2161000139 | COVER | for battery; frame size S | 1 | |
| 16 | A2161000140 | COVER | for battery; frame size M | 1 | |
| 16 | A2161000141 | COVER | for battery; frame size L | 1 | |
| 16 | A2161000142 | COVER | for battery; frame size XL | 1 | |
| 17 | A2136000071 | MOUNT | for battery cover | 1 | |
| 18 | A2029000001 | BUMPER | for battery cover | 2 | |
| 19 | A2134000061 | BUTTON | for cover lock | 1 | 3.75~4.25 |
| 20 | A2136000017 | MOUNT | for bottle cage | 1 | |
| 21 | A2292000028 | WASHER | OD9mm ID5.2mm H3mm | 2 | |
| 22 | A2298000154 | SCREW | M5x0.8 L12mm | 2 | 3~5 |
| 23 | A2298000158 | SCREW | M5x0.8 L25mm | 1 | 3~5 |
| 24 | A2164000065 | MOUNT | for SIMPLO ON-OFF | 1 | |
| 25 | A2300000568 | SCREW | M3x0.5 L6mm | 2 | 2~4 |
| 26 | A2300000204 | NUT | for fender; M6 | 1 | |
| 27 | A2300000288 | SCREW | M6x1.0 L18mm | 1 | 10~12 |
| 28 | A2363000255 | PROTECTOR | for step through area | 1 | |
| 29 | A2191000138 | HEAD SET | MERDIA/ACROS-ICR TREKKING | 1 | |
| 30 | A2161000143 | COVER | for drive unit; left side | 1 | |
| 31 | A2161000144 | COVER | for drive unit; right side | 1 | |
| 32 | A2143000122 | CABLE PLUG | for front light | 1 | |
| | | SMALL PARTS E6100 | see pdf file | | |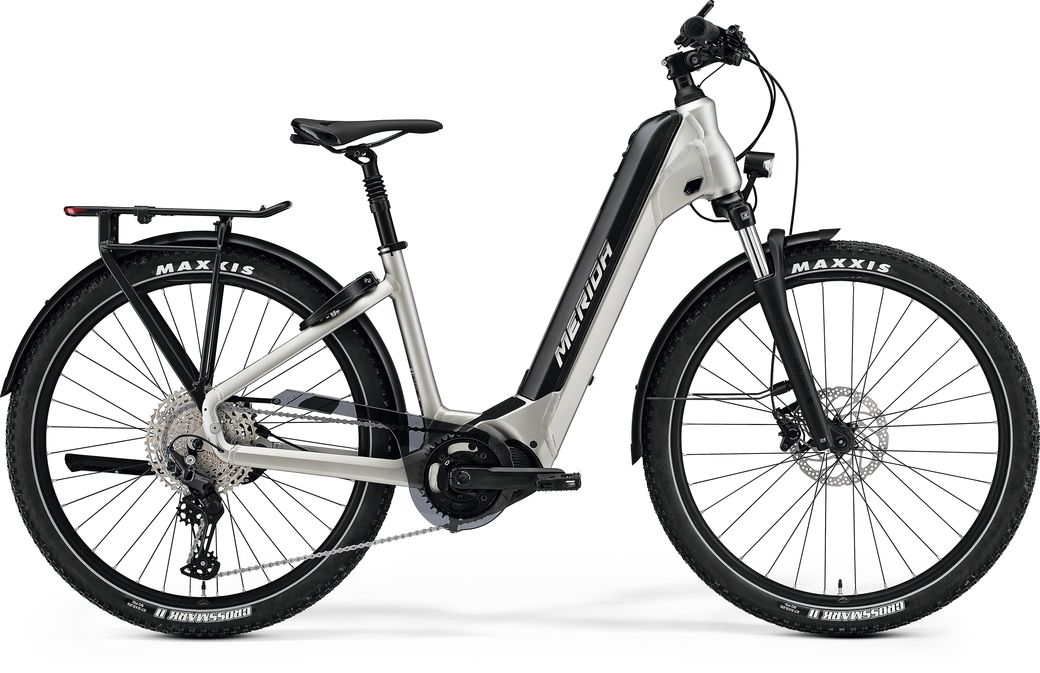 The eSPRESSO CC is available with the new 'Energy Cradle' frame, where the 745 or 630 Wh battery (depending on model) is housed on top of the downtube, and can be accessed via a removable aluminium battery cover, or as a semi-integrated frame, where the 504 Wh battery is integrated into the lower part of the downtube.
Unique cradle like shaping of the downtube to accommodate the battery, without losing the all important frame stiffness of our low step-through frames. By not adding cutouts to the downtube, we can maintain the outstanding frame stiffness, that prevents our low step-through bikes from wobbling under load. Paired with an aluminium battery cover, the frames give the impression of an integrated battery, without sacrificing stability and battery accessibility. The tapered head tube, the large tube diameters and the forged motor bracket all contribute to achieving a safe and precise riding experience.
The eSPRESSO CC come fully equipped with fenders, kickstand, carrier and lights. Ready for any outing you can think of.
A centrally positioned low centre of gravity, which has been achieved through the positioning of the battery in the lower position of the downtube as well as the location of the Shimano motors, enables to deliver fantastic riding characteristics in any situation which are extremely important in particular in wave low step through frames which have the tendency to chatter and jitter when power is applied.
The decision to use 650B wheels with 2.25" off-road tread pattern for our CC models is not just a design feature but has more practical reasons. To add big volume tyres to an e-bike provides increased comfort but also extra traction and therefore more safety reserves. Small and even bigger bumps can easily be rolled over, and a big volume tyre provides more puncture protection compared to a narrow one.
Kabler/wire trekkes gjennom rammen og gjør sykkelen stilrent og ryddig. Samtidig er kabler/wire ute av luftstrømmen og beskyttes mot fuktighet og smuss.
Den midtmonterte Shimano-motoren, i kombinasjon med smidd motorbrakett, utstyrer eSPRESSO CITY med et av de laveste innstegene i markedet.