material: carbon
29 wheelsize
148x12mm axle standard
BB92 bottom bracket standard
Rammestørrelse
S, M, L, XL, XXL
Farge
MATT ANTHRACITE (RED)
Air
100mm suspension travel
Tapered
Remote lockout
51mm fork offset
material: aluminium
720mm width
flat
material: aluminium
31.8mm diameter
-6° stem angle
S-70 mm, M-80 mm, L-90 mm, XL-100 mm, XXL-110 mm
Holker / styretape
MERIDA COMP EC
Bakre girhendel
Sram SX Eagle
material: aluminium
30.9mm diameter
0mm setback
Sadelklemme
MERIDA EXPERT
32 teeth
170 mm-S, 175 mm-M up
Kranklager
Sram BB DUB PF MTB 92
20mm inner width
material: aluminium
110x15mm width front hub
32 spoke holes
Centerlock
148x12mm width rear hub
32 spoke holes
Centerlock
including removeable lever, 6/4mm allen key
weighed at frame size M and 29" wheels without pedals
Krank
170 mm-S, 175 mm-M up
Lockout spak
remote included
| | | | | | |
| --- | --- | --- | --- | --- | --- |
| Rammestørrelse | S | M | L | XL | XXL |
| Dekkstørrelse | 29" | 29" | 29" | 29" | 29" |
| ST - Seat Tubes (mm) | 380 | 444 | 483 | 532 | 584 |
| TT - Top Tube (mm) | 585 | 605 | 625 | 645 | 665 |
| CS - Chain Stays (mm) | 433 | 433 | 433 | 433 | 433 |
| HTA - Head Tube Angles (°) | 70 | 70 | 70 | 70 | 70 |
| STA - Seat Tube Angle (°) | 73.5 | 73.5 | 73.5 | 73.5 | 73.5 |
| BD - Bottom Bracket Drops (mm) | 65 | 65 | 65 | 65 | 65 |
| HT - Head Tube Length (mm) | 95 | 100 | 110 | 125 | 145 |
| FL - Fork Length (mm) | 506 | 506 | 506 | 506 | 506 |
| R - Reach (mm) | 402 | 421 | 438 | 454 | 468 |
| S - Stack (mm) | 617 | 622 | 631 | 645 | 664 |
| WB - Wheel Base (mm) | 1080 | 1101 | 1121 | 1142 | 1163 |
| SH - Stand Over Height (mm) | 681 | 744 | 778 | 819 | 842 |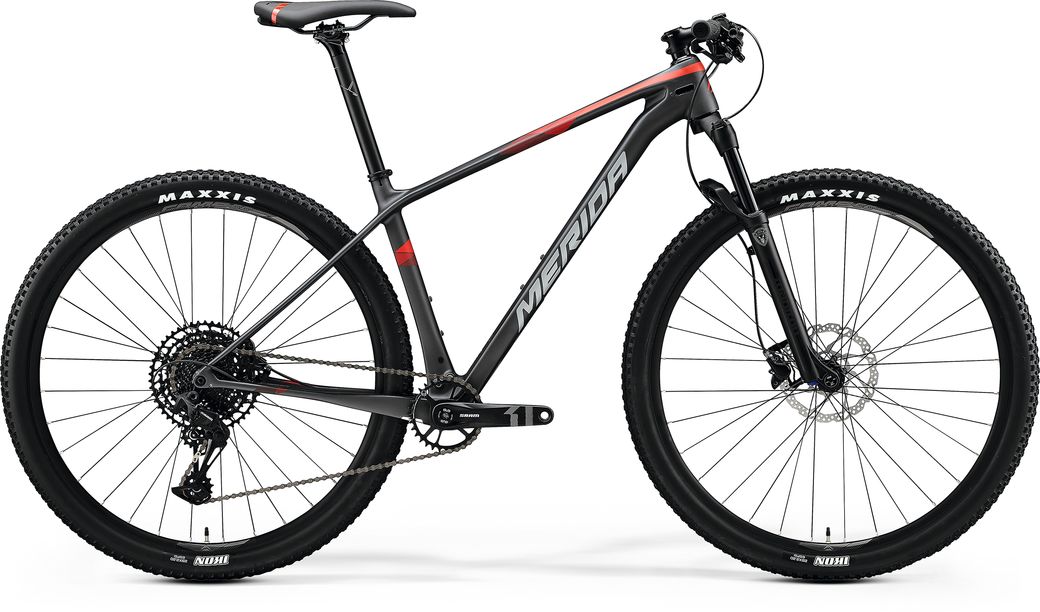 XC-fokusert karbonramme (ca. 1,29 kg BIG.NINE - M). Aero-profilert underrør, bladfjærprofilert kjedestag og setestag for komfort. BB92 kranklager. Boost akslingsstandard og konisk styrerør gir stivhet og presis styring. Smart Entry kabel/wire-trekking eliminerer ulyder. Inkluderer integrert underrørs- og kjedestagbeskyttere for ekstra rammebeskyttelse.
Our classic hardtails are the backbone of our range and showcase the enormous wealth of experience and knowledge we were able to gain in 48 years of bike production and manufacturing. The BIG.NINE and BIG.SEVEN range symbolises the symbiosis between modern frame technology, attention to detail and craftsmanship 'Made in Taiwan'.
Following in the footsteps of BIG.NINE/SEVEN TFS frame which was introduced in 2018, the SPEED frame also received a makeover for the 2019 season. The introduction of slim tube shapes creates a new look and a more relaxed geometry, through a shorter top tube and a higher head tube, resulting in a more upright riding position and enhanced trail visibility. The new frame also comes with IS brake mounts that are positioned within the rear triangle as well as with kickstand and fender mounts.
Avhengig av rammestørrelsen tilbyr vi 650B- eller 29er-versjoner av våre TFS- og SPEED-rammer. Behovene hos mindre ryttere (redusert overrørshøyde, lavere styreoppsett) ivaretas best med 650B på rammestørrelsene S og M, mens vi i den andre enden av spekteret, L og XL, kun leverer med 29er hjul. Størrelse M er tilgjengelig med enten 650B eller 29er.
Alle modeller ned til BIG.NINE 40 har 30,9 mm setepinne, og det forbedrede festeområdet øker styrken rundt overrør/seterør-sammenføyningen, og gir mulighet for å montere senkepinne. Modeller ned til BIG.NINE LIMITED har mulighet for integrert kabel/wire-trekking for senkepinne, mens de andre modellene må ha utvendig trekking av kabler.
Kabler, hylser og bremseslanger er stramt festet og lager ikke ulyd. Alle innganger er fullstendig ombyttbare for å håndtere Di2, hydraulikkslanger, bremsewire og girwirehylser osv.
Våre karbon (CF)- og aluminium (LITE)-modeller har lang 422 mm rammelengde, bratt 73,5° setevinkel, moderat 70° styrevinkel og 80 mm styrestem (rammestørrelse M), og neste generasjons XC-geometri. Aggressiv smidighet møter stabil ro; perfekt for dagens krevende løyper.