Air
130mm suspension travel
Tapered
35mm diameter
0° stem angle
derailleur (r)
Shimano XT M8000 Shadow+
shifters
no / Shimano SLX 11
30.9mm diameter
0mm setback
S: 100mm travel seatpost - M/L/XL: 125mm travel seatpost
110x15mm width front hub
32 spoke holes
Centerlock
148x12mm width rear hub
36 spoke holes
Centerlock
axles
attached / MERIDA Boost axle
27.5x2.8"
folding
3C EXO TR
light front
CG-119PG-BLACK(1)
battery charger
Shimano EC-E6002[??????]
| | | | | |
| --- | --- | --- | --- | --- |
| Frame Size | S | M | L | XL |
| Tyre Sizes | 27.5" | 27.5" | 27.5" | 27.5" |
| ST seat tube [mm] | 400 | 440 | 490 | 540 |
| TT top tube [mm] | 582 | 604 | 627 | 649 |
| CS chain stay length [mm] | 434.5 | 434.5 | 434.5 | 434.5 |
| HTA head tube angle [°] | 67.5 | 67.5 | 67.5 | 67.5 |
| STA seat tube angle [°] | 74.5 | 74.5 | 74.5 | 74.5 |
| BD bottom bracked drop [mm] | 60 | 60 | 60 | 60 |
| HT head tube [mm] | 105 | 115 | 125 | 135 |
| FL fork length [mm] | 541 | 541 | 541 | 541 |
| R reach [mm] | 405 | 425 | 445 | 465 |
| S stack [mm] | 637 | 647 | 656 | 665 |
| WB wheel base [mm] | 1130 | 1154 | 1177 | 1201 |
| SH stand over height [mm] | 650 | 682 | 705 | 736 |
| Body Height Cm | < 173 | 167 - 183 | 177 - 190 | > 187 |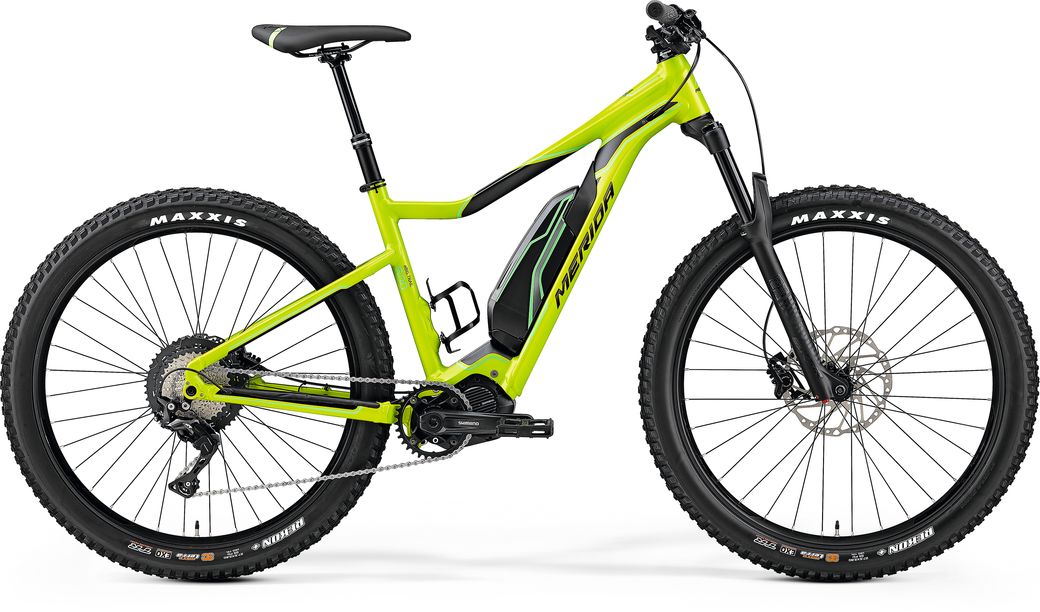 HFS-hydroforming Prolite 66 triple butted aluminium frame with aggressive trail geometry – Shimano STePS E8000 motor allows for short chain stays delivering agility. 'Smart Entry' cable routing for rattle free running. Casting motor bracket creates an integrated appearance of the motor into the frame as well as provides an extremely strong connection between frame and motor.
6 mm extra hub spacing at the rear: The eBIG.TRAIL comes with the new 'Boost 12x148' standard and through axles front and rear. The shallower spoke angle allows for an even stiffer wheel. On top of that, the chain line moves outwards – an important requirement for short chainstays.
A hardtail as a trail bike? No problem! 130 mm travel, a super stiff front end and an enduro-like 67.5° head angle set our eBIG.TRAIL up perfectly for fun orientated trail duties. The 760 mm bars and super short stem fit seamlessly into the trail bike concept.
A dropper post is allowing the rider to get the saddle out of the way when the gradient gets steeper, giving him/her more space to manoeuver and control over their bike. The fitted dropper posts featuring internal cable routing and remote levers, creating a cleaner look and allowing easier 'on the go' saddle height adjustment.
434 mm long chain stays are perfect for delivering a super playful handling. Thanks to 'Boost' hubs and the super compact size of the STePS E8000 or E7000 motor, the chain stays are not much longer than the ones on a non-powered trail bike.
650B+ wheels featuring 35-40 mm wide inner width rims and 2.8" tyres which are hugely capable when the going gets rough but also offer loads and loads of up-hill traction, cornering grip, puncture resistance and cushioning, without being draggy or sluggish. Most models offer tubeless ready rims and tyre configurations making a conversion to tubeless incredibly straightforward.
Cables, housings and brake hoses are clamped under tension to prevent rattling when the trail gets rough. All inlets are completely interchangeable to deal with Di2, hydraulic hoses, brake cable and gear cable housings etc.