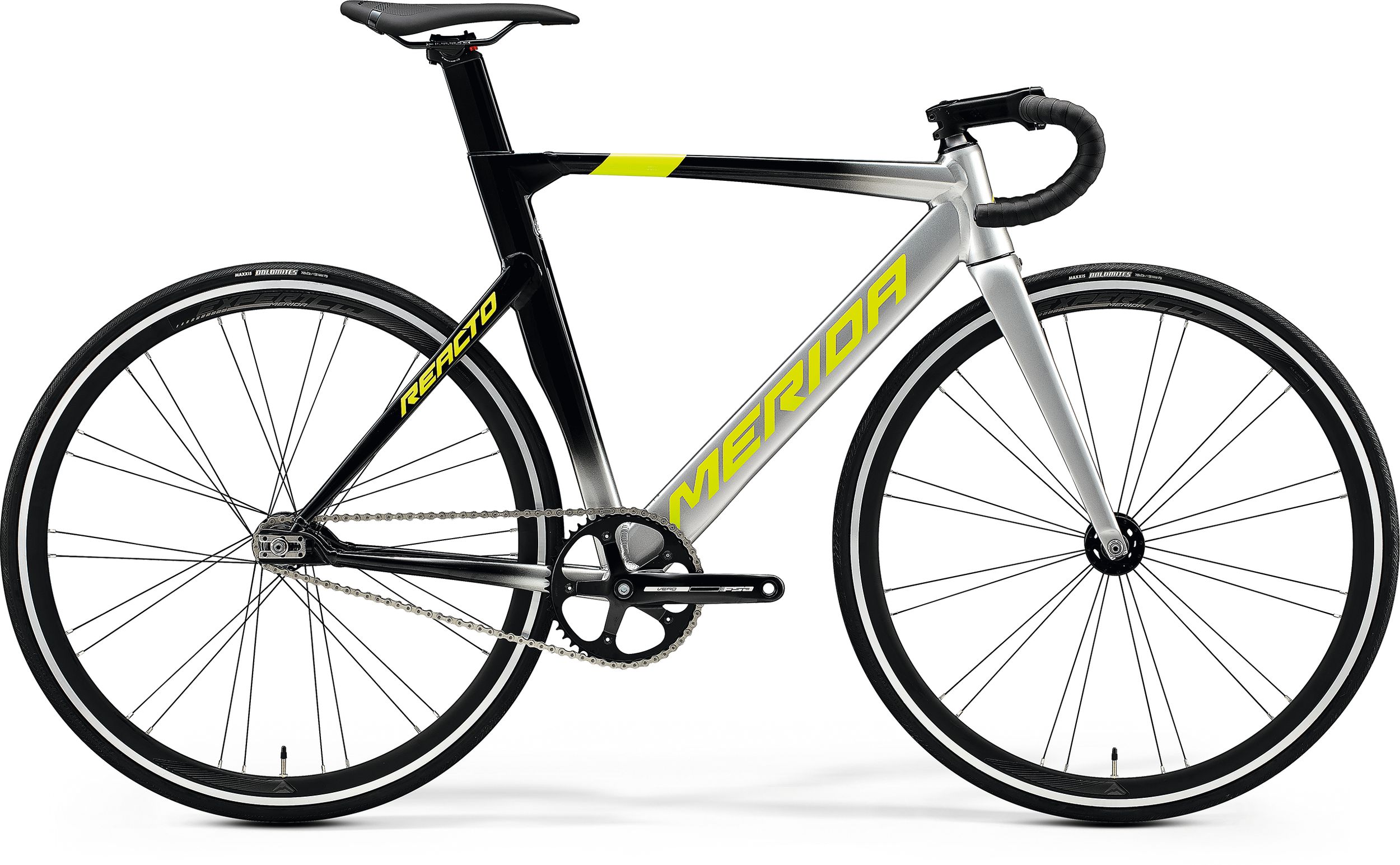 Not sure which size you need? Simply enter your body measurements into the Smartfit bike fitting system to find your ideal size. Find your size
material: aluminium
700C wheelsize
100x9/ 130x9mm axle standard
JIS bottom bracket standard
frame size
XS, S, S/M, M/L, L, XL
color
SILVER/METALLIC BLACK (YELLOW)
fork
MERIDA REACTO TRACK CF
headset
MERIDA M2331 Neck
material: aluminium
31.8mm diameter
-8° stem angle
80 mm-XS, 90 mm-S, 100 mm-SM/ML/L, 110 mm-XL
material: carbon
Aero shape
15mm setback
46 teeth
170 mm-XS/S, 172.5 mm-SM/ML, 175 mm-L/XL
crank size
170 mm-XS/S, 172.5 mm-SM/ML, 175 mm-L/XL
freewheel
Joytech Singlespeed, 15 teeth
bottom braket
FSA TH-7420ST, Cartridge Bearing
17mm inner width
35mm height
9x100mm width front hub
24 spoke holes
9x130mm width rear hub
28 spoke holes
spokes
Double Butted Black stainless
weighed at frame size M-L without pedals
| | | | | | | |
| --- | --- | --- | --- | --- | --- | --- |
| Frame Size | XS | S | S/M | M/L | L | XL |
| Tire Sizes | 28" | 28" | 28" | 28" | 28" | 28" |
| Frame Size CM | 47 | 50 | 52 | 54 | 56 | 59 |
| ST seat tube [mm] | 470 | 500 | 520 | 540 | 560 | 590 |
| TT top tube [mm] | 518 | 530 | 545 | 560 | 575 | 590 |
| CS chain stay length [mm] | 411(46/15T) | 411(46/15T) | 411(46/15T) | 411(46/15T) | 411(46/15T) | 411(46/15T) |
| HTA head tube angle [°] | 71 | 72 | 73 | 73 | 73 | 73 |
| STA seat tube angle [°] | 74 | 74 | 73.5 | 73 | 73 | 73 |
| BD bottom bracked drop [mm] | 55 | 55 | 55 | 55 | 55 | 55 |
| HT head tube [mm] | 95 | 105 | 120 | 135 | 150 | 165 |
| FL fork length [mm] | 369 | 369 | 369 | 369 | 369 | 369 |
| R reach [mm] | 381 | 389 | 394 | 400 | 411 | 421 |
| S stack [mm] | 479 | 492 | 510 | 524 | 538 | 553 |
| WB wheel base [mm] | 966 | 970 | 971 | 982 | 997 | 1012 |
| SH stand over height [mm] | 739 | 764 | 783 | 800 | 818 | 843 |
| Body Height Cm | < 167 | 163 - 172 | 168 - 177 | 173 - 182 | 178 - 187 | > 183 |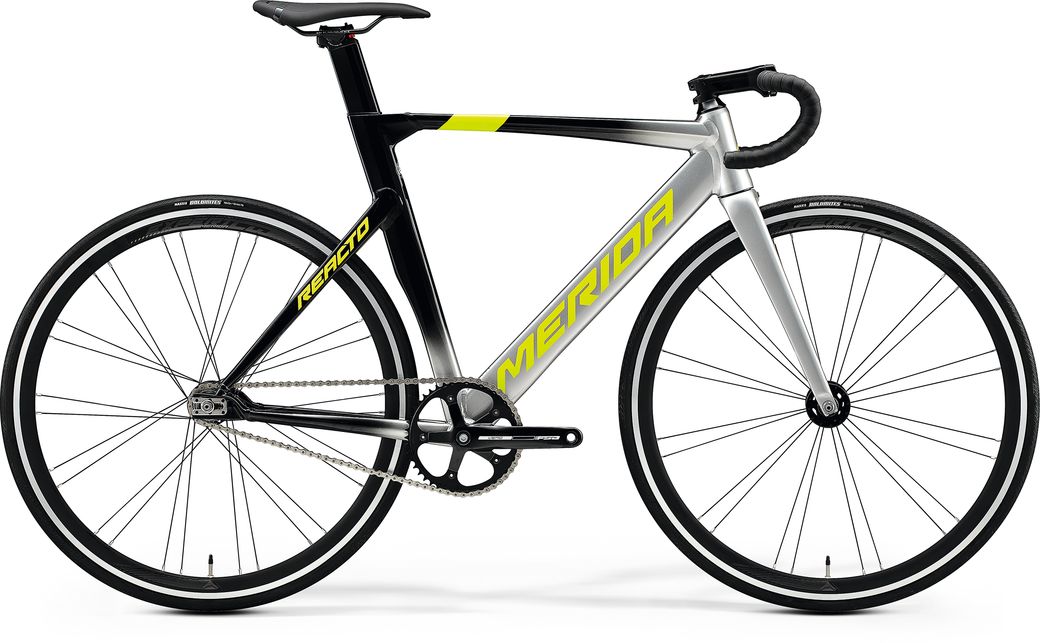 Lightweight 6066 series aluminium, triple butted and hydroformed into an aerodynamic shape. Featuring a tapered head tube and adjustable rear dropouts.
Perfectly designed for an impressive look: It is difficult to spot the tube-to-tube transitions of our 'One Piece Seat tube'.
All models feature a full carbon fork with a tapered steerer to give precise, confidence inspiring handling. Aluminium and CF2 carbon models feature a 'regular' 1 1/8" to 1 1/2" taper. The high end CF4 frame has a slimmed down front profile and uses a 1 1/8" to 1 1/4" taper.
Speed is everything – that is raison d'être for track bikes. The down tube and seat tube feature the 'NACA Fastback' tube profile which, due to its truncated drop shape, enables perfect airflow at the lowest possible weight.
As comfort is not a major priority for a track bike, it's fitted with fast rolling 23 mm tyres.
The adjustability of the horizontal dropouts on our REACTO TRACK is vast, allowing a broad range of chain ring sizes to be used without the need to adjust the chain.
Not everybody goes this far: Right from the start, the frame of our REACTO TRACK is UCI certified and therefore is ready to be raced – at any level.