color
SILK COPPER (DARK SILVER)
Air
150mm suspension travel
Tapered
brake lever
Shimano MT-500
headset
MERIDA M2339 Neck
31.8mm diameter
6° stem angle
derailleur (r)
Shimano SLX Shadow+
shifters
no / Shimano SLX
30.9mm diameter
0mm setback
S: 100mm travel seatpost - M/L/XL: 125mm travel seatpost
bottom bracket
FSA BB-CFM92/CZ
110x15mm width front hub
32 spoke holes
Centerlock
148x12mm width rear hub
32 spoke holes
Centerlock
27.5x2.35"
folding
TR EXO Dual
27.5x2.35"
folding
TR EXO Dual
axles
JD-QR48R Boost axle 12x148mm
weighed at frame size M (w/o pedals)
| | | | | |
| --- | --- | --- | --- | --- |
| Frame Size | S | M | L | XL |
| Tyre Sizes | 27.5" | 27.5" | 27.5" | 27.5" |
| ST seat tube [mm] | 410 | 435 | 475 | 515 |
| TT top tube [mm] | 572 | 596 | 619.7 | 643.4 |
| CS chain stay length [mm] | 435 | 435 | 435 | 435 |
| HTA head tube angle [°] | 66.3 | 66.3 | 66.3 | 66.3 |
| STA seat tube angle [°] | 75 | 75 | 75 | 75 |
| BD bottom bracked drop [mm] | 21 | 21 | 21 | 21 |
| HT head tube [mm] | 95 | 110 | 125 | 140 |
| FL fork length [mm] | 542 | 542 | 542 | 542 |
| R reach [mm] | 415 | 435 | 455 | 475 |
| S stack [mm] | 587 | 601.1 | 614.9 | 628.6 |
| WB wheel base [mm] | 1144 | 1170 | 1194 | 1222 |
| SH stand over height [mm] | 708 | 723 | 750 | 778 |
| | | | | | |
| --- | --- | --- | --- | --- | --- |
| No. | Item-No. | Name | Info | Pieces | Torque NM |
| 1 | 2294004440 | WASHER | | 2 | |
| 2 | 2221002254 | BEARING | 6800V2RS 19D*10D*5W | 6 | |
| 3 | 2300011274 | SCREW | | 2 | 14 |
| 4 | 2300012480 | SCREW | | 1 | 10 |
| 5 | 2300012491 | BOLT | | 1 | |
| 6 | 2221002265 | BEARING | 6801V-2RS 21D*12D*5W | 2 | |
| 7 | 2300011285 | SCREW | | 1 | 14 |
| 8 | 2300011296 | BOLT | | 1 | |
| 9 | 2294004439 | WASHER | | 2 | |
| 10 | 2294004451 | WASHER | | 8 | |
| 11 | 2300011252 | SCREW | | 4 | 11 |
| 12 | 2300011263 | BOLT | | 4 | |
| 13 | 2294001180 | WASHER | | 2 | |
| 14 | 2221002395 | BEARING | 3802V-2RD 24D*15D*7W | 2 | |
| 15 | 2300011304 | SCREW | | 1 | 12 |
| 16 | 2300011315 | BOLT | | 1 | |
| 17 | 2311004928 | DROPOUT | DH-053 | 1 | |
| 18 | 2300010950 | SCREW | | 2 | 4 |
| 19 | 2300005272 | SCREW | | 1 | 5 |
| 20 | 2258003812 | CABLE GUIDE | | 1 | |
| 21 | | SMART ENTRY | | | |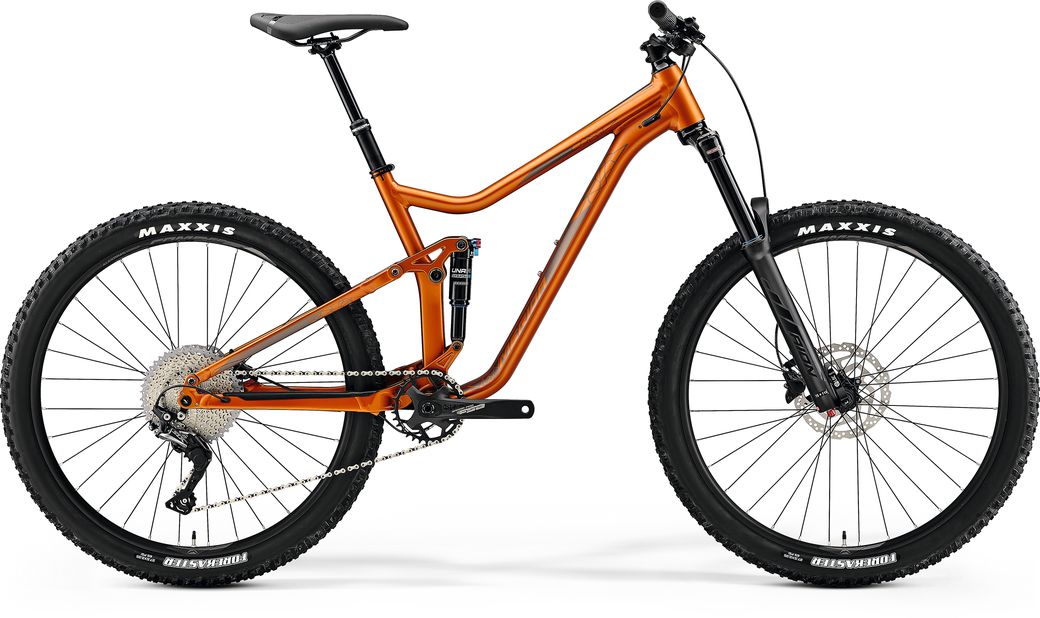 Lightweight 6016 series triple butted hydroformed aluminium tubes with smooth welding. Tapered head tube and Boost standard bolt through axles for precise handling. 'Smart Entry' cable routing for rattle free running.
The lower shock mount moves with the system to deliver plushness and pedalling efficiency. Our engineers can precisely influence the transmission ratio and progression, which means that a 'Float Link' system is very sensitive, delivering great support in mid-travel and the appearance of more travel that the model name suggests. The rear end creates the feeling of almost bottomless travel whilst remaining perfectly controlled when climbing.
The geometry of the ONE-FORTY is influenced heavily by its bigger brother, the ONE-SIXTY, by mimicking the short chainstays (435 mm) for increased agility and playfulness on the trail. A well-balanced reach and low centre of gravity combined with a short stem and wide handlebar deliver fun packed yet confidence inspiring handling.
A trunnion mount shock gives our frame designers more flexibility by using a shorter shock with increased stroke. Combined with the ball bearing bushing of the upper mount, shock sensitivity is increased, and the suspension performance can be perfectly tuned.
Modern trail bikes are all about simplicity, durability and efficiency and modern 1x drivetrains offer a huge gear range whilst remaining lightweight. Building our frame around a 1x specific setup allows us to keep chainstays short, adding to the agility and playfulness of the bike. Perfect for today's demanding trails.
The ONE-FORTY has clearance for up to 2.6" wide 650B tyres, allowing plenty of extra room to fit the right tyre for the track. Extra wide tyres deliver increased levels of grip and comfort when the track gets rougher and more demanding, significantly improving the overall handling and riding experience.
Cables, housings and brake hoses are clamped under tension to prevent rattling when the trail gets rough. All inlets are completely interchangeable to deal with Di2, hydraulic hoses, brake cable and gear cable housings etc.