material: aluminium
700x35C max. wheelsize
100x9/135x9mm axle standard
BSA bottom bracket standard
frame size
XXS, XS, S, S/M, M/L, L, XL
Tapered
material: carbon
700x35C max. wheelsize
headset
MERIDA M2341 Neck
material: aluminium
600mm width
Flat
material: aluminium
31.8mm diameter
6° stem angle
80 mm-XS, 90 mm-S, 100 mm-SM/ML, 110 mm-L/XL
derailleur (f)
Shimano Sora
shifters
Shimano SL-R3000 / Shimano SL-R3000 9
material: aluminium
30.9mm diameter
12mm setback
50-34 teeth
170 mm-XS/S/SM/ML, 175 mm-L/XL
crank
170 mm-XS/S/SM/ML, 175 mm-L/XL
bottom bracket
FSA TH-7420ST Cartridge Bearing
100x9mm width front hub
28 spoke holes
centerlock
135x9mm width rear hub
28 spoke holes
centerlock
17mm inner width
22mm height
material: aluminium
weighed with 700C wheels and at frame size S-M, without pedals
| | | | | | | | |
| --- | --- | --- | --- | --- | --- | --- | --- |
| Frame Size | XXS | XS | S | S/M | M/L | L | XL |
| Tyre Sizes | 28" | 28" | 28" | 28" | 28" | 28" | 28" |
| ST seat tube [mm] | 440 | 470 | 500 | 520 | 540 | 560 | 590 |
| TT top tube [mm] | 545 | 555 | 561 | 571 | 583 | 597 | 610 |
| CS chain stay length [mm] | 438 | 438 | 438 | 438 | 438 | 438 | 438 |
| HTA head tube angle [°] | 70 | 70 | 70.5 | 71 | 71.5 | 72 | 72 |
| STA seat tube angle [°] | 73.5 | 73.5 | 73.5 | 73.5 | 73.5 | 73.5 | 73.5 |
| BD bottom bracked drop [mm] | 65 | 65 | 65 | 65 | 65 | 65 | 65 |
| HT head tube [mm] | 140 | 150 | 160 | 170 | 190 | 215 | 240 |
| FL fork length [mm] | 395 | 395 | 395 | 395 | 395 | 395 | 395 |
| R reach [mm] | 381 | 389 | 392 | 398 | 404 | 410 | 416 |
| S stack [mm] | 552 | 562 | 573 | 585 | 606 | 631 | 655 |
| WB wheel base [mm] | 1040 | 1051 | 1053 | 1057 | 1065 | 1074 | 1088 |
| SH stand over height [mm] | 719 | 744 | 769 | 787 | 806 | 828 | 855 |
| | | | | | |
| --- | --- | --- | --- | --- | --- |
| No. | Item-No. | Name | Info | Pieces | Torque NM |
| 1 | 2258003812 | CABLE GUIDE | | 1 | |
| 2 | 2298009553 | SCREW | | 1 | 5 |
| 3 | 2240001072 | CABLE GUIDE | | 1 | |
| 4 | 2298009854 | SCREW | | 2 | 4 |
| 5 | 2298005775 | SCREW | | 2 | 5 |
| 6 | 2311002249 | DROPOUT | 8317-0000P | 1 | |
| 7 | 2300007973 | SCREW | | 2 | 4 |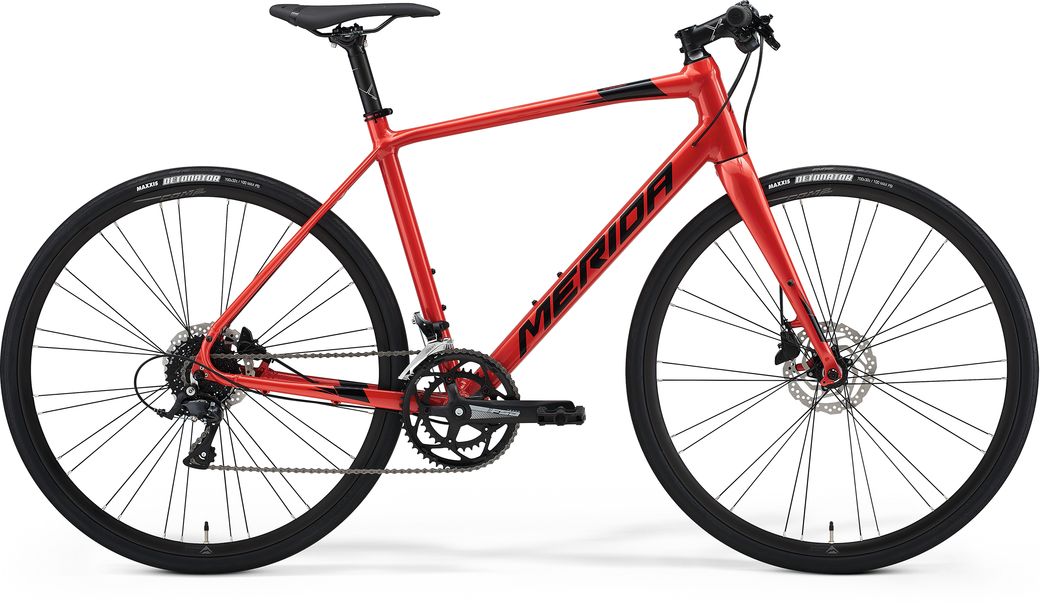 Since its redesign for the 2020 season, the SPEEDER has become more sporty. By increasing the length of the top tube, we have achieved a slightly longer reach, which offers the rider a more sportive riding position while still being on the comfortable side. Furthermore, this geometry change leads to a longer wheelbase, which has a positive effect on directional stability and in combination with the slightly slacker head tube angle, improves the riding stability at speed.
All models feature powerful and easy to modulate hydraulic disc brakes. Hydraulic disc brakes offer great stopping power in any weather, are more or less maintenance-free and are not affected by rough or kinked cables.
The new SPEEDER has the ability to take up to 37 mm wide tyres, increasing the ride comfort as well as the grip (and therefore safety). Wider tyres also offer improved puncture protection. Even with fenders being fitted, the SPEEDER can still take up to 32 mm wide tyres.
We use 6066 series aluminium, the highest level generally used in bike production. Its metallic composition allows it to be extensively hydroformed (a process of forcing a hot emulsion of water and oil through tubes in a negative mould). This allows us to vary wall thicknesses and tune the frame to be both strong where it is needed and flexible where required.
We feature internal cable routing on all models. Cables are routed through the frame, entering and exiting through smooth sockets. Only a clever system for our internal guiding and fixing guarantees reliable and rattle free routing, whilst the cables are protected from moisture and dirt and gives the bike a cleaner look.
All models are equipped with a full carbon tapered fork. Carbon has great vibration absorbing properties in addition to being lightweight, so ride quality is improved. The carbon tapered steerer provides great stiffness to the front end of the bike, delivering precise and confidence-inspiring handling.