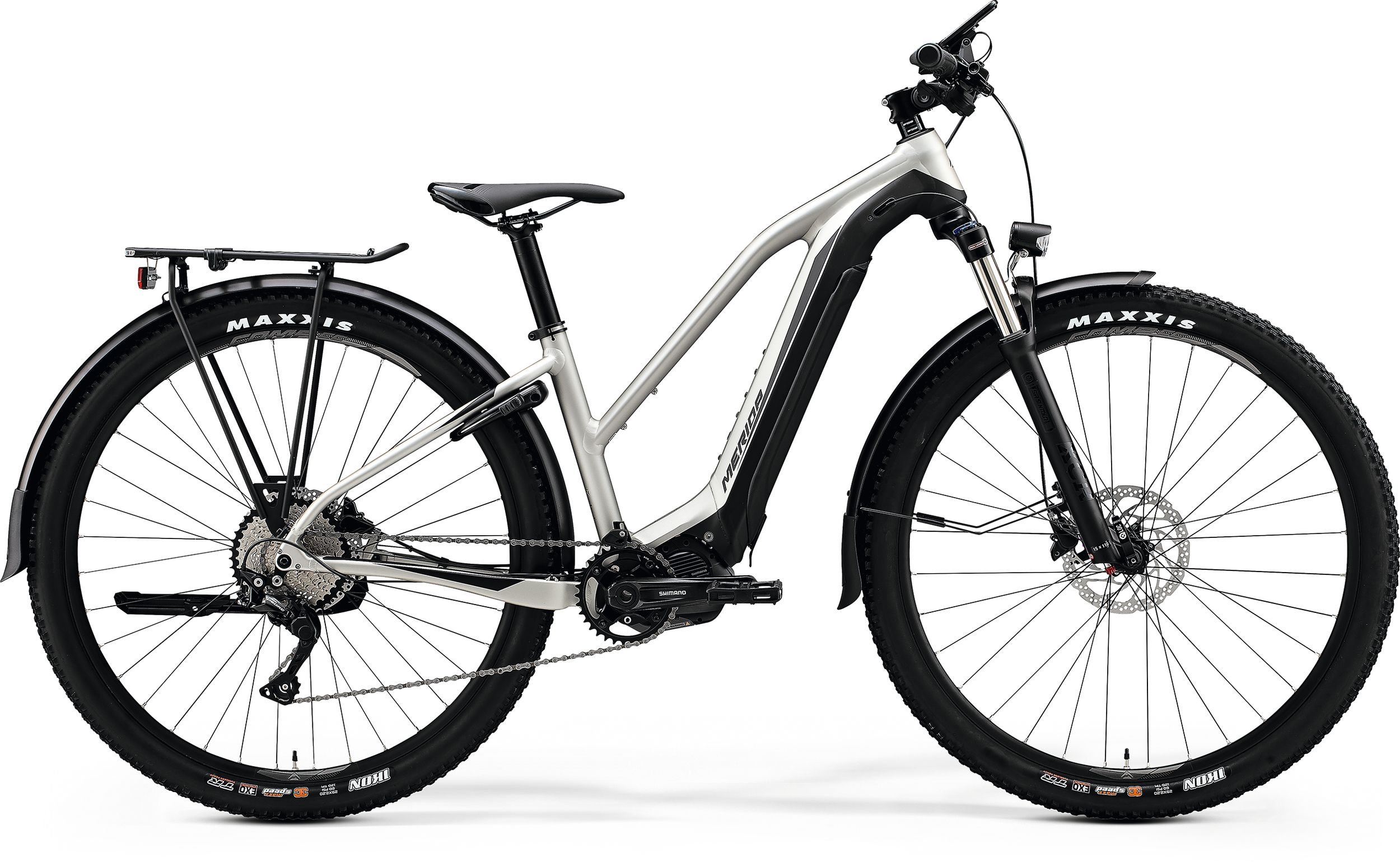 Usikker på hvilken størrelse du skal ha? Bare fyll inn dine mål i "Smartfit bike fitting" systemet for å finne din ideelle størrelse. Finn din størrelse
material: aluminium
29" wheelsize
148x12mm axle standard
intube
max. 504 Wh
Rammestørrelse
S, M, L, XL
Air
100mm suspension travel
Tapered
51mm fork offset
material: aluminium
720mm width
10mm rise
material: aluminium
31.8mm diameter
adjustable
90 mm all sizes
Holker / styretape
MERIDA Expert TK
Bakgir
Shimano Deore Shadow+
Bakre girhendel
Shimano Deore
material: aluminium
34.9mm diameter
0mm setback
Sadelklemme
MERIDA Expert
36 teeth
Shimano FC-E8000
20mm inner width
material: aluminium
110x15mm width front hub
32 spoke holes
Centerlock
148x12mm width rear hub
36 spoke holes
Centerlock
including removeable lever, 6/4mm allen key
lys
Herrmans H-BLACK MR4 E / Herrmans H-Cargo integrated in MERIDA MIK carrier
bagasjebrett
MERIDA TA-7603B w/spring clamp + H-Cargo light
Skjermer
Sunnywheel SW-FA311-65A/ SW-FA311-65E1
weighed at frame size S without pedals
| | | | | |
| --- | --- | --- | --- | --- |
| Rammestørrelse | S | M | L | XL |
| Dekkstørrelse | 29" | 29" | 29" | 29" |
| Rammestørrelse cm | 38 | 43 | 48 | 53 |
| ST - Seat Tubes (mm) | 380 | 430 | 480 | 530 |
| TT - Top Tube (mm) | 575 | 590 | 610 | 630 |
| CS - Chain Stays (mm) | 465 | 465 | 465 | 465 |
| HTA - Head Tube Angles (°) | 68 | 68 | 68 | 68 |
| STA - Seat Tube Angle (°) | 74.5 | 74.5 | 74.5 | 74.5 |
| BD - Bottom Bracket Drops (mm) | 62.5 | 62.5 | 62.5 | 62.5 |
| HT - Head Tube Length (mm) | 110 | 120 | 130 | 140 |
| FL - Fork Length (mm) | 506 | 506 | 506 | 506 |
| R - Reach (mm) | 404.5 | 417 | 434.5 | 452 |
| S - Stack (mm) | 614.5 | 624 | 633 | 642.5 |
| WB - Wheel Base (mm) | 1143 | 1160 | 1181 | 1202 |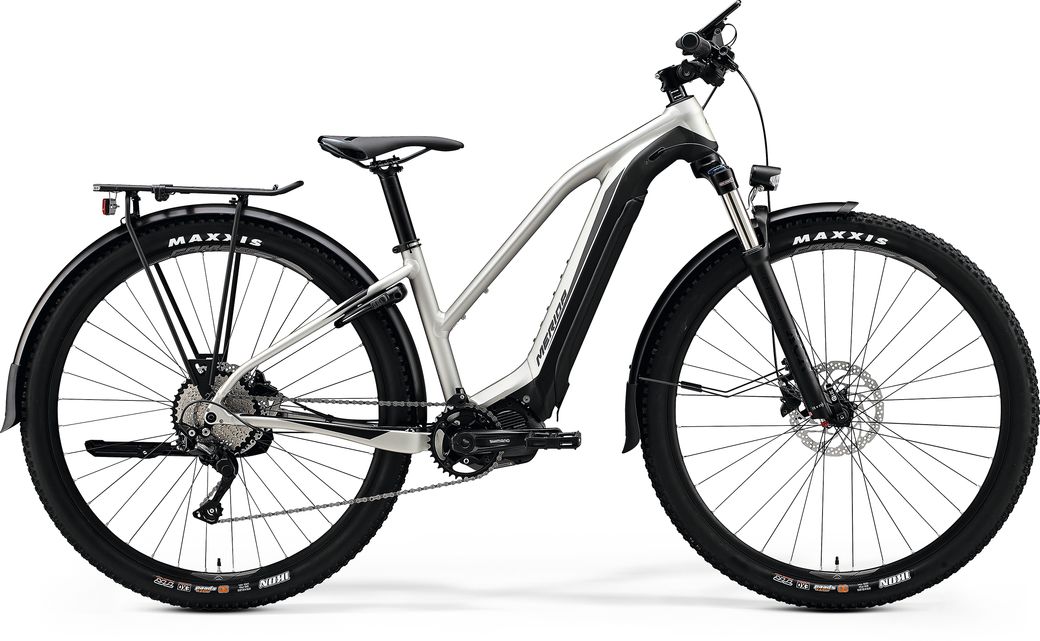 HFS-hydroforming Prolite 66 triple butted aluminium 29er hardtail frame with integrated battery technology, heavily sloping top tube and a sporty yet comfortable geometry. 'Smart Entry' cable routing for rattle free running. E8000 and E7000 frame version come with casting motor bracket creating an integrated appearance of the motor into the frame as well as provides an extremely strong connection between frame and motor. Comes with integrated fixings for mudguards and side stand. Multiple fixing positions for water bottles and accessories.
The eBIG.TOUR EQ is rolling on 29er wheels which have fantastic 'rolling over obstacles' behaviour. As standard, it comes equipped with 2.2" wide tyres which offer plenty of grip and comfort. If no fenders are fitted, the tyres can go up to 2.35" improving the off-road riding characteristics even further.
A two-component battery cover, which offers the perfect protection for the internal battery of these models. The softer (outer) layer reduces noises, seals the downtube perfectly and absorbs hits from trail debris easily, while the harder (inner) layer ensures that the battery does not get damaged and gives it the structural shape.
The eBIG.TOUR EQ frame offers the possibility to fit a water bottle or further accessories like a lock or pump in two different positions. One is on the top of the down tube, while a second is below the top tube. This gives the rider, besides the possibility to mount bottle cages, the option to mount for example a folding-lock or pump bracket.
The system weight of a bike is the combined weight of bike, rider and additional luggage. The allowed system weight is 140 kg. As an e-bike is already heavier than a regular bike, and as it also makes it easier to transport larger amounts of luggage, it is imperative to certify a higher overall system weight. All MERIDA e-bikes, as well as all used componentry, go through a rigorous and e-bike specific testing schedule which mimics the higher forces and strains to guarantee the rider the highest level of safety.
100 mm fjæring foran gir masse komfort, og du har rikelige reserver når du velger en mer off road-preget rute hjem. De ultimate E-MTB-ene inspirerer deg til å sykle utenfor de oppkjørte stiene når det er mulig.
E8000-batteriet er perfekt integrert i det hydroformede underrøret og leverer imponerende 500 Wh til turen hjem – det perfektet aggregatet for den nye E7000-motoren, som imponerer pendlere og sportssyklister med sin perfekt balanserte effektlevering. Til den mer ytelsesorienterte syklisten tilbyr vi også et komplett E8000-system.