140mm suspension travel
material: aluminium
27.5 wheelsize
148x12mm axle standard
BB92 bottom bracket standard
Rammestørrelse
S, M, L, XL
Farge
LIGHT GREEN/GLOSSY BLUE
Air
150mm suspension travel
Tapered
Lockout
51mm fork offset
Styrelager
MERIDA M2339 Neck
material: aluminium
740mm width
10mm rise
material: aluminium
31.8mm diameter
6° stem angle
50 mm all sizes
Holker / styretape
MERIDA COMP EC
Bakre girhendel
Sram SX Eagle
30.9mm diameter
0mm setback
S: 100mm travel seatpost - M/L/XL 125mm travel seatpost
Sadelklemme
MERIDA EXPERT
32 teeth
170 mm-S, 175 mm-M up
Krank
170 mm-S, 175 mm-M up
Kranklager
Sram BB DUB PF MTB 92
20mm inner width
material: aluminium
27.5x2.35"
fold
TR EXO Dual
27.5x2.35"
fold
TR EXO Dual
110x15mm width front hub
32 spoke holes
Centerlock
148x12mm width rear hub
32 spoke holes
Centerlock
including removeable lever, 6/4mm allen key
weighed at frame size M and 27.5" wheels without pedals
| | | | | |
| --- | --- | --- | --- | --- |
| Rammestørrelse | S | M | L | XL |
| Dekkstørrelse | 27.5" | 27.5" | 27.5" | 27.5" |
| ST - Seat Tubes (mm) | 410 | 435 | 475 | 515 |
| TT - Top Tube (mm) | 572 | 596 | 619.7 | 643.4 |
| CS - Chain Stays (mm) | 435 | 435 | 435 | 435 |
| HTA - Head Tube Angles (°) | 66.3 | 66.3 | 66.3 | 66.3 |
| STA - Seat Tube Angle (°) | 75 | 75 | 75 | 75 |
| BD - Bottom Bracket Drops (mm) | 21 | 21 | 21 | 21 |
| HT - Head Tube Length (mm) | 95 | 110 | 125 | 140 |
| FL - Fork Length (mm) | 542 | 542 | 542 | 542 |
| R - Reach (mm) | 415 | 435 | 455 | 475 |
| S - Stack (mm) | 587 | 601.1 | 614.9 | 628.6 |
| WB - Wheel Base (mm) | 1144 | 1170 | 1194 | 1222 |
| SH - Stand Over Height (mm) | 708 | 723 | 750 | 778 |
| | | | | | |
| --- | --- | --- | --- | --- | --- |
| Number | Item Number | Name | Info | Pieces | Torque NM |
| 1 | 2294004440 | WASHER | | 2 | |
| 2 | 2221002254 | BEARING | 6800V2RS 19D*10D*5W | 6 | |
| 3 | 2300011274 | SCREW | | 2 | 14 |
| 4 | 2300012480 | SCREW | | 1 | 10 |
| 5 | 2300012491 | BOLT | | 1 | |
| 6 | 2221002265 | BEARING | 6801V-2RS 21D*12D*5W | 2 | |
| 7 | 2300011285 | SCREW | | 1 | 14 |
| 8 | 2300011296 | BOLT | | 1 | |
| 9 | 2294004439 | WASHER | | 2 | |
| 10 | 2294004451 | WASHER | | 8 | |
| 11 | 2300011252 | SCREW | | 4 | 11 |
| 12 | 2300011263 | BOLT | | 4 | |
| 13 | 2294001180 | WASHER | | 2 | |
| 14 | 2221002395 | BEARING | 3802V-2RD 24D*15D*7W | 2 | |
| 15 | 2300011304 | SCREW | | 1 | 12 |
| 16 | 2300011315 | BOLT | | 1 | |
| 17 | 2311004928 | DROPOUT | DH-053 | 1 | |
| 18 | 2300010950 | SCREW | | 2 | 4 |
| 19 | 2300005272 | SCREW | | 1 | 5 |
| 20 | 2258003812 | CABLE GUIDE | | 1 | |
| 21 | | SMART ENTRY | | | |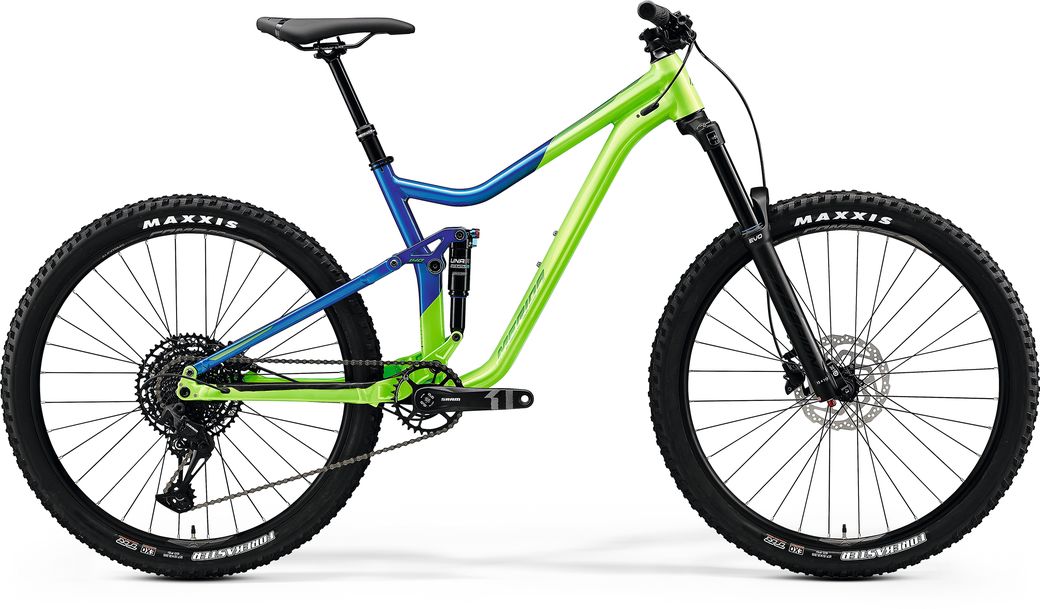 Lightweight 6016 series triple butted hydroformed aluminium tubes with smooth welding.Tapered head tube and Boost standard bolt through axles for precise handling. Smart entry cable routing for rattle free running.
Det nedre demperfestet beveger seg med systemet for å gi silkemyk demping og effektiv pedalbruk. Våre ingeniører kan påvirke utvekslingen nøyaktig, og med Float Link-systemet oppnår vi bedre støtte midt i fjæringsområdet. I tillegg får sykkelen får et estetisk løft. Vår Float Link for sykkelens bakre del skaper en følelse av nesten bunnløs fjæring, og gir samtidig perfekt kontroll ved klatring.
Geometrien i ONE-FORTY er kraftig påvirket av storebroren, ONE-SIXTY, ved at vi kopierer de korte kjedestagene (435 mm) for økt smidighet og morsom håndtering i løypene. Godt balansert rammelengde og lavt tyngdepunkt, kombinert med kort styrestem og bredt styre, gir deg en morsom pakke som også har tillitsskapende håndtering.
En trunnion-montert demper gir våre rammedesignere mer fleksibilitet til å bruke kortere dempere med økt slaglengde. Kombinert med kulelagerbøssingen i øvre feste, oppnår vi økt støtsensitivitet og dempeytelsene kan finjusteres perfekt.
Moderne stisykler dreier seg om enkelhet, holdbarhet og effektivitet, og 1x drivlinjer tilbyr et meget stor girområde kombinert med lav vekt. Vi bygger rammen rundt et 1x-spesifikt oppsett som gir oss muligheten til å holde kjedestagene korte og gi sykkelen smidighet og inspirerende egenskaper. Perfekt for dagens krevende løyper.
ONE-FORTY-sykkelen har klaring for opptil 2,6" brede 650B-dekk, og har rikelig med plass til å montere de rette dekkene til løypa. Ekstra brede dekk gir grep på et høyre nivå og komfort når løypa blir røffere og mer krevende. Den generelle håndteringen og kjøreopplevelsen blir kraftig forbedret.
Kabler, hylser og bremseslanger er stramt festet og lager ikke ulyd. Alle innganger er fullstendig ombyttbare for å håndtere Di2, hydraulikkslanger, bremsewire og girwirehylser osv.