material: aluminium
700C wheelsize
100x9/ 130x9mm axle standard
JIS bottom bracket standard
Rammestørrelse
XS, S, S/M, M/L, L, XL
Farge
SILVER/METALLIC BLACK (YELLOW)
Gaffel
MERIDA REACTO TRACK CF
Styrelager
MERIDA M2331 Neck
material: aluminium
31.8mm diameter
-8° stem angle
80 mm-XS, 90 mm-S, 100 mm-SM/ML/L, 110 mm-XL
Holker / styretape
MERIDA ROAD EXPERT
material: carbon
Aero shape
15mm setback
Sadelklemme
MERIDA REACTO
46 teeth
170 mm-XS/S, 172.5 mm-SM/ML, 175 mm-L/XL
Krank
170 mm-XS/S, 172.5 mm-SM/ML, 175 mm-L/XL
Kranklager
FSA TH-7420ST, Cartridge Bearing
Kassett
Joytech Singlespeed, 15 teeth
17mm inner width
35mm height
9x100mm width front hub
24 spoke holes
9x130mm width rear hub
28 spoke holes
Eiker
Double Butted Black stainless
weighed at frame size M-L without pedals
| | | | | | | |
| --- | --- | --- | --- | --- | --- | --- |
| Rammestørrelse | XS | S | S/M | M/L | L | XL |
| Dekkstørrelse | 28" | 28" | 28" | 28" | 28" | 28" |
| ST - Seat Tubes (mm) | 470 | 500 | 520 | 540 | 560 | 590 |
| TT - Top Tube (mm) | 518 | 530 | 545 | 560 | 575 | 590 |
| CS - Chain Stays (mm) | 411(46/15T) | 411(46/15T) | 411(46/15T) | 411(46/15T) | 411(46/15T) | 411(46/15T) |
| HTA - Head Tube Angles (°) | 71 | 72 | 73 | 73 | 73 | 73 |
| STA - Seat Tube Angle (°) | 74 | 74 | 73.5 | 73 | 73 | 73 |
| BD - Bottom Bracket Drops (mm) | 55 | 55 | 55 | 55 | 55 | 55 |
| HT - Head Tube Length (mm) | 95 | 105 | 120 | 135 | 150 | 165 |
| FL - Fork Length (mm) | 369 | 369 | 369 | 369 | 369 | 369 |
| R - Reach (mm) | 381 | 389 | 394 | 400 | 411 | 421 |
| S - Stack (mm) | 479 | 492 | 510 | 524 | 538 | 553 |
| WB - Wheel Base (mm) | 966 | 970 | 971 | 982 | 997 | 1012 |
| SH - Stand Over Height (mm) | 739 | 764 | 783 | 800 | 818 | 843 |
| Kroppshøyde Cm | < 167 | 163 - 172 | 168 - 177 | 173 - 182 | 178 - 187 | > 183 |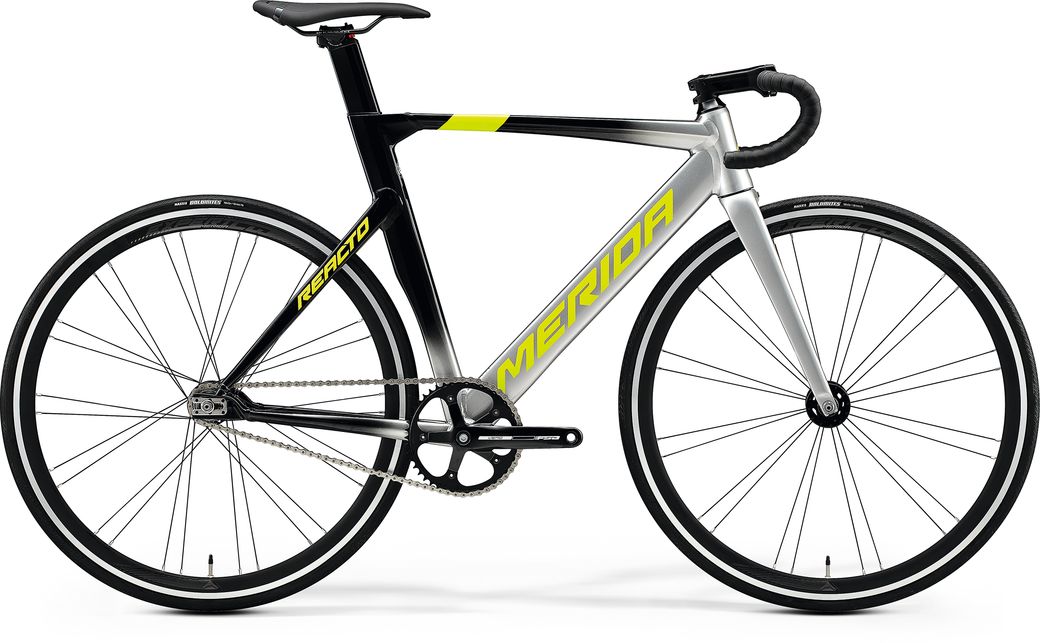 Lightweight 6066 series aluminium, triple butted and hydroformed into an aerodynamic shape. Featuring a tapered head tube and adjustable rear dropouts.
Perfekt designet for et imponerende utseende: Det er vanskelig å identifisere overgangene mellom rørene på vårt One Piece-seterør.
Alle REACTO-modeller har gaffel i fullkarbon med konisk kronerør for å oppnå presis og tillitsskapende håndtering. Aluminium- og CF2 karbonmodeller har "vanlig" 1 1/8"- til 1 1/2"-kon. Den høye enden av CF4-rammen har en slankere frontprofil og bruker 1 1/8"- til 1 1/4"-kon.
Fart er alt – det er det banesykler er til for. Underrøret og seterøret har NACA Fastback rørprofil som takket være den avkuttede dråpeformen gir perfekt luftstrømning med lavest mulig vekt.
Fordi komfort ikke er høyt prioritert for en banesykkel, er den utstyrt med hurtigrullende 23 mm dekk.
Justerbarheten for de horisontale girørene på vår REACTO TRACK er meget stor, og det åpner for bruk av et bredt spekter av kjedehjulstørrelser uten behov for å justere kjedet.
Det er ikke alle som tar det så langt: Helt fra starten av er rammen på vår REACTO TRACK utstyrt med UCI-sertifikat, og derfor er den klar for løp – på et hvert nivå.