material: carbon
700C or 650B wheelsize
100x12/142x12mm axle standard
BB386 bottom bracket standard
Rammestørrelse
XS, S, M, L, XL
Farge
GLOSSY OCEAN BLUE (BLACK)
material: aluminium
31.8mm diameter
-8° stem angle
80 mm all sizes
Holker / styretape
MERIDA ROAD EXPERT
Bakre girhendel
Sram Force1 HRD
material: carbon
30.9mm diameter
0mm setback
V-mount
incl. MERIDA minitool
38 teeth
170 mm-XS/S, 172,5 mm-M, 175 mm-L/XL
Kranklager
FSA 386-BB30 PF6000 [Sram FC]
19mm inner width
24mm height
material: aluminium
100x12mm width front hub
32 spoke holes
6 bolt
142x12mm width rear hub
32 spoke holes
6 bolt
Frontaksling
MERIDA EXPERT SL
including removeable lever, 6/4mm allen key
Eiker
Double Butted Black stainless
weighed at frame size M without pedals
Krank
170 mm-XS/S, 172,5 mm-M, 175 mm-L/XL
| | | | | | |
| --- | --- | --- | --- | --- | --- |
| Rammestørrelse | XS | S | M | L | XL |
| Dekkstørrelse | 28" | 28" | 28" | 28" | 28" |
| ST - Seat Tubes (mm) | 440 | 470 | 500 | 530 | 560 |
| TT - Top Tube (mm) | 548 | 564 | 580 | 600 | 620 |
| CS - Chain Stays (mm) | 430 | 430 | 430 | 430 | 430 |
| HTA - Head Tube Angles (°) | 71 | 71 | 71 | 71 | 71 |
| STA - Seat Tube Angle (°) | 74 | 74 | 74 | 74 | 74 |
| BD - Bottom Bracket Drops (mm) | 75 | 75 | 75 | 75 | 75 |
| HT - Head Tube Length (mm) | 160 | 180 | 200 | 220 | 240 |
| FL - Fork Length (mm) | 398 | 398 | 398 | 398 | 398 |
| R - Reach (mm) | 379 | 390 | 400 | 415 | 430 |
| S - Stack (mm) | 588 | 607 | 626 | 645 | 664 |
| WB - Wheel Base (mm) | 1027 | 1044 | 1061 | 1082 | 1104 |
| SH - Stand Over Height (mm) | 706 | 736 | 765 | 794 | 822 |
| | | | | | |
| --- | --- | --- | --- | --- | --- |
| Number | Item Number | Name | Info | Pieces | Torque NM |
| 1 | A2258000143 | CABLE GUIDE | for Di2 | 1 | |
| 2 | A2258000189 | CABLE GUIDE | for mechanical | 1 | |
| 3 | A2300000550 | SCREW | M3x0.5 L12mm | 1 | 2~3 |
| 4 | A2247000095 | CLAMP | for seatpost | 1 | 4~5 |
| 5 | A2136000116 | MOUNT | for FD | 1 | |
| 6 | A2322000048 | COVER | for FD-Mount | 1 | |
| 7 | A2300000056 | SCREW | M5x0.8 L12mm | 2 | 4~5 |
| 8 | A2143000149 | CABLE PLUG | for FD | 1 | |
| 9 | A2322000046 | PROTECTOR | for CS | 1 | |
| 10 | A2258000053 | CABLE PLUG | for Di2 | 1 | |
| 11 | A2258000056 | CABLE PLUG | for mechanical | 1 | |
| 12 | A2164000027 | DISC COOLER | rear; for FM160 only | 1 | |
| 13 | A2302000018 | NUT | for rear axle M12x1,5 | 1 | |
| 14 | A2300000310 | SCREW | M3x0.5 L18mm | 1 | 3~4 |
| 15 | A2300000314 | SCREW | M3x0.5 L15mm | 1 | 3~4 |
| 16.1 | A2311000095 | RD-HANGER | DH - 065 for SHIMANO direct mount | 1 | |
| 16.2 | A2311000062 | RD-HANGER | DH - 054 for ROAD-RD | 1 | |
| 17 | A2143000017 | BLIND PLUG | | 1 | |
| 18 | A2300000485 | SCREW | M4x0.7 L6mm | 2 | 3~4 |
| 19 | A2298000061 | SCREW | M5x0.8 L15mm | 4 | 3~4 |
| 20 | A2143000161 | BLIND PLUG | | 6 | |
| 21 | A2258000098 | CABLE GUIDE | for Di2 | 1 | |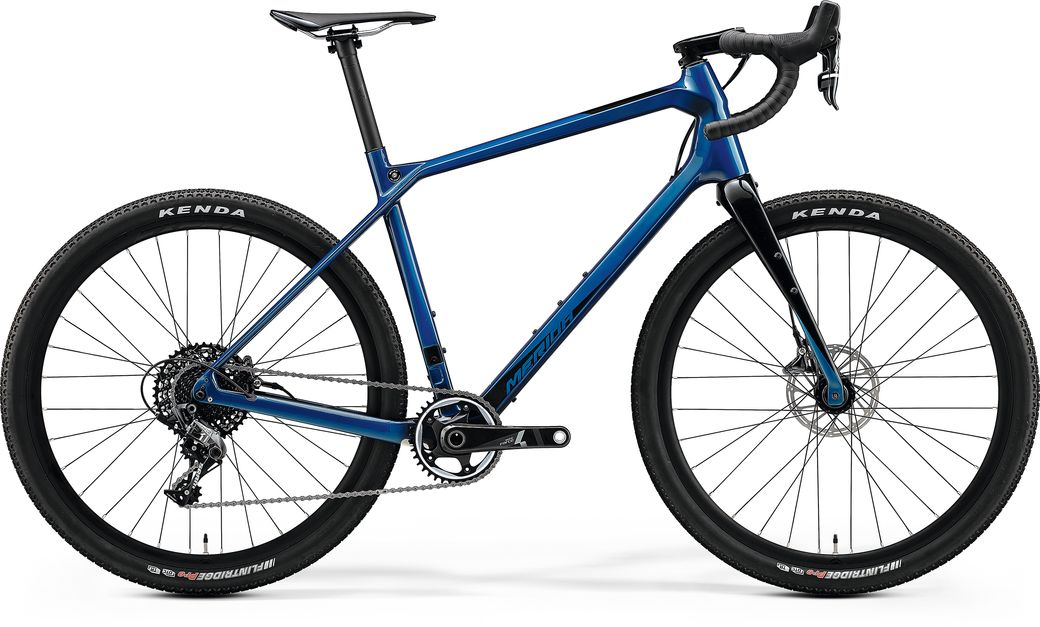 The SILEX is available in two options. The 'classic' SILEX standing on 700c wheels, being the perfect 'all-road' bike which loves lanes, forest tracks and gravel or the new more 'rugged' SILEX+ version, which can easily tackle more demanding terrain due to its more burly 650B wheels and 45 mm tyres. The choice is yours. Both options are based on the same frame, so wheels are exchangeable at a later date.
As standard, the SILEX comes with 700x38c tyres and the SILEX+ with 650Bx45c. The maximum tyre size for 700c wheels is 42 mm (road profile) while with 650B wheels being fitted, tyres up to 50 mm wide road profile tyres on the carbon and up to 42 mm on the aluminium bikes can be run.
CF2 carbon frame with upright gravel geometry for stable but nimble handling. Tapered head tube and 12 mm bolt through axles provide stiffness and steering precision. Featuring internal cable routing and BB386 bottom bracket.
I tråd med våre designprinsipper - allsidighet og sykle hvor som helst - er SILEX tilgjengelig med et bredt utvalg av tilbehørsalternativer som inkluderer rammevesker og store sadelvesker.
De fleste SILEX-modellene er montert med 1x drivlinjer for enkel håndtering, og det gir vektreduksjon og færre bevegelige deler. Vår 1x kan levere 98 % av girområdet til et 50-34 kjedesett med et 11-32 kjedeoppsett for vei.
Med 12 mm gjennomgående akslinger for maksimal rammestivhet, og med mye enklere innretting av hjulene ved montering. Den flatt monterte bakbremsen er montert på kjedestaget for bedre distribuering av bremsekraften og holder kaliperen beskyttet inne i bakre triangel. Skivekjølingsteknologien leder bort varmen gjennom CNC-maskinerte kjølefinner. Det er spesielt viktig når sykkelen er fullastet.
Lettvekts karbon eller avanserte aluminiumsrammer som alternativer. Hovedforskjellene, bortsett fra byggematerialene, er at karbonrammen har lavere vekt og er utstyrt med en integrert setepinneklemme for å minimere turbulens ved overrøret.