color
MATT-DARK SILVER (GLOSSY SILVER/BLUE)
Air
63mm suspension travel
Tapered
31.8mm diameter
17° stem angle
derailleur (r)
Shimano XT M8000 Shadow+
shifters
no / Shimano XT 11
30.9mm diameter
15mm setback
110x15mm width front hub
32 spoke holes
Centerlock
142x12mm width rear hub
36 spoke holes
Centerlock
light front
Herrmans H-BLACK MR8 E
light rear
Shine evo integrated in Racktime carrier
carrier
Racktime 060889-001-D RT Merida Shine evo
fender
Sunnywheel SW-FA 513
frame lock
Abus 5650 LH-3 lock
battery charger
Shimano EC-E6000[??????]
| | | | | | |
| --- | --- | --- | --- | --- | --- |
| Frame Size | XS | S | M | L | XL |
| Tyre Sizes | 28" | 28" | 28" | 28" | 28" |
| ST seat tube [mm] | 430 | 470 | 510 | 550 | 590 |
| TT top tube [mm] | 565 | 580 | 590 | 610 | 630 |
| CS chain stay length [mm] | 475 | 475 | 475 | 475 | 475 |
| HTA head tube angle [°] | 70.5 | 71 | 71 | 71.5 | 71.5 |
| STA seat tube angle [°] | 74 | 73.5 | 73.5 | 73 | 73 |
| BD bottom bracked drop [mm] | 70 | 70 | 70 | 70 | 70 |
| HT head tube [mm] | 130 | 140 | 155 | 175 | 205 |
| FL fork length [mm] | 477 | 477 | 477 | 477 | 477 |
| R reach [mm] | 385 | 391 | 397 | 404 | 415 |
| S stack [mm] | 627 | 638 | 653 | 674 | 702 |
| WB wheel base [mm] | 1101 | 1105 | 1116 | 1124 | 1145 |
| SH stand over height [mm] | 723 | 757 | 792 | 827 | 864 |
| | | | | | |
| --- | --- | --- | --- | --- | --- |
| No. | Item-No. | Name | Info | Pieces | Torque NM |
| 1/2/3/4 | | CABLE GUIDE | SMART ENTRY | | |
| 5 | A2300000213 | SCREW | M3x0.5 L13.5mm | 2 | 2~4 |
| 6 | A2151000025 | COVER | for battery; sizes S / M / L / XL | 1 | |
| 7 | A2151000026 | COVER | for battery; sizes XS | 1 | |
| 8 | A2300000468 | SCREW | M8x1.25 L18.5mm | 3 | 11~12 |
| 9 | A2300000469 | SCREW | M8x1.25 L23mm | 3 | 11~12 |
| 10 | A2258000099 | CABLE PLUG | for rear brake and speed sensor | 1 | |
| 11 | A2258000012 | CABLE GUIDE | for M5 fixation | 1 | |
| 12 | A2298000004 | SCREW | M5x0.8 L15mm with washer | 1 | 3~5 |
| 13 | A2300000129 | SCREW | M3x0.5 L10mm | 2 | 2~4 |
| 14 | A2311000067 | RD-HANGER | DH-057 | 1 | |
| 15 | A2143000076 | COVER | for carrier mount | 2 | |
| 16 | A2298000142 | SCREW | M6x1.0 L12mm | 2 | 6~8 |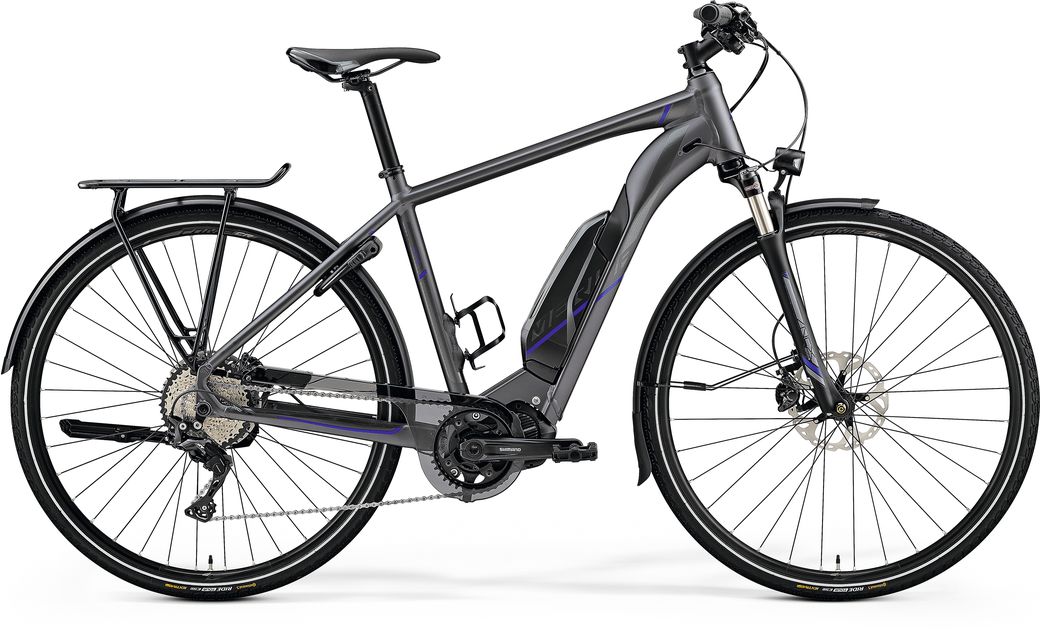 HFS-hydroforming Prolite 66 triple butted aluminium frame based around fast rolling 700c wheels and with commuting and leisure riding in mind. A higher front end and a compact geometry make for a more upright and extremely comfortable riding position. Comes equipped with mudguards, rear rack, side stand, lock and lights.
We feature internal cable routing on all our eSPRESSO models. Cables are routed through the frame, entering and exiting through smooth sockets. Only a clever system for our internal guiding and fixing guarantees reliable and rattle free routing and gives the bike a cleaner look.
In our eSPRESSO range, you can choose between the classic diamond or the extra low step-through (yet super torsionally stiff) frame so that you can find the ideal bike for your preferences. We also offer a variety of different motor and battery combinations in our eSPRESSO range giving you even more choice to select the perfect eSPRESSO for your needs.
The suspension fork can be locked out on the XT-EDITION and 900 EQ models – via a 'remote control' lever on the handlebar. Perfect for smooth climbs or when you push hard on the pedals while standing up.
Tapered head tube with 1 1/8" bearings in the top and 1 1/2" in the bottom. Combined with a tapered steerer tube (the respective part on the fork) creates superb stiffness and precise confidence-inspiring steering.
'K-mount' featuring bikes have fixing points on the chain stays to fit a MERIDA kickstand while 'C-mount' equipped bikes have the fixing point for the rear rack (carrier) integrated. 'F-mount' equipped bikes have the fixing points for the mudguards (fenders) already integrated.
The whole range rides on fast rolling 700c wheels, ideal for rides on roads, lanes and smooth tracks. We fit tyres with reflective sidewalls and puncture protection that will get you to your destination quickly and safely.