frame size
XS, S, M, L, XL
color
SILK WHITE (SILVER)
Coil
63mm suspension travel
31.8mm diameter
adjustable
derailleur (r)
Shimano Altus RDM2000
shifters
no / Shimano Altus rapidfire
30.9mm diameter
15mm setback
40mm seatpost suspension travel
100x9mm width front hub
32 spoke holes
Centerlock
142x12mm width rear hub
36 spoke holes
Centerlock
light front
Herrmans H-BLACK MR8 E
light rear
Shine evo integrated in Racktime carrier
carrier
Racktime 060889-001-D RT Merida Shine evo
fender
Sunnywheel SW-FA 513
frame lock
Abus 5650 LH-3 lock
| | | | | | |
| --- | --- | --- | --- | --- | --- |
| Frame Size | XS | S | M | L | XL |
| Tyre Sizes | 28" | 28" | 28" | 28" | 28" |
| ST seat tube [mm] | 415 | 450 | 490 | 530 | 570 |
| TT top tube [mm] | 575 | 590 | 605 | 620 | 635 |
| CS chain stay length [mm] | 490 | 490 | 490 | 490 | 490 |
| HTA head tube angle [°] | 69.5 | 70 | 70 | 70.5 | 70.5 |
| STA seat tube angle [°] | 74 | 73.5 | 73 | 73 | 72.5 |
| BD bottom bracked drop [mm] | 70 | 70 | 70 | 70 | 70 |
| HT head tube [mm] | 160 | 170 | 185 | 200 | 215 |
| FL fork length [mm] | 477 | 477 | 477 | 477 | 477 |
| R reach [mm] | 389 | 394 | 398 | 408 | 412 |
| S stack [mm] | 651 | 662 | 676 | 693 | 707 |
| WB wheel base [mm] | 1140 | 1143 | 1153 | 1163 | 1171 |
| SH stand over height [mm] | 378 | 379 | 379 | 380 | 380 |
| | | | | | |
| --- | --- | --- | --- | --- | --- |
| No. | Item-No. | Name | Info | Pieces | Torque NM |
| 1 | A2161000027 | COVER | for battery; right side | 1 | |
| 2 | A2161000028 | COVER | for battery; left side | 1 | |
| 3 | A2300000317 | SCREW | self-cutting L20mm | 2 | 3~5 |
| 4 | A2143000080 | BLIND PLUG | for left side battery cover | 1 | |
| 5 | A2300000468 | SCREW | M8x1.25 L18.5mm | 3 | 11~12 |
| 6 | A2300000469 | SCREW | M8x1.25 L23mm | 3 | 11~12 |
| 7 | A2258000099 | CABLE PLUG | for rear brake and speed sensor | 1 | |
| 8 | A2300000129 | SCREW | M3x0.5 L10mm | 2 | 2~4 |
| 9 | A2300000536 | SCREW | M4x0.7 L8mm | 1 | 3~5 |
| 10 | A2311000067 | RD-HANGER | DH-057 | 1 | |
| 11 | A2300000213 | SCREW | M3x0.5 L13.5mm | 2 | 2~4 |
| 12 | | CABLE GUIDE | SMART ENTRY | 1 | |
| 13 | | CABLE GUIDE | SMART ENTRY | 1 | |
| 14 | A2143000076 | COVER | for carrier mount | 2 | |
| 15 | A2298000142 | SCREW | M6x1.0 L12mm | 2 | 6~8 |
| 16 | A2298000120 | SCREW | M5x0.8 L12mm | 1 | 3~5 |
| 17 | A2002000118 | THRU AXLE | COMP TR; L172mm M12x1.5 TL14mm incl. nut | 1 | |
| 18 | A2298000071 | SCREW | M5x0.8 L15mm with washer | 2 | 3~5 |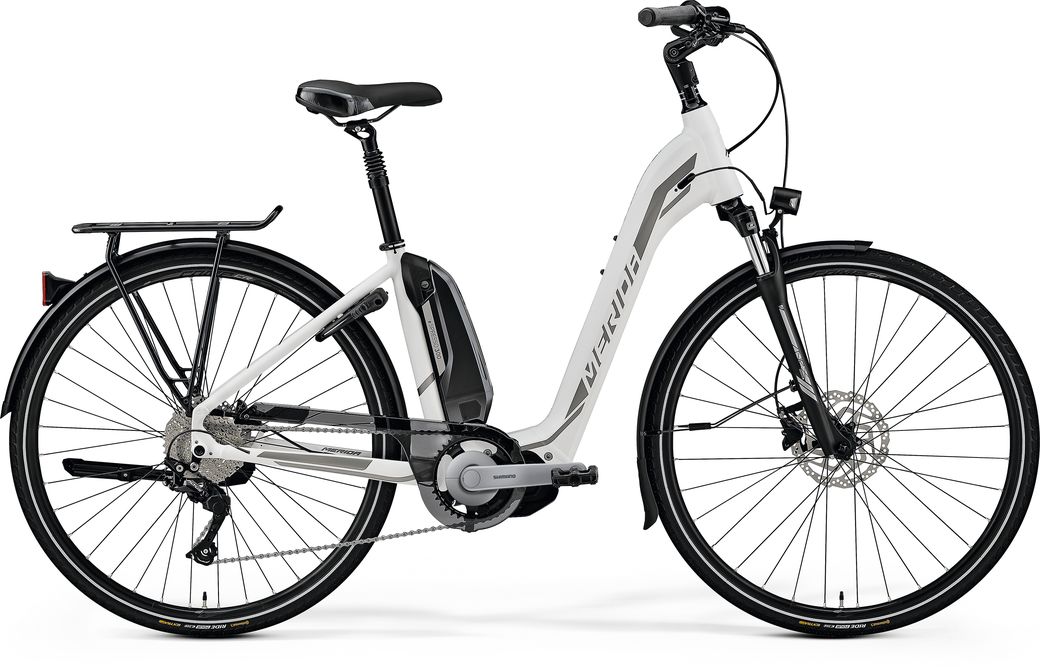 HFS-hydroforming Prolite 66 triple butted aluminium frame based around fast rolling 700c wheels and with commuting and leisure riding in mind. A higher front end and a compact geometry make for a more upright and extremely comfortable riding position. Battery positioned extra low for improved handling. Comes equipped with mudguards, rear rack, side stand, lock and lights.
We feature internal cable routing on all our eSPRESSO models. Cables are routed through the frame, entering and exiting through smooth sockets. Only a clever system for our internal guiding and fixing guarantees reliable and rattle free routing and gives the bike a cleaner look.
'K-mount' featuring bikes have fixing points on the chain stays to fit a MERIDA kickstand while 'C-mount' equipped bikes have the fixing point for the rear rack (carrier) integrated. 'F-mount' equipped bikes have the fixing points for the mudguards (fenders) already integrated.
The outstanding frame stiffness has a strong influence on the riding characteristics of wave low step through frames. The tapered head tube, the large tube diameters, the forged motor bracket as well as the 142x12 mm through rear axle all contribute to achieve a safe and precise riding experience.
The Shimano mid-mounted motor, in combination with the forged motor bracket provides one of the lowest step-through heights in the market.
Based on the central position of the battery in front of the seat tube and the low position of the Shimano motor, we were able to achieve an optimum centre of gravity. The low and well-positioned centre of gravity provides the bike with outstanding riding characteristics which are extremely important in particular in wave low step through frames which have the tendency to chatter and jitter when power is applied.
The whole range rides on fast rolling 700c wheels, ideal for rides on roads, lanes and smooth tracks. We fit tyres with reflective sidewalls and puncture protection that will get you to your destination quickly and safely.