material: carbon
700x30C max. wheelsize
100x12/ 142x12mm axle standard
BB86,5 bottom bracket stand
Tailles
XXS, XS, S, M, L, XL
Couleur
BAHRAIN-MCLAREN TEAM
material: carbon
700x30C max. wheelsize
Aero shape
15mm setback
Carbon
| | | | | | | |
| --- | --- | --- | --- | --- | --- | --- |
| Frame Size | XXS | XS | S | M | L | XL |
| Tire Sizes | 28" | 28" | 28" | 28" | 28" | 28" |
| Frame Size CM | 47 | 50 | 52 | 54 | 56 | 59 |
| St Seat Tubes Mm | 470 | 500 | 520 | 540 | 560 | 590 |
| Tt Top Tubes Mm | 520 | 536 | 545 | 560 | 575 | 590 |
| Cs Chain Stays Mm | 408 | 408 | 408 | 408 | 408 | 408 |
| Hta Head Tube Angles Deg | 70.5 | 72 | 72.5 | 73.5 | 73.5 | 74 |
| Sta Seat Tube Angle Deg | 74.5 | 74 | 74 | 73.5 | 73 | 73 |
| Bd Bottom Bracket Drops Mm | 70 | 70 | 66 | 66 | 66 | 66 |
| Ht Head Tube Lengths Mm | 105 | 112 | 128 | 140 | 155 | 176 |
| Fl Fork Lengths Mm | 385 | 385 | 385 | 385 | 385 | 385 |
| R Reachs Mm | 377 | 384 | 390 | 395 | 400 | 409 |
| S Stacks Mm | 517 | 529 | 542 | 557 | 571 | 593 |
| Wb Wheel Base Mm | 985 | 983 | 990 | 990 | 999 | 1010 |
| Sh Stand Over Height Mm | 746 | 771 | 792 | 810 | 826 | 853 |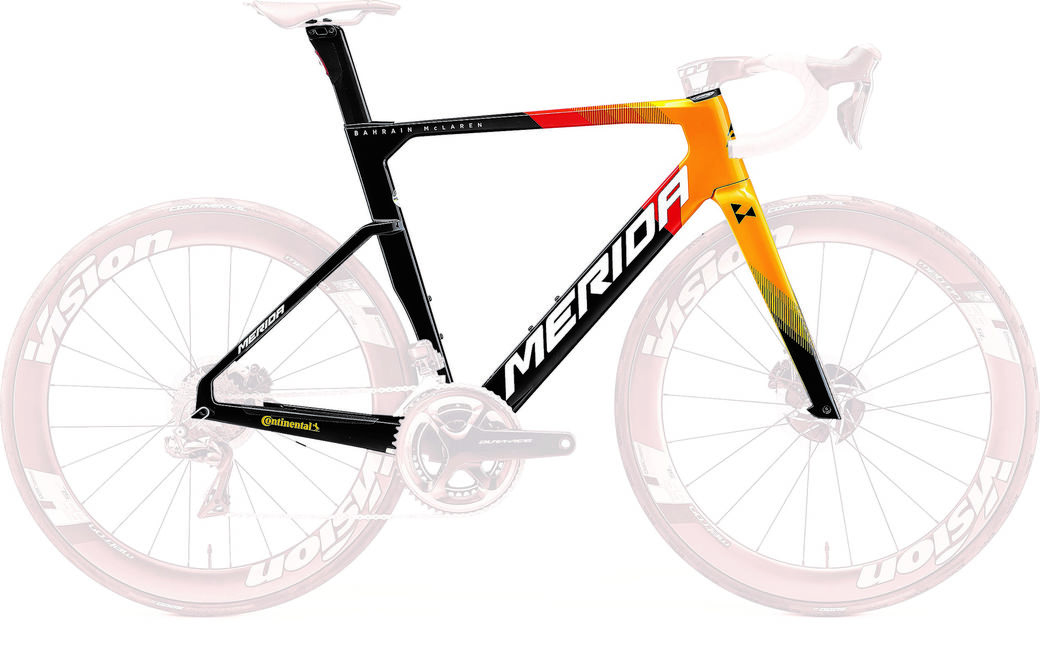 To offer maximum control and braking performance, the new REACTO comes equipped with disc brakes throughout the range. We use flat mount disc brake standards in combination with our 'Disc Cooling' technology at the front and rear for the best braking performance. A flat mount rear caliper is mounted on the chainstay which is better for dissipating braking forces but also keeps it protected inside the rear triangle.
Our high-performance carbon models with the CF5 frame feature a completely cable integrated Vision Metron 5D ACR carbon cockpit, improving aerodynamics and offering a super clean silhouette and cockpit area. The CF3 models with electronic shifting feature a two-piece aluminium cable integrated cockpit consisting of a Vision ACR SMR stem combined with a MERIDA EXPERT CW handlebar. All three cockpit options provide a very clean, organic and modern appearance.
With aerodynamic optimisation at the fork, seat stays and a cable integrated cockpit the new REACTO offers even better values than its already class-topping predecessor.
L'ensemble de la gamme DISC est équipé d'axes de 12 mm qui améliorent la rigidité des roues et permettent un alignement précis des disques lors d'un changement de roue. Le cadre CF4 utilise le système R.A.T qui permet une installation et un retrait de la roue ultra-rapides.
Le vélo est équipés d'une fourche en carbone avec pivot conique, permettant une direction fiable et précise. Les modèles avec cadre en aluminium ou cadre en carbone CF2 offrent un pivot classique de 1 1/8" sur 1 ó". Le cadre haut de gamme CF4 propose un pivot étroit avec une fourche de 1 1/8" sur 1 .".
Composant en aluminium placé sous les deux étriers du frein et refroidi par des ailettes de refroidissement CNC. Les résultats des tests montrent une diminution de la chaleur accumulée d'environ 35 % et un frein refroidi plus rapidement, fournissant une performance de freinage stable et durable.
Le confort a toujours été la caractéristique principale du REACTO. De nombreux vélos doivent leur aérodynamique à des tubes de grand volume et à une tige de selle très dure. Le REACTO n'est pas confronté à ce problème grâce à sa tige de selle flexible.