material: aluminium
27.5 wheelsize
135x9mm axle standard
BSA bottom bracket standard
Couleur
SILK ANTHRACITE (GREEN/BLACK)
Air
100mm suspension travel
Lockout
42mm fork offset
Derailleur arrière
Shimano XT Shadow
Commande vitesse arr.
Shimano Deore
Derailleur avant
Shimano Deore
Commande vitesse av.
Shimano Deore
Pédalier
170 mm-S, 175 mm-M up
36-22 teeth
170 mm-S, 175 mm-M up
Axe de pédalier
FSA TH-7420ST Cartridge Bearing
material: aluminium
720mm width
10mm rise
material: aluminium
31.8mm diameter
6° stem angle
XS/S-70 mm, M-80 mm, L-90 mm
Direction
MERIDA M2346 Neck
material: aluminium
30.9mm diameter
0mm setback
20mm inner width
material: aluminium
Chambre à air
Ultralite-27.5
100x9mm width front hub
32 spoke holes
Centerlock
135x9mm width rear hub
32 spoke holes
Centerlock
weighed at frame size M and 27.5" wheels without pedals
| | | |
| --- | --- | --- |
| Frame Size | S | M |
| Tire Sizes | 27.5" | 27.5" |
| St Seat Tubes Mm | 380 | 440 |
| Tt Top Tubes Mm | 570 | 590 |
| Cs Chain Stays Mm | 430 | 430 |
| Hta Head Tube Angles Deg | 69 | 69 |
| Sta Seat Tube Angle Deg | 73 | 73 |
| Bd Bottom Bracket Drops Mm | 30 | 30 |
| Ht Head Tube Lengths Mm | 115 | 130 |
| Fl Fork Lengths Mm | 487 | 487 |
| R Reachs Mm | 394 | 409 |
| S Stacks Mm | 577 | 591 |
| Wb Wheel Base Mm | 1078 | 1099 |
| Sh Stand Over Height Mm | 689 | 740 |
| Body Height Cm | 157 - 173 | 167 - 183 |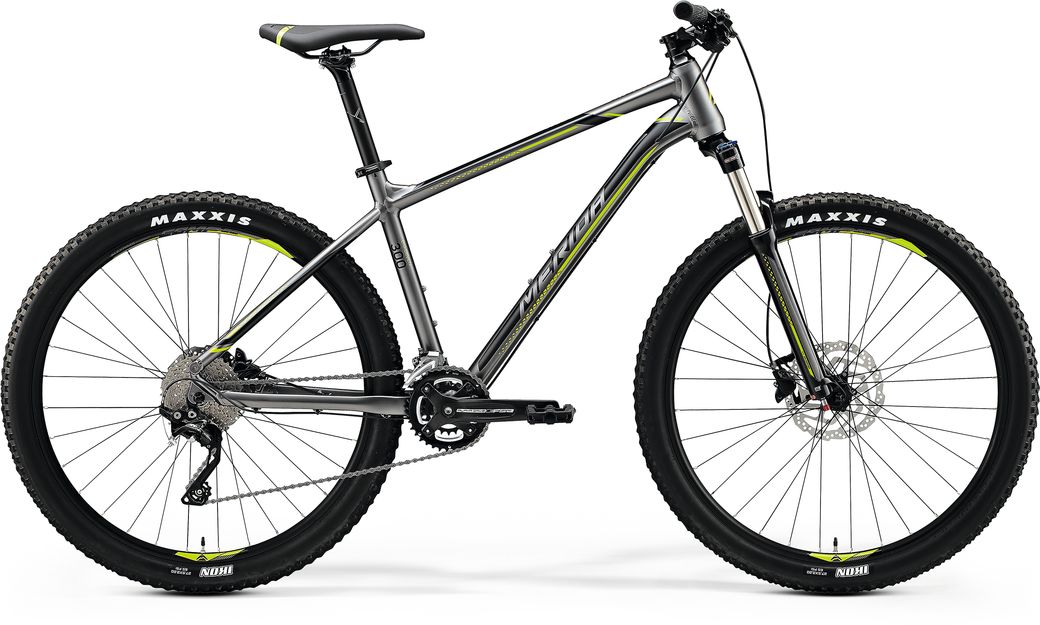 Our classic hardtails are the backbone of our range and showcase the enormous wealth of experience and knowledge we were able to gain in 48 years of bike production and manufacturing. The BIG.NINE and BIG.SEVEN range symbolises the symbiosis between modern frame technology, attention to detail and craftsmanship 'Made in Taiwan'.
Following in the footsteps of BIG.NINE/SEVEN TFS frame which was introduced in 2018, the SPEED frame also received a makeover for the 2019 season. The introduction of slim tube shapes creates a new look and a more relaxed geometry, through a shorter top tube and a higher head tube, resulting in a more upright riding position and enhanced trail visibility. The new frame also comes with IS brake mounts that are positioned within the rear triangle as well as with kickstand and fender mounts.
Cadre en aluminium 6061, traité par technoforming avec deux tubes ajustés. Suivant une géométrie plus détendue, il est équipé d'une technologie de classe standard : "Smooth Welding", tube de direction conique, monture des freins sur le triangle du cadre, câbles acheminés en interne et F-, C- et K-Mount.
Les grandes roues roulent mieux sur les bosses, offrent un meilleur amortissement et une meilleure stabilité directionnelle. D'autre part, les petites roues sont plus faciles à accélérer et sont généralement plus rigides. Le eBIG.NINE et le eBIG.SEVEN offrent les deux options - le cycliste a ainsi le choix. Alors que les cadres de tailles S et M sont disponibles uniquement avec des roues en 27.5", les cadres de tailles L et XL sont disponibles uniquement avec des roues en 29". Les cadres de taille M ont le choix entre les deux tailles de roue.
Tous les modèles jusqu'au BIG.NINE / SEVEN 100 sont équipés d'une tige de selle de 30.9 mm. La surface de contact plus importante améliore la stabilité lors du passage du tube supérieur au tube de selle et permet, en option, le montage d'une tige de selle télescopique. L'édition limitée du BIG.NINE propose même la pose des câbles internes pour une tige de selle télescopique.
Les câbles et les boîtiers sont dissimulés à l'intérieur du cadre et ne perturbent ainsi pas les lignes épurées de le vélo. Des solutions intelligentes dans le guidage interne et dans la fixation interne garantissent une installation sûre et sans bruit. Avec le "Smart Entry" on roule en silence.
Nos modèles en carbone et en aluminium léger disposent d'une portée de 422 mm, d'un angle arrière de 73.5°, d'un angle de direction plat de 70° et d'une longue structure avant de 80 mm (BIG.NINE – M). Avec ces caractéristiques, le BIG.NINE / SEVEN offre une géométrie de cross-country de la prochaine génération. L'agilité agressive rencontre une bonne stabilité directionnelle, parfaite pour répondre aux exigences de notre temps.