100mm suspension travel
material: carbon
29x2.3" max. wheelsize
148x12mm axle standard
BSA bottom bracket standard
Rammestørrelse
S, M, L, XL
Farge
METALLIC TEAL (BLACK/GOLD)
Air
100mm suspension travel
Tapered
Remote lockout
44mm fork offset
29x2.3" max. wheelsize
Styrelager
MERIDA-8151 1-1/8"-1.5" cartridge bearing set
material: carbon
740mm width
flat
material: aluminium
31.8mm diameter
-8° stem angle
S-60 mm, M/L/XL-70 mm
Holker / styretape
Rock Shox TwistLoc grip
Fremre girhendel
Shimano SL -MT800-IL
Bakre girhendel
Shimano XTR
30.9mm diameter
0mm setback
S: 125mm travel seatpost - M/L 150mm travel seatpost - XL 175mm travel seatpost
Sadelklemme
MERIDA EXPERT
Kranklager
BB, BSA 73mm– Ø30mm, Ext. Seal
29x2.25"
fold
TR EXO 120 TPI
29x2.25"
fold
TR EXO 120 TPI
including removeable lever, 6/4mm allen key
weighed with 29" wheels and at frame size M, without pedals
110x15mm width front hub
148x12mm width rear hub
30mm inner width
Centerlock
Shimano 12 Speed
material: carbon
Tubeless ready (tubeless tape and valves included)
| | | | | |
| --- | --- | --- | --- | --- |
| Rammestørrelse | S | M | L | XL |
| Dekkstørrelse | 29" | 29" | 29" | 29" |
| ST - Seat Tubes (mm) | 400 | 440 | 470 | 500 |
| TT - Top Tube (mm) | 576 | 596 | 619 | 643 |
| CS - Chain Stays (mm) | 435 | 435 | 435 | 435 |
| HTA - Head Tube Angles (°) | 68.5 | 68.5 | 68.5 | 68.5 |
| STA - Seat Tube Angle (°) | 76.5 | 76.5 | 76 | 76 |
| BD - Bottom Bracket Drops (mm) | 45 | 45 | 45 | 45 |
| HT - Head Tube Length (mm) | 95 | 95 | 105 | 115 |
| FL - Fork Length (mm) | 503 | 503 | 503 | 503 |
| R - Reach (mm) | 433 | 453 | 473 | 493 |
| S - Stack (mm) | 585 | 585 | 595 | 604 |
| WB - Wheel Base (mm) | 1126 | 1146 | 1169 | 1193 |
| SH - Stand Over Height (mm) | 730 | 731 | 736 | 738 |
| | | | | | |
| --- | --- | --- | --- | --- | --- |
| Number | Item Number | Name | Info | Pieces | Torque NM |
| 2 | 2136001371 | BC - MOUNT | | 1 | |
| 3 | 2298012187 | SCREW | | 4 | 5 |
| 4 | 2298011164 | SCREW | | 1 | 5 |
| 5 | 2300015847 | BOLT | | 1 | |
| 6 | 2300015836 | SCREW | | 1 | 16 |
| 7 | 2221002340 | BEARING | 3803V-2RS 26D*17D*7W | 1 | |
| 8 | 2221002395 | BEARING | 3802V-2RS 24D*15D*7W | 1 | |
| 9 | 2294004882 | WASHER | | 1 | |
| 10 | 2294001180 | WASHER | | 1 | |
| 11 | 2300015773 | SCREW | | 3 | 8 |
| 12 | 2300015784 | BOLT | | 1 | |
| 13 | 2300015795 | BOLT | | 1 | |
| 14 | 2300015803 | BOLT | | 1 | |
| 15 | 2181000342 | SPACER | | 1 | |
| 16 | 2221002254 | BEARING | 6800V-2RS 19D*10D*5W | 3 | |
| 17 | 2294004451 | WASHER | | 3 | |
| 18 | 2300015814 | SCREW | | 1 | 8 |
| 19 | 2300015825 | BOLT | | 1 | |
| 20 | 2221002265 | BEARING | 6801V-2RS 21D*12D*5W | 1 | |
| 21 | 2294004956 | WASHER | | 1 | |
| 22 | 2258005740 | CABLE GUIDE | | 1 | |
| 23 | 2300012509 | SCREW | | 1 | 2,5 |
| 24 | 2300015922 | LOCKING SCREW | | 1 | 2,5 |
| 25 | 2298010442 | SCREW | | 1 | 8 |
| 26 | 2300015911 | SCREW | | 1 | 2,5 |
| 27 | 2294005816 | WASHER | | 1 | |
| 28 | 2232002398 | BASE PLATE | | 1 | |
| 29 | 2232002376 | CHAIN GUARD | | 1 | |
| 30 | 2258004471 | CABLE GUIDE | | 1 | |
| 31 | 2311005673 | DROPOUT | SRAM UDH | 1 | |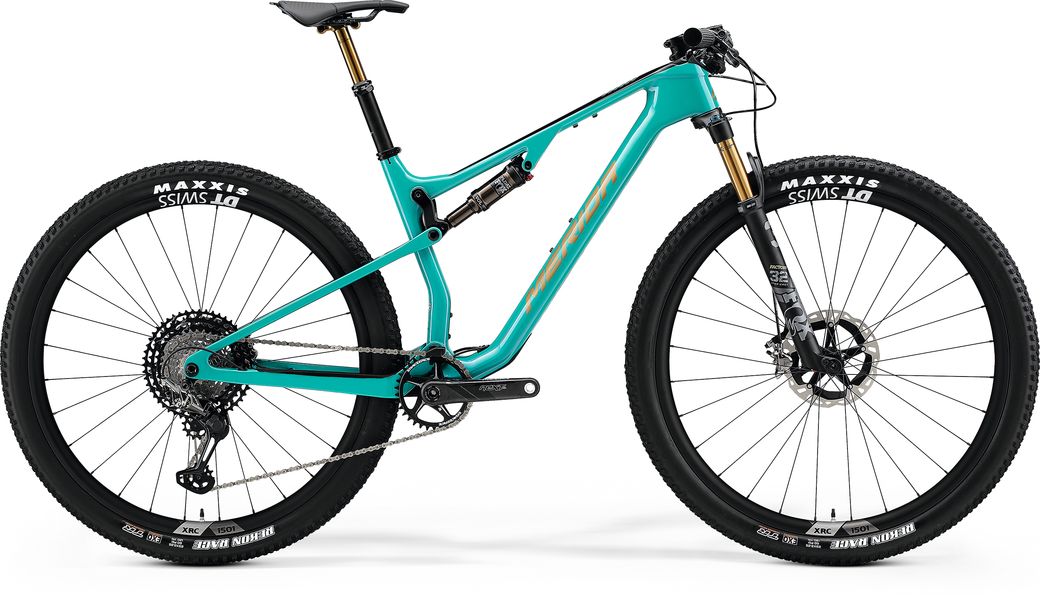 To save weight and further improve the frame stiffness, we have removed the seat-/chainstay pivot point. Instead of a classic bearing, the material properties of the frame allow sufficient flex without having an impact on durability.
Ability to fit two water bottles into the frame without making the bottles difficult to reach. Perfect for long marathon races and extended trail sessions.
All control cables like gear, brake and dropper post cable enter the frame through a specifically shaped headset cap, cleaning up the cockpit area while also keeping them out of harm's way. Only the internally routed cable for the rear shock lockout enters the frame directly into the top tube for extra smooth lockout action.
An additional fixing point behind the head tube offers the option to attach a spare tube, tool or small spare parts safely and securely.
Utvalgte bolter kan trekkes til med en TORX 30-nøkkel fra kun én side, uten risiko for at den andre siden glir eller roterer. Det gir raskere og enklere tiltrekking av viktige metallkomponenter.