100mm suspension travel
material: aluminium
29 wheelsize
148x12mm axle standard
BB92 bottom bracket standard
Rammestørrelse
S, M, L, XL
Farge
GLOSSY MEDIUM BLUE (LIME GREEN)
Air
120mm suspension travel
Tapered
remote lockout
51mm fork offset
material: aluminium
740mm width
flat
material: aluminium
31.8mm diameter
-6° stem angle
70 mm all sizes
Holker / styretape
MERIDA Comp EC
Bakgir
Shimano XT M8100 Shadow+
Bakre girhendel
Shimano XT
30.9mm diameter
0mm setback
S: 100mm travel seatpost - M/L/XL 125mm travel seatpost
Sadelklemme
MERIDA Expert
32 teeth
170 mm-S, 175 mm-M up
Kranklager
Shimano BB71-41A pressfit
22.8mm inner width
material: aluminium
110x15mm width front hub
32 spoke holes
Centerlock
148x12mm width rear hub, 32 spoke holes
Centerlock
including removeable lever, 6/4mm allen key
Eiker
Double Butted Black stainless
Skjermer
MERIDA mudguard front
Krank
170 mm-S, 175 mm-M up
Lockout spak
RM ONELOC SPRINT RIGHT FORK
| | | | | |
| --- | --- | --- | --- | --- |
| Rammestørrelse | S | M | L | XL |
| Dekkstørrelse | 29" | 29" | 29" | 29" |
| ST - Seat Tubes (mm) | 400 | 440 | 480 | 520 |
| TT - Top Tube (mm) | 571 | 591 | 613 | 635.5 |
| CS - Chain Stays (mm) | 435 | 435 | 435 | 435 |
| HTA - Head Tube Angles (°) | 67.8 | 67.8 | 67.8 | 67.8 |
| STA - Seat Tube Angle (°) | 76 | 76 | 76 | 76 |
| BD - Bottom Bracket Drops (mm) | 44 | 44 | 44 | 44 |
| HT - Head Tube Length (mm) | 95 | 95 | 105 | 115 |
| FL - Fork Length (mm) | 531 | 531 | 531 | 531 |
| R - Reach (mm) | 420 | 440 | 460 | 480 |
| S - Stack (mm) | 604 | 604 | 613 | 622 |
| WB - Wheel Base (mm) | 1137 | 1157 | 1181 | 1205 |
| SH - Stand Over Height (mm) | 703 | 725 | 755 | 783 |
| | | | | | |
| --- | --- | --- | --- | --- | --- |
| Number | Item Number | Name | Info | Pieces | Torque NM |
| 1 | A2294000016 | WASHER | OD19mm ID15.1mm H3mm | 1 | |
| 2 | A2294000102 | WASHER | OD21mm ID17.1mm H3mm | 1 | |
| 3 | A2221000043 | BEARING | 3802V-2RD OD24mm ID15mm W7mm | 1 | |
| 4 | A2221000040 | BEARING | 172607V OD26mm ID17mm W7mm | 1 | |
| 5 | A2300000280 | SCREW | M10x1 L15mm | 1 | 16~18 |
| 6 | A2300000279 | BOLT | M10x1 OD15/17mm L68mm | 1 | |
| 7 | A2300000340 | SCREW | M6x1 L13.5mm | 1 | 10~12 |
| 8 | A2300000339 | BOLT | M6x1 OD10mm L55.5mm | 1 | |
| 9 | A2294000093 | WASHER | OD15mm ID10.1mm H3mm | 2 | |
| 12 | A2221000034 | BEARING | 6800V2RS OD19mm ID10mm W5mm | 2 | |
| 13 | A2300000281 | SCREW | M10x1 L15mm | 2 | |
| 14 | A2221000035 | BEARING | 6801V-2RS OD21mm ID12mm W5mm | 6 | |
| 15 | A2300000285 | SCREW | M8x1 L16.5mm | 1 | 12~14 |
| 16 | A2300000284 | BOLT | M8x1 OD12mm L68.5mm | 1 | |
| 17 | A2294000023 | WASHER | OD15mm ID12.1mm H3mm | 6 | |
| 18 | A2294000105 | WASHER | OD17mm ID12.1mm H2mm | 4 | |
| 19 | A2300000306 | SCREW | M8x1 L13.5mm | 4 | 12~14 |
| 20 | A2300000307 | BOLT | M8x1 OD12mm L16mm | 4 | |
| 21 | A2311000059 | RD-HANGER | DH-053 | 1 | |
| 22 | A2300000129 | SCREW | M3x0.5 L10mm | 2 | 2~4 |
| 23 | A2300000536 | SCREW | M4x0.7 L8mm | 1 | 2~4 |
| 24 | A2258000056 | CABLE PLUG | for RD/FD | 2 | |
| 25 | A2258000057 | CABLE GUIDE | for BB | 1 | |
| 26 | A2300000245 | SCREW | M4x0.7 L8mm | 1 | 3~5 |
| 27 | A2300000213 | SCREW | M3x0.5 L13.5mm | 2 | 2~4 |
| 28 | | CABLE GUIDE | SMART ENTRY | | |
| 29 | | CABLE GUIDE | SMART ENTRY | | |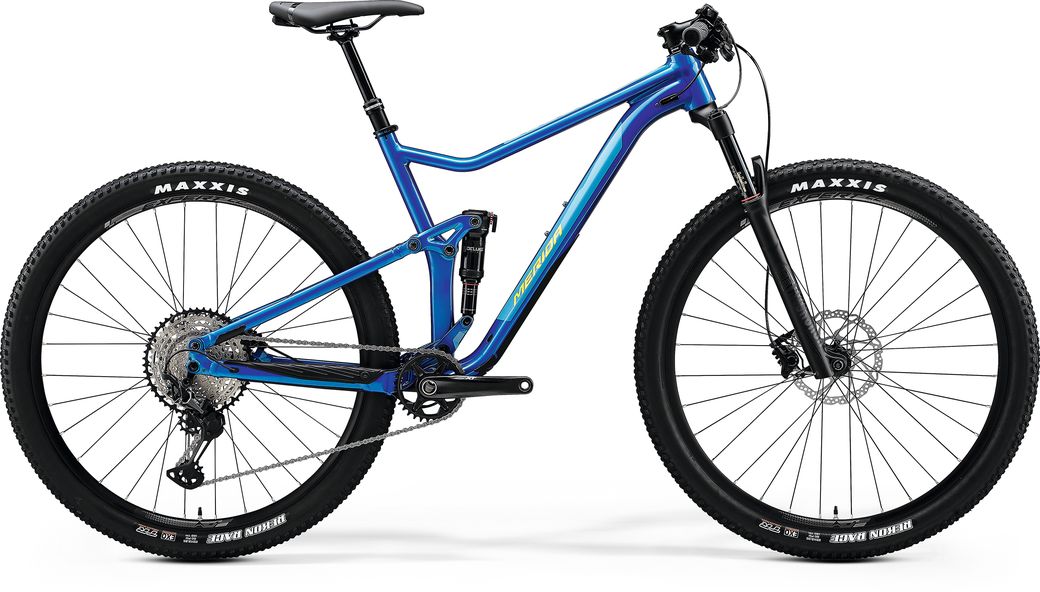 The ONE-TWENTY RC has a very low standover height, giving the rider ample space to manoeuvre when the terrain demands it. It slightly steeper seat and head angle (in comparison to the ONE-TWENTY) provides even more efficiency and a more marathon specific trail behaviour. The short travel rear
end, make the bike an even more uncompromising climber than its bigger brother.
Lightweight 6066 series aluminium triple butted and hydroformed frameset with 'Smooth welding' and internal cable routing. Tapered head tube for precise steering, Boost standard and rear through axle for rear end stiffness. The floating shock provides 100 mm of travel.
When hitting steam climbs in a marathon race, you want to be able to quickly lock out the front fork without taking your hands off the controls. So, all our ONE-TWENTY RC come with remote lockout, allowing you to lock out the fork from a leaver on your handlebars. The rear shock lockout is positioned on the shock to keep the cockpit clean and manageable.
The more marathon focused version offers 100 mm of rear wheel travel combined with a 120 mm suspension fork, resulting in a steeper seat and head angle, making the RC even more pedalling efficient and more agile on twisty courses.
Det nedre demperfestet beveger seg med systemet for å gi silkemyk demping og effektiv pedalbruk. Våre ingeniører kan påvirke utvekslingen nøyaktig, og med Float Link-systemet oppnår vi bedre støtte midt i fjæringsområdet. I tillegg får sykkelen får et estetisk løft. Vår Float Link for sykkelens bakre del skaper en følelse av nesten bunnløs fjæring, og gir samtidig perfekt kontroll ved klatring.
Senkepinnen får sadelen ut av vei når bakkene blir brattere, og gir mer plass å bevege seg på og bedre kontroll over sykkelen. Våre senkepinner har integrert kabel/wire-trekking og fjernkontrollspaker, noe som gir mer stilrent utseende og lettere sadelhøydejustering i fart.
Den har vist styrke i løp med MULTIVAN MERIDA BIKING TEAM i deres siste sesong i 2016, og sykkelen går fremdeles i konkurranser av levende Mountain Bike-legender som Gunn-Rita Dahle Flesjå og José Antonio Hermida. De er ute etter lett og rask akselerasjon, topp egenskaper i klatring og utforbakke, og meget lav vekt.