Air
100mm suspension travel
Tapered
31.8mm diameter
6° stem angle
derailleur (r)
Shimano Deore Shadow+
shifters
no / Shimano Deore
30.9mm diameter
15mm setback
110x15mm width front hub
32 spoke holes
Centerlock
148x12mm width rear hub
36 spoke holes
Centerlock
axles
attached / MERIDA Boost axle
light front
CG-119PG-BLACK(1)
battery charger
Shimano EC-E6002[??????]
| | | | |
| --- | --- | --- | --- |
| Frame Size | M | L | XL |
| Tyre Sizes | 29" | 29" | 29" |
| ST seat tube [mm] | 430 | 480 | 530 |
| TT top tube [mm] | 590 | 610 | 630 |
| CS chain stay length [mm] | 458 | 458 | 458 |
| HTA head tube angle [°] | 69.5 | 69.5 | 69.5 |
| STA seat tube angle [°] | 73.5 | 73.5 | 73.5 |
| BD bottom bracked drop [mm] | 65 | 65 | 65 |
| HT head tube [mm] | 115 | 125 | 135 |
| FL fork length [mm] | 511 | 511 | 511 |
| R reach [mm] | 402 | 420 | 437 |
| S stack [mm] | 634 | 643 | 652 |
| WB wheel base [mm] | 1123 | 1143 | 1164 |
| SH stand over height [mm] | 733 | 777 | 819 |
| | | | | | |
| --- | --- | --- | --- | --- | --- |
| No. | Item-No. | Name | Info | Pieces | Torque NM |
| 1 | | CABLE GUIDE | SMART ENTRY | | |
| 2 | | CABLE GUIDE | SMART ENTRY | | |
| 3 | A2300000213 | SCREW | M3x0.5 L13.5mm | 2 | 2~4 |
| 4 | A2151000026 | COVER | for battery; eBIG.SEVEN sizes XS / S for battery; eBIG.NINE size M | 1 | |
| 5 | A2151000025 | COVER | for battery; eBIG.SEVEN size M for battery; eBIG.NINE sizes L / XL | 1 | |
| 6 | A2300000468 | SCREW | M8x1.25 L18.5mm | 3 | 11~12 |
| 7 | A2300000469 | SCREW | M8x1.25 L23mm | 3 | 11~12 |
| 8 | A2258000012 | CABLE GUIDE | for M5 fixation | 1 | |
| 9 | A2298000004 | SCREW | M5x0.8 L15mm with washer | 1 | 3~5 |
| 10 | A2300000185 | SCREW | M3x0.5 L20.5mm | 2 | 2~4 |
| 11 | A2311000067 | RD-HANGER | DH-057 | 1 | |
| 12 | A2300000048 | SCREW | M4x0.7 L8mm | 1 | 3~5 |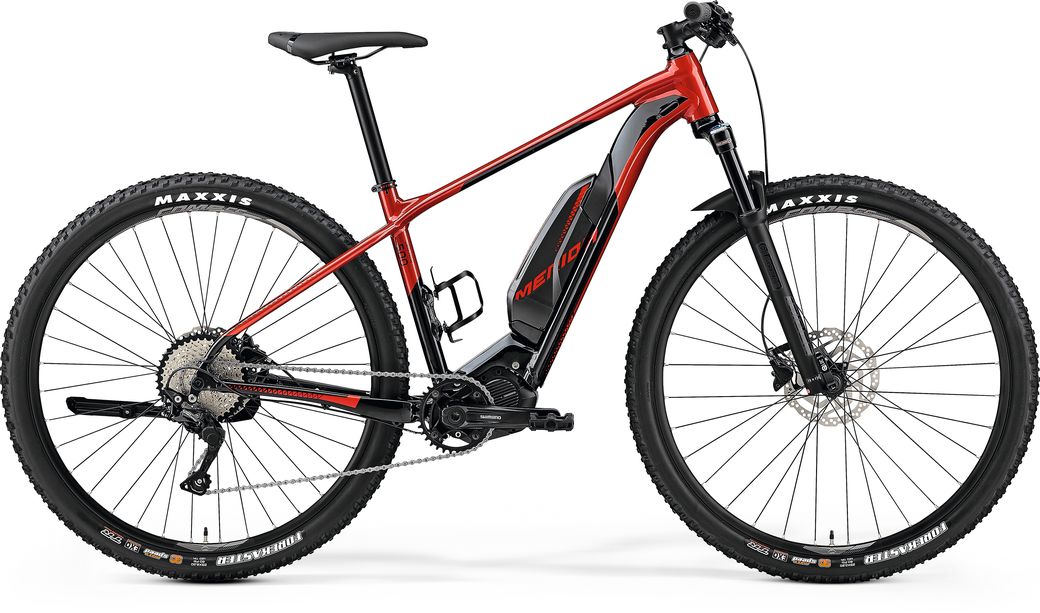 HFS-hydroforming Prolite 66 triple butted aluminium hardtail frame with a sporty yet comfortable geometry. Size XS, S and M available in 650B, size M, L and XL available in 29er wheel size. 'Smart Entry' cable routing for rattle free running. E8000 and E7000 frame version come with casting motor bracket creating an integrated appearance of the motor into the frame as well as provides an extremely strong connection between frame and motor. Comes with integrated fixings for mudguards and side stand.
100 mm up front offers lots of comfort while having plenty of reserves when you choose a more 'off-road' route home. Ultimately e-MTBs encourage the rider to go 'off the beaten track' whenever possible.
The geometry of our eBIG.NINE follows one very simple principle: As sporty as possible, as comfortable as necessary. You ride to work in the morning but fancy a little off-road detour on the way home? No problem – that is what these bikes are made for!
'K-mount' featuring bikes have fixing points on the chain stays to fit a MERIDA kickstand while 'C-mount' equipped bikes have the fixing point for the rear rack (carrier) integrated. 'F-mount' equipped bikes have the fixing points for the mudguards (fenders) already integrated.
The E8000 battery is perfectly integrated into the hydroformed down tube and delivers an impressive 500 Wh long detours home – the perfect aggregate for the new E7000 motor, which impresses commuters and sporty riders with its perfect balanced power delivery. However, for the more performance orientated rider we also offer a complete E8000 system.
Dependent on frame size we offer 650B or 29er versions on our TFS and SPEED frame level. The requirements of smaller riders (reduced standover height, preferred lower cockpit) are best met by 650B on S and M frame sizes whilst at the other side of the spectrum, L and XL only come with 29er wheels. Size M is available in either 650B or 29er.
Cables, housings and brake hoses are clamped under tension to prevent rattling when the trail gets rough. All inlets are completely interchangeable to deal with Di2, hydraulic hoses, brake cable and gear cable housings etc.