material: aluminium
29" wheelsize
148x12mm axle standard
external
max. 504 Wh
color
MATT DARK GREY/BLACK
Coil
100mm suspension travel
Tapered
47mm fork offset
material: aluminium
720mm width
10mm rise
material: aluminium
31.8mm diameter
6° stem angle
80 mm-M, 90 mm-L, 100 mm-XL
derailleur (r)
Shimano Deore Shadow+
material: aluminium
30.9mm diameter
15mm setback
seat clamp
MERIDA Expert clamp
36 teeth
Shimano FC-E8000
110x15mm width front hub
32 spoke holes
Centerlock
148x12mm width rear hub
36 spoke holes
Centerlock
20mm inner width
material: aluminium
including removeable lever, 6/4mm allen key
light front
CG-119PG-BLACK(1)
weighed at frame size M without pedals
| | | | |
| --- | --- | --- | --- |
| Frame Size | M | L | XL |
| Tyre Sizes | 29" | 29" | 29" |
| ST seat tube [mm] | 430 | 480 | 530 |
| TT top tube [mm] | 590 | 610 | 630 |
| CS chain stay length [mm] | 458 | 458 | 458 |
| HTA head tube angle [°] | 69.5 | 69.5 | 69.5 |
| STA seat tube angle [°] | 73.5 | 73.5 | 73.5 |
| BD bottom bracked drop [mm] | 65 | 65 | 65 |
| HT head tube [mm] | 115 | 125 | 135 |
| FL fork length [mm] | 511 | 511 | 511 |
| R reach [mm] | 402 | 420 | 437 |
| S stack [mm] | 634 | 643 | 652 |
| WB wheel base [mm] | 1123 | 1143 | 1164 |
| SH stand over height [mm] | 733 | 777 | 819 |
| | | | | | |
| --- | --- | --- | --- | --- | --- |
| No. | Item-No. | Name | Info | Pieces | Torque NM |
| 1 | | CABLE GUIDE | SMART ENTRY | | |
| 2 | | CABLE GUIDE | SMART ENTRY | | |
| 3 | A2300000213 | SCREW | M3x0.5 L13.5mm | 2 | 2~4 |
| 4 | A2151000026 | COVER | for battery; eBIG.SEVEN sizes XS / S for battery; eBIG.NINE size M | 1 | |
| 5 | A2151000025 | COVER | for battery; eBIG.SEVEN size M for battery; eBIG.NINE sizes L / XL | 1 | |
| 6 | A2300000468 | SCREW | M8x1.25 L18.5mm | 3 | 11~12 |
| 7 | A2300000469 | SCREW | M8x1.25 L23mm | 3 | 11~12 |
| 8 | A2258000012 | CABLE GUIDE | for M5 fixation | 1 | |
| 9 | A2298000004 | SCREW | M5x0.8 L15mm with washer | 1 | 3~5 |
| 10 | A2300000185 | SCREW | M3x0.5 L20.5mm | 2 | 2~4 |
| 11 | A2311000067 | RD-HANGER | DH-057 | 1 | |
| 12 | A2300000048 | SCREW | M4x0.7 L8mm | 1 | 3~5 |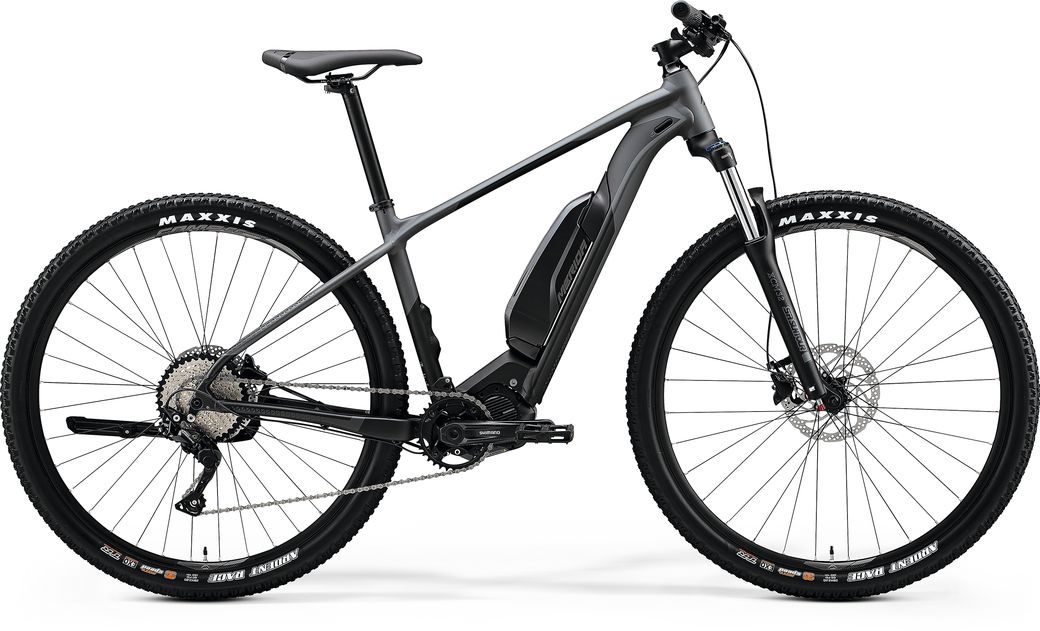 A two-component battery cover, which offers the perfect protection for the internal battery of these models. The softer (outer) layer reduces noises, seals the downtube perfectly and absorbs hits from trail debris easily, while the harder (inner) layer ensures that the battery does not get damaged and gives it the structural shape.
The eBIG.NINE and eBIG.NINE EQ are not just 'separated' by the equipped fenders, rear racks and lights, but also by less obvious parts like grips, saddle, stem and tyres, that make the eBIG.NINE EQ more comfort and trekking orientated than the eBOG.NINE.
The eBIG.NINE offers the possibility to fit a water bottle or accessories like a lock or pump to the frame. The frame has (standard) bottle bosses on top of the down tube and at the seat tube, where a special adapter offers a very low mounting position, allowing maximum seat post insertion depth (guaranteed in all frame sizes).
HFS-hydroforming Prolite 66 triple butted aluminium hardtail frame with a sporty yet comfortable geometry. Size XS, S and M available in 650B, size M, L and XL available in 29er wheel size. 'Smart Entry' cable routing for rattle free running. E8000 and E7000 frame version come with casting motor bracket creating an integrated appearance of the motor into the frame as well as provides an extremely strong connection between frame and motor. Comes with integrated fixings for mudguards and side stand.
The geometry of our eBIG.NINE follows one very simple principle: As sporty as possible, as comfortable as necessary. You ride to work in the morning but fancy a little off-road detour on the way home? No problem – that is what these bikes are made for!
'K-mount' featuring bikes have fixing points on the chain stays to fit a MERIDA kickstand while 'C-mount' equipped bikes have the fixing point for the rear rack (carrier) integrated. 'F-mount' equipped bikes have the fixing points for the mudguards (fenders) already integrated.
The E8000 battery is perfectly integrated into the hydroformed down tube and delivers an impressive 500 Wh long detours home – the perfect aggregate for the new E7000 motor, which impresses commuters and sporty riders with its perfect balanced power delivery. However, for the more performance orientated rider we also offer a complete E8000 system.