material: aluminium
700x50C (with fender) max. wheelsize
142x12mm axle standard
intube
max. 504 Wh
eSPRESSO L XS(43L)-S(47L)-M(51L)-L(55L)
Couleur
SILK BLUE (BLACK)
Coil
63mm suspension travel
700x52C max wheelsize
Commande vitesse arr.
Shimano Alivio M3100
38 teeth
Shimano FC-E6100
material: aluminium
660mm width
15mm rise
material: aluminium
31.8mm diameter
adjustable
90 mm-XS/S/M, 110 mm-L/XL
Direction
MERIDA 2346 Neck
material: aluminium
34.9mm diameter
0mm setback
20mm inner width
material: aluminium
622-50
wire
reflecting line
622-50
wire
reflecting line
100x9mm width front hub
32 spoke holes
Centerlock
142x12mm width rear hub
36 spoke holes
Centerlock
Aile
Sunnywheel SW-FA311-60E1 (MSB)
Lumière avant
Herrmans H-Black MR4 E
Lumière arrière
Spanninga Commuter Glow XE integrated in MERIDA MIK HD carrier
Béquille
Massload CL-KA98
Porte bagage arrière
MERIDA MIK HD Carrier with Spring clip & Spanninga rear light
Couverture moteur
SM-DUE61-T
weighed with 700C wheels and at frame size M
| | | | |
| --- | --- | --- | --- |
| Frame Size | S | M | L |
| Tire Sizes | 28" | 28" | 28" |
| St Seat Tubes Mm | 470 | 510 | 550 |
| Tt Top Tubes Mm | 580 | 590 | 610 |
| Cs Chain Stays Mm | 478 | 478 | 478 |
| Hta Head Tube Angles Deg | 71 | 71 | 71.5 |
| Sta Seat Tube Angle Deg | 74.5 | 74.5 | 74 |
| Bd Bottom Bracket Drops Mm | 70 | 70 | 70 |
| Ht Head Tube Lengths Mm | 140 | 155 | 175 |
| Fl Fork Lengths Mm | 475 | 475 | 475 |
| R Reachs Mm | 403 | 409 | 417 |
| S Stacks Mm | 637 | 651.5 | 672.5 |
| Wb Wheel Base Mm | 1118 | 1129 | 1138 |
| Sh Stand Over Height Mm | 758 | 793 | 828 |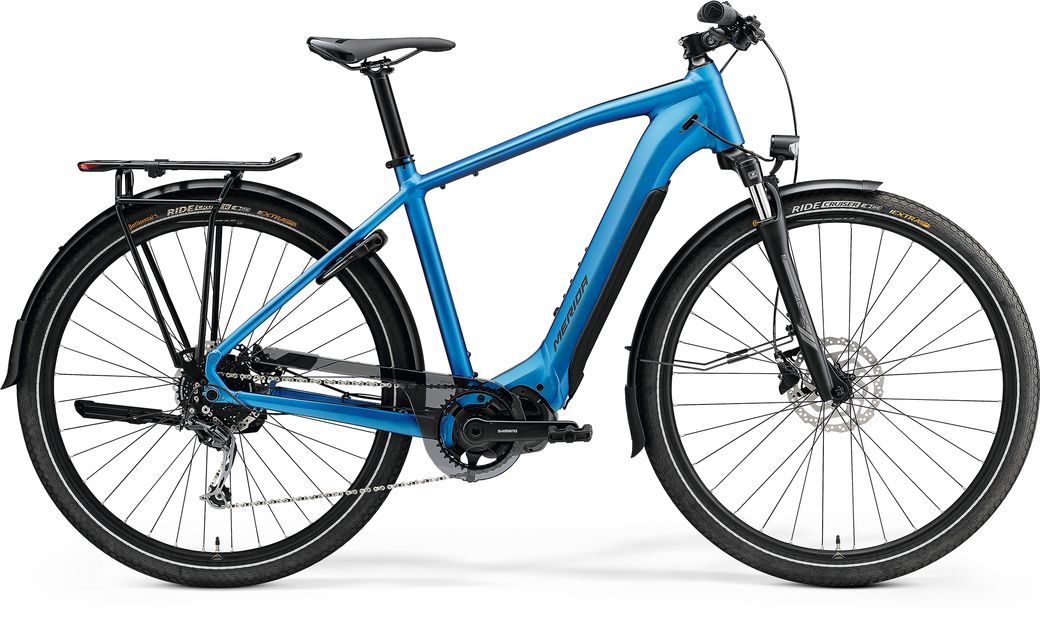 Tous les modèles roulent sur des roues 700c à roulement rapide, idéales pour les balades sur routes, voies et pistes lisses. Nous installons des pneus avec des flancs réfléchissants et une protection anti-crevaison qui vous mèneront à destination rapidement et en toute sécurité. Cependant, nos cadres eSPRESSO "classiques" peuvent également recevoir des roues 650B si nécessaire.
Dans notre gamme eSPRESSO, vous pouvez choisir entre deux options de cadre. La conception du cadre avec technologie de batterie intégrée, ou l'option de cadre de batterie semi-intégrée éprouvée, afin que vous puissiez trouver le vélo idéal pour vos préférences et votre budget. Nos modèles à batterie intégrée sont équipés du moteur EP8 super puissant ou du moteur E6100 plus économique, tandis que les modèles à batterie semi-intégrée sont équipés du bloc d'alimentation E5000 d'entrée de gamme, ce qui vous donne encore plus de choix pour sélectionner l'eSPRESSO parfait pour vos besoins.
Tous nos modèles eSPRESSO sont équipés de garde-boue, d'éclairage, d'un cadenas, d'un porte-bagages arrière et d'une béquille, ce qui les rend prêts à tout dès que vous quittez le magasin.
Un couvercle de batterie à deux composants, qui offre une protection parfaite pour la batterie interne de ces modèles. La couche plus douce (extérieure) réduit les bruits, scelle parfaitement le tube diagonal et absorbe facilement les coups des débris de piste, tandis que la couche plus dure (intérieure) garantit que la batterie ne sera pas endommagée et lui donne la forme structurelle.
Sur un vélo, le poids du système est le poids combiné du vélo, du cycliste et des bagages supplémentaires. Pour les vélos électriques Merida, le poids autorisé du système est de 140 kg. Étant donné qu'un vélo électrique est déjà plus lourd qu'un vélo ordinaire et qu'il facilite également le transport de plus grandes quantités de bagages, il est impératif de certifier un poids global du système plus élevé. Tous les vélos électriques MERIDA, ainsi que tous les composants utilisés, sont soumis à un programme d'essais rigoureux et spécifique aux vélos électriques qui imite les forces et les contraintes les plus élevées afin de garantir au cycliste le plus haut niveau de sécurité.
Les câbles sont acheminés en interne, donnant un aspect propre au cadre et protégeant les câbles de l'encrassement et de l'eau.
Les câbles et les boîtiers sont dissimulés à l'intérieur du cadre et ne perturbent ainsi pas les lignes épurées de le vélo. Des solutions intelligentes dans le guidage interne et dans la fixation interne garantissent une installation sûre et sans bruit. Avec le "Smart Entry" on roule en silence.