frame size
4XS, 3XS, XXS, XS, S, S/M, M/L, L, XL
color
BLACK (TEAM REPLICA)
brake lever
Shimano 105 R7000
headset
MERIDA M2331 Neck
handlebar
MERIDA Expert SL
31.8mm diameter
-5° stem angle
derailleur (f)
Shimano 105
27.2mm diameter
15mm setback
Carbon
bottom bracket
Shimano Pressfit BB71
100x9mm width front hub
24 spoke holes
130x9mm width rear hub
28 spoke holes
17mm inner width
22mm height
spokes
Double Butted Black stainless
weighed at frame size M/L (w/o pedals)
| | | | | | | | | | |
| --- | --- | --- | --- | --- | --- | --- | --- | --- | --- |
| Frame Size | 4XS | 3XS | XXS | XS | S | S/M | M/L | L | XL |
| Tyre Sizes | 28" | 28" | 28" | 28" | 28" | 28" | 28" | 28" | 28" |
| ST seat tube [mm] | 380 | 410 | 440 | 470 | 500 | 520 | 540 | 560 | 590 |
| TT top tube [mm] | 491 | 500 | 515 | 520 | 530 | 545 | 560 | 575 | 590 |
| CS chain stay length [mm] | 408 | 408 | 408 | 408 | 408 | 408 | 408 | 408 | 408 |
| HTA head tube angle [°] | 70 | 71 | 71 | 71 | 72 | 73 | 73 | 73 | 73.5 |
| STA seat tube angle [°] | 75 | 75 | 75 | 74.5 | 74 | 74 | 73.5 | 73 | 73 |
| BD bottom bracked drop [mm] | 70 | 66 | 66 | 66 | 66 | 66 | 66 | 66 | 66 |
| HT head tube [mm] | 95 | 100 | 120 | 130 | 140 | 150 | 170 | 190 | 215 |
| FL fork length [mm] | 375 | 375 | 375 | 375 | 375 | 375 | 375 | 375 | 375 |
| R reach [mm] | 359 | 367 | 376 | 373 | 375 | 386 | 390 | 394 | 401 |
| S stack [mm] | 493 | 499 | 519 | 529 | 542 | 555 | 574 | 593 | 619 |
| WB wheel base [mm] | 973 | 982 | 982 | 983 | 979 | 985 | 995 | 1005 | 1014 |
| SH stand over height [mm] | 646 | 667 | 697 | 715 | 745 | 764 | 783 | 802 | 830 |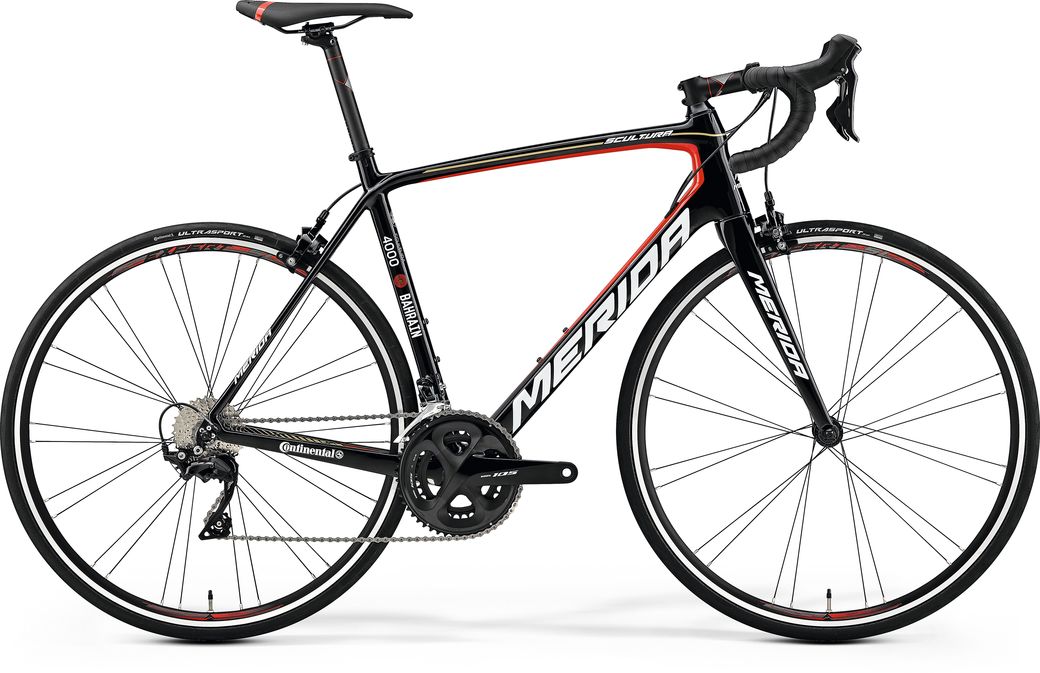 CF2 frame with more relaxed geometry than the CF4. Truncated 'NACA Fastback' profiled down tube and seat tube for aerodynamics. Tapered 1 1/8" to 1 1/2" head tube for confidence inspiring handling. Caliper version runs quick release hubs, Disc version has through axle for extra lateral stiffness and complete internal cable routing. Flat mount rear disc brake with disc cooler technology.
All models feature a full carbon fork with a tapered steerer to give precise, confidence-inspiring steering. All SCULTURA Alloy and CF2 carbon models feature a 'regular' 1 1/8" to 1 1/2" taper. The high-end SCULTURA CF4 frame has a slimmed down front profile and uses a 1 1/8" to 1 1/4" taper, the new REACTO frames a 1 1/2" to 1 1/4"taper.
Our wind tunnel learnings from the REACTO design project have been used to create a smaller aerodynamically optimised 'NACA Fastback' tube profile. The more extreme truncation of the teardrop shaped tubes enables perfect airflow at the lowest possible weight.
Our top end CF4 frame brings in 850 g (size M/L) in the caliper brake version whilst the CF4 Disc frameset tips the scales at 1000 g (size M/L). Incredible readings while offering a lifetime warranty on all our frames, even when raced.
The SCULTURA DISC and rim version can be fitted with 25 mm wide tyres, providing maximum traction and transferring the improved braking power to the road. The 25 mm tyres also offer improved comfort.