material: aluminium
700x50C max. wheelsize
135x9mm axle standard
BSA bottom bracket standard
frame size
XXS, XS, S, M, L, XL
color
GLOSSY BLACK (MATT SILVER)
Coil
63mm suspension travel
Remote Lockout
700x50C max. wheelsize
brake lever
Shimano MT-200
headset
MERIDA M2340 Neck
material: aluminium
660mm width
25mm rise
material: aluminium
31.8mm diameter
5° stem angle
80 mm-XXS/XS/S, 90 mm-M/L, 100 mm-XL
derailleur (f)
Shimano Deore
derailleur (r)
Shimano XT Shadow
material: aluminium
30.9mm diameter
12mm setback
48-36-26 teeth
170 mm-XXS/XS/S, 175 mm-M/XL
crank
170 mm-XXS/XS/S, 175 mm-M/XL
bottom bracket
FSA TH-7420ST Cartridge Bearing
100x9mm width front hub
32 spoke holes
Centerlock
135x9mm width rear hub
32 spoke holes
Centerlock
20mm inner width
17mm height
material: aluminium
700x40C
fold
reflective stripe, Silkworm
700x40C
fold
reflective stripe, Silkworm
weighed with 700C wheels and at frame size M, without pedals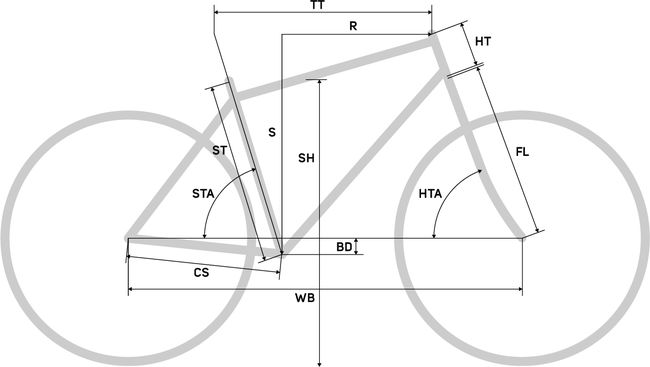 | | | | | | | |
| --- | --- | --- | --- | --- | --- | --- |
| Frame Size | XXS | XS | S | M | L | XL |
| Tyre Sizes | 28" | 28" | 28" | 28" | 28" | 28" |
| ST seat tube [mm] | 390 | 430 | 470 | 510 | 550 | 590 |
| TT top tube [mm] | 560 | 565 | 580 | 590 | 610 | 630 |
| CS chain stay length [mm] | 460 | 460 | 460 | 460 | 460 | 460 |
| HTA head tube angle [°] | 70.5 | 70.5 | 71 | 71 | 71.5 | 71.5 |
| STA seat tube angle [°] | 74 | 74 | 73.5 | 73.5 | 73 | 73 |
| BD bottom bracked drop [mm] | 70 | 70 | 70 | 70 | 70 | 70 |
| HT head tube [mm] | 130 | 130 | 140 | 155 | 175 | 205 |
| FL fork length [mm] | 468 | 468 | 468 | 468 | 468 | 468 |
| R reach [mm] | 382 | 387 | 393 | 399 | 406 | 418 |
| S stack [mm] | 620 | 620 | 631 | 645 | 667 | 695 |
| WB wheel base [mm] | 1076 | 1081 | 1085 | 1096 | 1104 | 1125 |
| SH stand over height [mm] | 688 | 723 | 757 | 784 | 818 | 855 |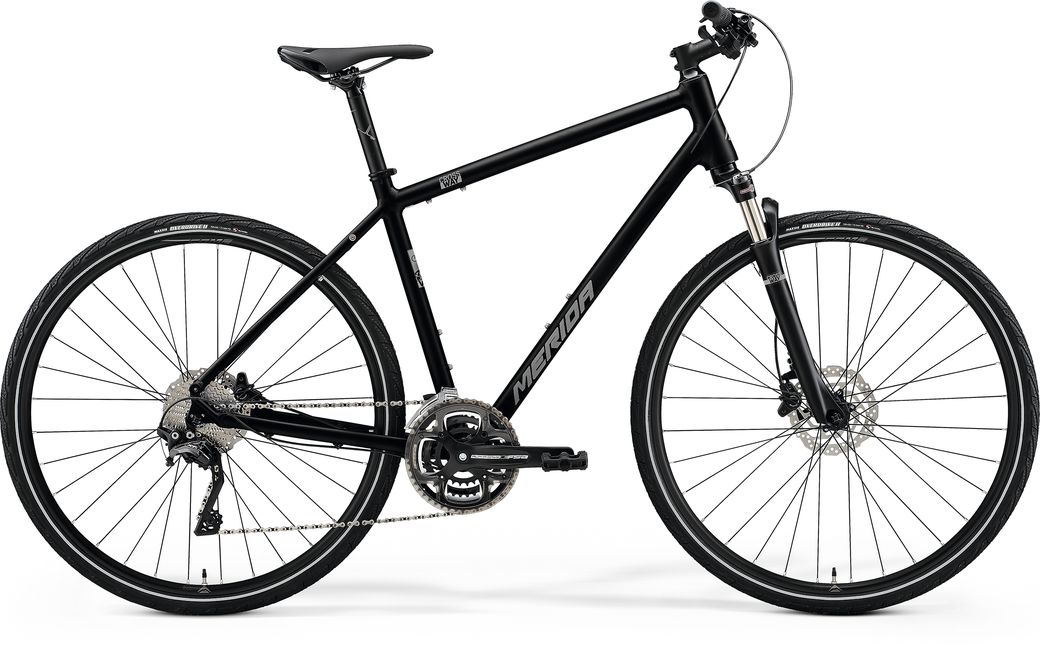 All models feature powerful and easy to modulate hydraulic disc brakes. Hydraulic disc brakes offer great stopping power in any weather, are more or less maintenance-free and are not affected by rough or kinked cables.
All models have the ability to add mudguards, making them more versatile, particularly when used as a training or commuting bike. The removable seat stay bridge stays in place to securely hold the rear mudguard or gets removed for a cleaner look and improved mud clearance.
All our CROSSWAY models are equipped with suspension forks to iron out any surface bumps. Adjustable ahead stems and suspension seat posts are also fitted on most SPEED models, providing extra comfort and an adjustable riding position. The sportier TFS models feature a regular seat post and stem to reduce weight.
All CROSSWAY 100 up to XT-EDITION models feature tyres with reflective strips on their sidewalls, improving visibility on the road.