frame size
XXS, XS, S, M, L, XL
Coil
63mm suspension travel
Lockout
brake lever
Shimano MT-200
headset
MERIDA M2346 Neck
31.8mm diameter
adjustable
grip
MERIDA Crossway Ergo
derailleur (f)
Shimano Deore
derailleur (r)
Shimano Deore
30.9mm diameter
20mm setback
seat clamp
MERIDA Comp QR
saddle
MERIDA Cross Sport
bottom bracket
FSA TH-7420ST Cartridge Bearing
100x9mm width front hub
32 spoke holes
Centerlock
135x9mm width rear hub
32 spoke holes
Centerlock
700x40C
wire bead
reflective stripe
700x40C
wire bead
reflective stripe
weighed at frame size M/L (w/o pedals)
| | | | | | | |
| --- | --- | --- | --- | --- | --- | --- |
| Frame Size | XXS | XS | S | M | L | XL |
| Tyre Sizes | 28" | 28" | 28" | 28" | 28" | 28" |
| ST seat tube [mm] | 390 | 430 | 470 | 510 | 550 | 590 |
| TT top tube [mm] | 560 | 565 | 580 | 590 | 610 | 630 |
| CS chain stay length [mm] | 460 | 460 | 460 | 460 | 460 | 460 |
| HTA head tube angle [°] | 70.5 | 70.5 | 71 | 71 | 71.5 | 71.5 |
| STA seat tube angle [°] | 74 | 74 | 73.5 | 73.5 | 73 | 73 |
| BD bottom bracked drop [mm] | 70 | 70 | 70 | 70 | 70 | 70 |
| HT head tube [mm] | 130 | 130 | 140 | 155 | 175 | 205 |
| FL fork length [mm] | 460 | 460 | 460 | 460 | 460 | 460 |
| R reach [mm] | 385 | 390 | 396 | 402 | 409 | 420 |
| S stack [mm] | 611 | 611 | 622 | 637 | 658 | 686 |
| WB wheel base [mm] | 1080 | 1085 | 1089 | 1100 | 1109 | 1130 |
| SH stand over height [mm] | 679 | 712 | 745 | 779 | 814 | 849 |
| Body Height Cm | < 149 | 145 - 160 | 155 - 170 | 161 - 180 | 171 - 190 | > 185 |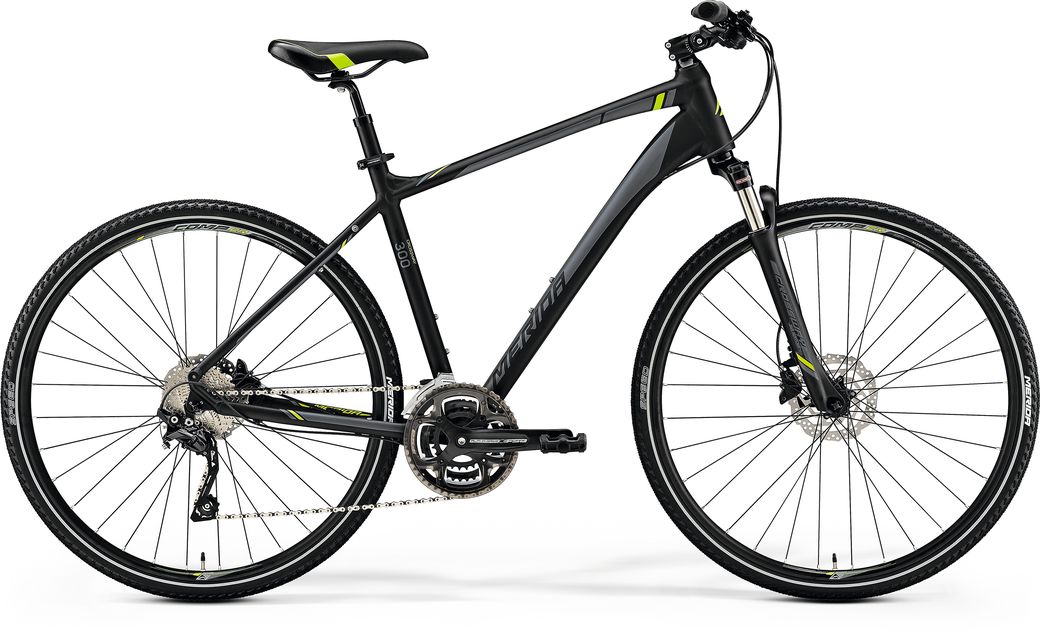 6061 double butted and technoformed aluminium frame with a concealed cable channel underneath. Tapered head tube for confidence inspiring handling. Graceful lines with smooth welding. Equipped with mounts for rack, mudguards and kickstand.
Our CROSSWAY TFS frame forms a link between our road and mountain bike frames in design and functionality. The steeply sloping top tube provides an excellent standover height in every riding situation, and the hidden cable routing underneath the down tube makes the frame look clean and protect the cables from moisture and dirt. The MTB inspired oversized tubing, and the tapered head tube provides superb frame stiffness and optimum steering precision.
All our CROSSWAY models are equipped with suspension forks to iron out any surface bumps. Adjustable ahead stems and suspension seat posts are also fitted on most SPEED models, providing extra comfort and an adjustable riding position. The sportier TFS models feature a regular seat post and stem to reduce weight.
All CROSSWAY 100 up to XT-EDITION models feature tyres with reflective strips on their sidewalls, improving visibility on the road.
Mudguards, racks and kickstands can be added to all CROSSWAY models, making them usable in many circumstances.