material: carbon
700x28C max. wheelsize
100x12/ 142x12mm axle standard
386 bottom bracket standard
Tailles
XXS, XS, S, S/M, M/L, L, XL
Couleur
BAHRAIN-MCLAREN TEAM
27.2mm diameter
15mm setback
Carbon
S-Flex
| | | | | | | | |
| --- | --- | --- | --- | --- | --- | --- | --- |
| Frame Size | XXS | XS | S | S/M | M/L | L | XL |
| Tire Sizes | 28" | 28" | 28" | 28" | 28" | 28" | 28" |
| Frame Size CM | 44 | 47 | 50 | 52 | 54 | 56 | 59 |
| St Seat Tubes Mm | 440 | 470 | 500 | 520 | 540 | 560 | 590 |
| Tt Top Tubes Mm | 510 | 520 | 535 | 545 | 560 | 575 | 590 |
| Cs Chain Stays Mm | 408 | 408 | 408 | 408 | 408 | 408 | 408 |
| Hta Head Tube Angles Deg | 71 | 71.5 | 72.5 | 73.5 | 73.5 | 73.5 | 74 |
| Sta Seat Tube Angle Deg | 74.5 | 74.5 | 74 | 74 | 73.5 | 73 | 73 |
| Bd Bottom Bracket Drops Mm | 66 | 66 | 66 | 66 | 66 | 66 | 66 |
| Ht Head Tube Lengths Mm | 105 | 115 | 125 | 140 | 155 | 170 | 190 |
| Fl Fork Lengths Mm | 371 | 371 | 371 | 371 | 371 | 371 | 371 |
| R Reachs Mm | 371 | 377 | 383 | 388 | 394 | 399 | 408 |
| S Stacks Mm | 500 | 512 | 524 | 543 | 557 | 571 | 592 |
| Wb Wheel Base Mm | 974 | 980 | 982 | 983 | 993 | 1003 | 1012 |
| Sh Stand Over Height Mm | 688 | 715 | 740 | 760 | 777 | 794 | 822 |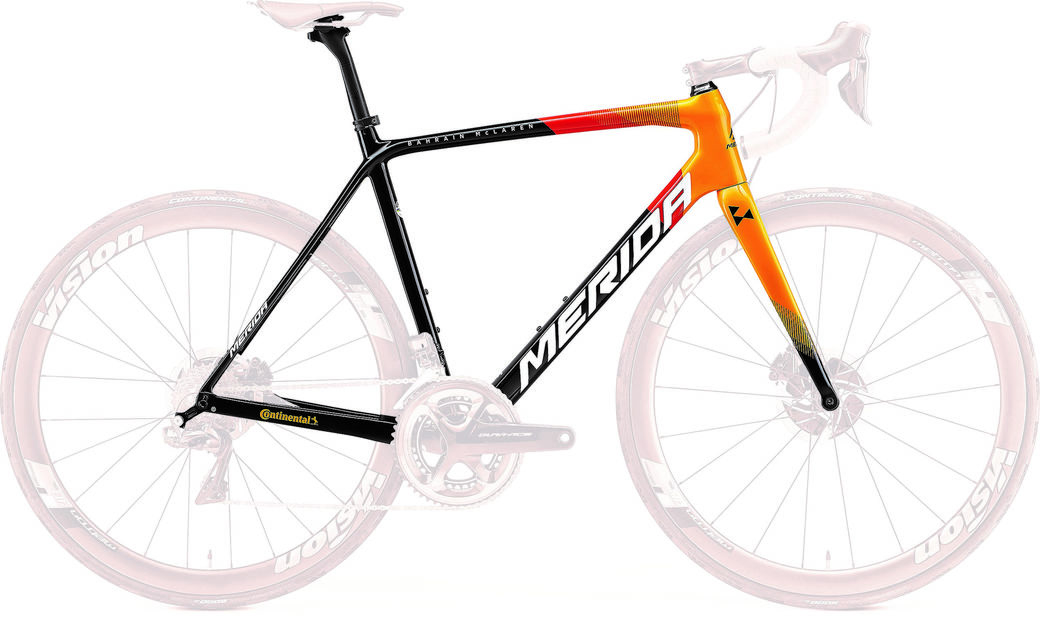 Our CF4 frame features the Shimano direct hanger for a more solid connection between frame and rear derailleur, resulting in further improved shifting and more simplified (and therefore faster) wheel changes.
The SCULTURA DISC version can be fitted with 28 mm wide tyres, providing maximum traction and transferring the improved braking power to the road. The maximum tyre width for the rim version is 25 mm.
L'ensemble de la gamme DISC est équipé d'axes de 12 mm qui améliorent la rigidité des roues et permettent un alignement précis des disques lors d'un changement de roue. Le cadre CF4 utilise le système R.A.T qui permet une installation et un retrait de la roue ultra-rapides.
Le vélo est équipés d'une fourche en carbone avec pivot conique, permettant une direction fiable et précise. Les modèles avec cadre en aluminium ou cadre en carbone CF2 offrent un pivot classique de 1 1/8" sur 1 ó". Le cadre haut de gamme CF4 propose un pivot étroit avec une fourche de 1 1/8" sur 1 .".
Pour le développement du REACTO, notre expérience dans la soufflerie nous a permis de concevoir un profil tubulaire "NACA Fastback" optimisé, plus petit et aérodynamique. Le profil en forme de goutte raccourcie permet une aérodynamique optimale pour un poids minimal.
Composant en aluminium placé sous les deux étriers du frein et refroidi par des ailettes de refroidissement CNC. Les résultats des tests montrent une diminution de la chaleur accumulée d'environ 35 % et un frein refroidi plus rapidement, fournissant une performance de freinage stable et durable.