material: aluminium
12" wheelsize
112x9/100x9 wheelsize
BMX bottom bracket standard
Couleur
GLOSSY ORANGE (RED)
Frein avant
Tektro 985A caliper
Levier frein
APSE BL-01 alloy
Axe de pédalier
Black steel, 9pcs
material: aluminium
440mm width
120mm rise
material: aluminium

22.2mm diameter

42 mm
Moyeu arrière
KT KT305R coaster
Béquille
Support side wheel
| | |
| --- | --- |
| Frame Size | 7" |
| Tire Sizes | 12" |
| Frame Size Inch | 7 |
| St Seat Tubes Mm | 180 |
| Tt Top Tubes Mm | 300 |
| Cs Chain Stays Mm | 241 |
| Hta Head Tube Angles Deg | 70.5 |
| Sta Seat Tube Angle Deg | 73 |
| Bd Bottom Bracket Drops Mm | 8 |
| Ht Head Tube Lengths Mm | 80 |
| Fl Fork Lengths Mm | 199 |
| R Reachs Mm | 221 |
| S Stacks Mm | 259 |
| Wb Wheel Base Mm | 583 |
| Sh Stand Over Height Mm | 317 |
| Body Height Cm | < 110 |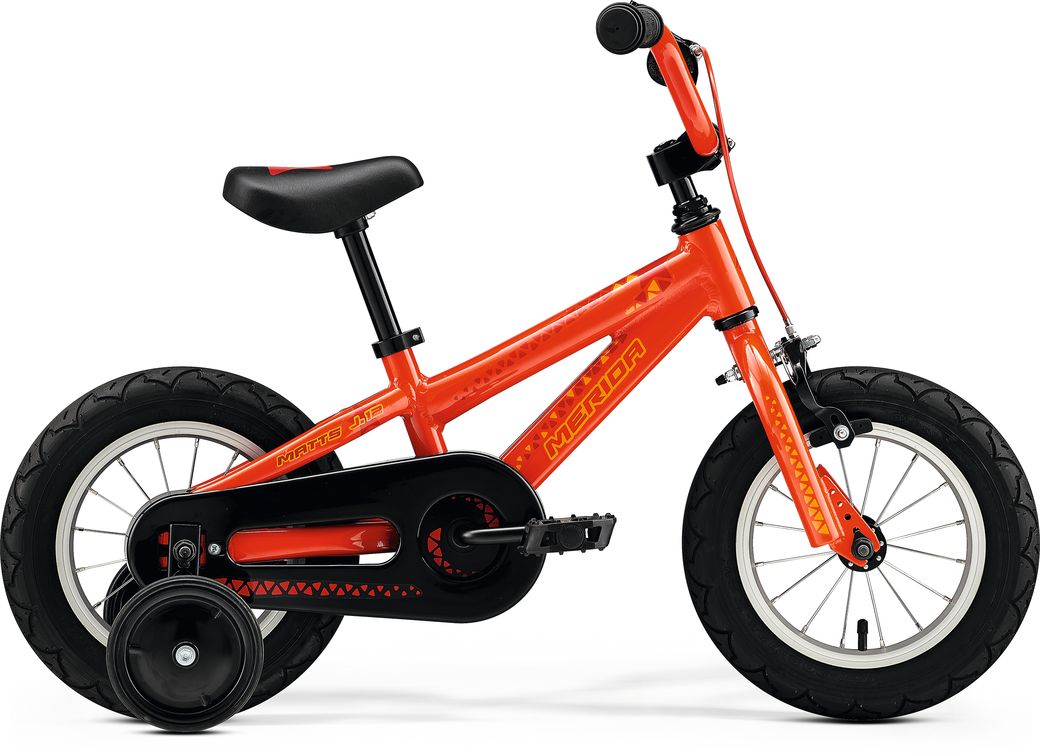 Durable aluminium frame. For 24" and 20" wheels with replaceable dropout hanger and equipped with mounts for rack, mudguards and kickstand. 16" or 12" wheel options are optimised for the use with training wheels.
The specific demands on childrens' components make them differ a lot from adult components. Not only that kids are smaller, but also do not have the same strength in their hands, for example, when it comes to braking. That's why we have chosen specific components to ensure that our youngest cyclists are able to use their bikes safely and comfortably and make them easy to handle in any situation.
Our MATTS J.+ bikes feature not just the well-proven weight and geometry optimised frame but are also designed around a lightweight, rigid fork combined with 20" or 24" 'plus' tyres for extra grip and comfort. The result, no unnecessary weight, simple, stylish and hugely effective.
Une grande partie de nos modèles de vélos pour enfants sont équipés d'une fourche rigide, permettant de gagner en poids. Un grand avantage pour nos cyclistes plus légers. Le nombre de vitesses est également réduit pour ne pas troubler notre jeune coureur. Cela permet d'alléger le poids davantage.
Tous les cadres des vélos pour enfants sont fabriqués avec le même aluminium léger 6061 que nous utilisons pour nos vélos adultes ! Nous ne coupons pas les coins ! Ils sont également peints et laqués de la même manière, de sorte qu'ils ont encore l'air formidable même après quelques chutes.