25 mar 2022
Welcome to the new disc-equipped TIME WARP TT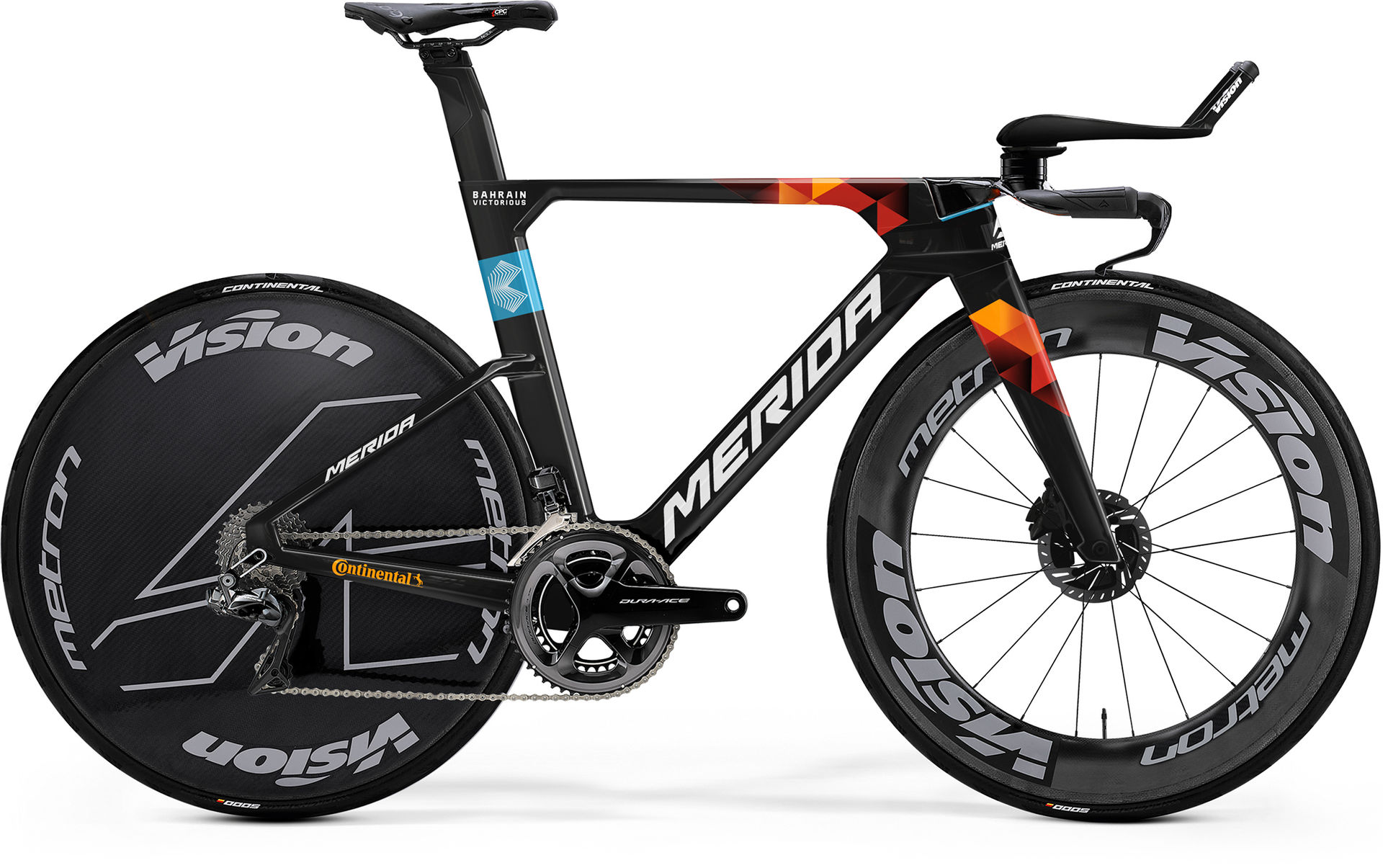 When every fraction of a second counts, the slightest advantage can make the difference between winning and losing. Welcome to the new TIME WARP TT. Yes, it's got the race-proven aerodynamics of the previous generation, but sometimes you need to look in the less obvious places for that winning edge. That's why we've added disc-brake integration, greater tyre clearance and improved comfort, all while maintaining its already impressive weight and air slicing abilities.
It's no surprise that it's the weapon of choice for Team Bahrain Victorious when their enemy is time itself – and it's already scooped up gold at the Bahrain National TT championships under Ahmed Madan, just days after he received the bike.
You might think that disc brakes only slow you down, but they allow you to go faster, too. Having reliable stopping power as well as improved modulation under all weather conditions can save vital fractions of a second. The switch to discs also allows tyres of up to 28 mm to be fitted, which further reduces rolling resistance and enhances grip, allowing you to maintain your hard-won speed. The TIME WARP TT features flat-mounts and a 140/160 mm front rotor paired with a 140 mm rear. The through-axles are perfectly integrated into the fork and frame for minimal drag and easy handling too.
While comfort isn't something the time trial fraternity would typically focus on, the wider road cycling world has begun to see the advantages in reducing fatigue to maximise performance. While our TIME WARP has maintained its stiffness for perfect power transfer and acceleration, we've introduced the latest version of the S-FLEX seat post to reduce road buzz and improve comfort, all while keeping an aerodynamically optimised profile.
The previous version of TIME WARP TT set new standards in weight reduction and aerodynamic improvement by dropping 400 g and reducing the drag by around 9 watts at 50 km/h. For the fourth generation of the bike, we've kept that impressively low weight the same despite the introduction of the higher overall system weight of disc brakes and the related frame alterations.
We've also included cockpit compatibility with the latest VISION extensions, fully integrated cable routing for brake and shifting cables, easy cockpit adjustability for perfect rider positioning and proven TT geometry.
The TIME WARP TT will be available as a frame kit only and includes frame, fork, seat post, headset and the VISION aero base-bar METRON TT. You can find further details here.
For the complete 2022 team bike and rider line-up of Team Bahrain Victorious, please check out our team pages.